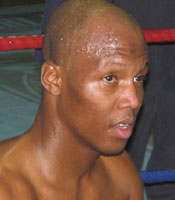 Brooklyn's own Zab "Super" Judah 32-2(23) recently spoke with Boxingtalk.com about his 2:08 devastation of Wayne Martell on October 2nd. Also in this one-on-one, Zab has a serious message for undisputed welterweight champion of the world Cory "The Next Generation" Spinks to whom he lost a close unanimous decision in April. "If you are a friend to Zab Judah like you say I am your homey, and you are not going to fight me then let the titles go if you are going to go up to middleweight and fight Trinidad. Go do that, but don't tie up the belts and say I am not going to fight you. Don't do that, because that is disrespect right there." Judah, who seemed extremely frustrated continued with "Because thats just like you saying to me 'You can't eat and I don't give a fuck, you are going to starve and I am the only one eating.'"  Read on to see what else on Boxingtalk's #3 rated welterweight had to say.
RC: Zab, most people have already seen your one round devastation of Wayne Martell, but for those who might have got up to get something to drink, give us your thoughts on your latest victory?
ZJ:  I thought I did exactly what I was supposed to do. I went to training camp and trained hard to prove a point. Wayne Martell was a statement to the rest of the world. No matter who it would have been in there that night, it would have happened to anyone the same way. I just want people to respect Wayne Martell because god forbid it would have went the distance, or even eight rounds, nine rounds or ten rounds everybody would have said Zab Judah is a bum. So Zab Judah takes him out in one round, they say Zab Judah still this and…… Man I am damned if I do, and damned if I don't.
Believe it or not my fans know, my fans that are with me they understand and they know, that could have happened to anybody out there that night. I just want everybody to know that what they seen October 2nd is what you are going to see hopefully for the rest of my career until I fight plain again.
RC: How did it feel to put on a performance like that in front of your hometown crowd?
ZJ: I feel excellent, I felt like I gave them exactly what they wanted to see, which is the old Zab Judah. If you look at my record when I first started, that is what I was doing anyway. At one point and time on Friday night fights, Max Kellerman was saying "Is there anyone that can get out of the first round with him?"
RC: You went toe-to-toe with Martell and everyone got to see the explosive Zab Judah of old, and now you mean to tell us that no matter who it is or what type of style they bring you are...
ZJ: (Cutting in) no matter who it is, trust me, it don't matter. Pound for Pound can't a fighter out there bang with me right now, none of them.
RC: So I guess that's it, we won't see you in there with the overmatched Jamie Rangels and Wayne Martells?
ZJ: That's it, the Martells and Rangels are out of here.
RC: So no more explaining to people why you take those type of...
ZJ: well I mean at the same time, you can't say that. Let's take it back to Jamie Rangel, he is a Colombian. He was the type of fighters that….You know what I hate about a lot of American fighters, we got lots of other countries across the world, and they are a lot of fighters over there that are doing the same thing we are doing over here, and for you to bring one of those fighters out of their circle and bring them here, and crush them, people will say ooh he was nothing, But if you go over where they are from, he is somebody. I got a couple of Colombian friends that told me Jamie Rangel is the truth and was knocking cats out left and right. This guy I just fought from North Dakota, they will tell you he sells out the fucking venue, he sells it out, he is the headliner dude out there that sells shit out. It is not my bad that maybe his credibility and marketability wasn't marketed right and he got out there with a name like that.
RC: But he wasn't a...
ZJ: (Cutting in) Man.. any fighter that steps in there with a pair of gloves on and go out there got a heart and you got to give him credit for just doing that. And let me tell you something if that Wayne Martell was really a bum, after that first double left hand…..yo did you see how hard that shit was yo? You could hear that shit from….. a yo every time I watch the tape I say to myself how the fuck did he get up? I'm telling you if he was a bum like that, that mother fucker would have stayed down and said "Nope" then he got up again and got his whole face ripped up, it ripped the whole cut open, a bum would have been like "Fuck this shit I am staying down, I am a bum" But he was not like that, he was a warrior. He said to himself "I'm an Indian warrior, I'm getting up and I am going to fight for mine and that is exactly what he tried to do man. It is just that I was all over him like bees and honey, I was on him every time he got up and I just kept busy, so you can't blame him or me for that. Especially when I call out the best anyway, but they don't want to sign contracts, they want to talk. They just want to do press conferences, and waste money and shit. Man I'm like lets fight, fuck all of this bullshit.
RC: Prior to this last fight with Martell, you mentioned that you signed a bout agreement with Spinks, but recently here on boxingtalk.com he and his manager Kevin Cunningham made it clear they want Trinidad and didn't mention you in their future plans, what are your thoughts on that?
ZJ: Regardless of what he might say, we all know that Zab Judah represents a money fight. Spinks is talking about some crazy shit. I don't know what to say to that…… I tell you one thing, if I was in Cory Spinks shoes and I got hit in the 12th round with that mother fucking left hand the way I hit him, I wouldn't want to fight me either.
RC: What are your thoughts on him wanting to face Trinidad?
ZJ: I can't put him down, he is a likable dude, he has never bad mouth me so I would be stupid if I was like yo fuck him, fuck that and then see him and be like Cory Wassup? I am not that kind of person, he is a cool dude.  Ever since we fought together on  cards we have established a relationship with each other and a good respect for each other, but at the same time this is also a business. And the business is for me and Cory Spinks to go in there and do it again, no matter what it takes…..If he is going to go ahead to 154lbs or 160lbs and fight Trinidad, he needs to go ahead and give his titles up so I can go ahead and do my thing. I am here at 147lbs and as a friend, if you are my friend and you know you are not fighting me, then say fuck it I am going to give my titles up and you go ahead and get the titles Zab. Now that's if he is a friend, because that is what you call looking out for a friend
RC: Have you tried speaking to Cory about…
ZJ: Nah, I haven't. But my thing is this and you can put it out there like...
RC: Well what would you like to tell him?
ZJ:  If you are a friend to Zab Judah like you say I am your homey, and you are not going to fight me then let the titles go if you are going to go up to middleweight and fight Trinidad. Go do that, but don't tie up the belts and say I am not going to fight you. Don't do that, because that is disrespect right there. Be like yo Zab I am going to fight Trinidad, so now you can go get your shot at my titles..
But don't tie the tie the belts up and say you are not fighting me, because that just like you saying to me "You can't eat and I don't give a fuck, you are going to starve and I am the only one eating"
RC: I know it must bother you that your two loss……
ZJ: (Cutting in) Listen in life period it bothers me that the two loses I have I can't get any of them back.  Kostya Tszyu doesn't want anything to do with me, and it looks like Cory Spinks is going the same way. It is like they have the same strategy, because they both got a little taste of what Zab Judah can do. Kostya Tszyu had the first round of hell, and Cory Spinks had a scorching twelfth round. So I guess those guys got a taste and don't want it anymore. If you look at the fight with Cory Spinks, I don't make excuses but that was my first fight at Welterweight, I wasn't officially saturated like I am now at 147lbs, right now I am a solid 147lb fighter right now, I got a couple fights under my belt, my weight is up and now I am coming down to make 147lbs. Before I was going up, and I had to stop myself in training just so I can hold the fucking weight. I was down to 144lbs when I fought Spinks. But now I think it would be a great fight now, I think it is a fight that the boxing fans want to see, and it is a fight that I want to have. And you know what? If the shoes were on the other foot, and god forbid he never got up, I guarantee they would have been coming back to me to get a rematch saying "please please, we gave you a shot so give us a shot back" so I would kind of respect the same thing back, especially if you don't have nobody to fight.
Ray, you are 100% right with me fighting guys like Jamie Rangel and this last guy Wayne Martell and if you look at we are two of the best fighters in boxing with some of the best skills. We should be going at each other; you know what I'm saying? Just to see what we are worth.
The people said it best, the fans, other boxers and the writers, in boxing I am my own worst enemy. When I am 100% at my best, any fighter in boxing know right now that you got a hard time with me. They hope I go in there bullshit, laugh, not train hard so we can go in there and to they can try to hang in there with him. But niggas know if I go in there, bust my ass, train and not play around, they got problems man. Any boxer knows that, when I am at my best and I am focused like I was October 2nd. There is nothing you can do, nothing! The same way when Cory Spinks dropped me in the 11th round with the knockdown they called a knockdown, that shit had me mad. When I went to the Corner my father said Zab you are losing this fight you need a knockout, and what did I do? I went out there and got it, all I needed was: 30 more seconds.
RC: Why didn't you just jump back on him when he got back up? You hesitated a bit.
ZJ: I ran back to him, I went at him and threw a feint because Cory Spinks is fast, so I ran up feinted and when I threw a punch he grabbed me, he grabbed me madd tight. Then the bell rung and I was like FUCK, it was nothing I could do. But God make things happen for a reason. If I would have Knocked Cory Spinks out with ease it would have been something else, you know what I am saying? Aint nothing in my life easy.
RC: So if not Cory then what's next?
ZJ: If Cory is not going to fight me then I would hope that he respects me as a man, and relinquish his titles and let them go, then I will go for them a hundred miles per hour, no matter who should be there.
RC: Is there anything you would like to say to your fans in closing?
ZJ: Your boy is back!
CLICK HERE FOR MORE OF THIS EXCLUSIVE INTERVIEW
Send questions and comments to: rayocampbelljr@hotmail.com