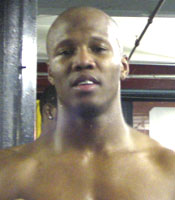 GL: Can you give us some thoughts on your performance and why you weren't able to dominate as most of us expected?
"I'm really disappointed and I know I could have done better you know what I'm saying, but I'm real, real disappointed with the decision. I'm not going to take anything away from Baldomir and I give him respect for being game. He was tougher than I expected and I wasn't on my game the way I needed to be, but there's no way he won that fight. I blame myself for not being at my best more than anything, but that decision cost me millions of dollars. An undisputed champion isn't supposed to lose a close fight by unanimous decision in his backyard. With that decision you'd think I was fighting him in Argentina or something, but I'm not going to cry and complain, I'm going to come back stronger than ever. And guess what? I still want to fight Mayweather's ass on April 8. The fans want to see this fight and everyone in boxing is thirsty to see this fight and I want to give it to them, so my people are going to be in touch with his people and see if we can still make this happen."
GL: Really?
Zab Judah: "I'm saying, it's like this...that's on Floyd. I'm so f**king mad right now because I feel I let a lot of people down by not destroying Baldomir and getting right back at it to get ready for Mayweather. No matter how the judges scored it, I know if I was 100% Baldomir wouldn't have went twelve rounds with me and if by some miracle by the Grace of God he did make it to that far it wouldn't have been a close fight I promise you that. But like I was saying, it's all on Floyd. I'd still fight him on April 8 and if he wants to make the fight, let's go and give the people what they want."
"My boy Zahir Raheem took Erik Morales to school, I mean he took like ten of them rounds and he's coming right back on PPV against Pacquiao, you know what I'm saying? Roy Jones and Bernard Hopkins are 0-5 and they're fighting each other on PPV so with me losing a close decision that a lot people thought I won to come back against the so-called pound for pound best is a fight I think people still want to see and I guarantee you once I'm done with Floyd, people will know (Saturday) night was a fluke and a fully focused Zab Judah is unbeatable."
GL: You were hurt badly in the seventh round and for a moment it looked like you might not make it out of the round. Were you surprised that Baldomir was able to hurt you?
Zab Judah: "I was surprised that he was even able to hit me. Ain't no way a boxer that slow is supposed to be able to get close to me. He caught me with a good shot through my guard and I just grabbed him and did what I had to do get out of the round. I feel I did a great job of staying on my feet and getting my head back together, definitely. I just wanted to get right and start taking it to him and I know I came back strong and there's no way I should have lost that decision."
GL: Were you surprised at how well Baldomir took your shots?
Zab Judah: "A little bit, but if you look at his face and look at mine, it's clear he took more punishment. I wasn't throwing as many combinations as I should have. I needed to be putting them together on him from the head to the body and body to head and I was just trying to put him to sleep with one big punch."
GL: In other words you were trying too hard to look impressive in front of your hometown fans?
Zab Judah: "Nah, ain't no in other words, I was just trying to knock him out with one big shot and I ain't do what we worked on in the gym that was sending sparring partners home banged up, pissing blood and shit. But I still won the fight and I ain't trying to take nothing away from Baldomir, but there's no way he should have gotten the decision."
GL: Do you think boxing fans still want to see you fight Mayweather?
Zab Judah: "It depends on how many of them think I should've won. I think the fans still want to see me and Mayweather fight because it's two young guys in their primes. He's on top right now and some think he's unbeatable, but I think I got his style down pact so it's definitely still a fight the fans want to see. We don't need no titles on the line, Floyd and me used to be friends, what's going on between me and him is personal and I won't rest until I get him in the ring. April 8, all he has to do is say yes and I'll be there."
GL: Obviously with the loss to Baldomir your purse would likely be quite a bit lower?
Zab Judah: "I ain't stupid but I ain't going to be getting into negotiating what I'll take and what I won't take on Boxingtalk.com. The bottom line is this, I want the fight and I want to make it happen, if they still want to get it on it'll be a done deal real quick."
GL: Do you think boxing fans would rather see Floyd fight Baldomir since he just won the decision?
Zab Judah: "Hell no because don't nobody know who Baldomir is. You saw there wasn't an empty seat in the house last night and if I fight Floyd next there won't be an empty seat in Vegas. Floyd and Baldomir? Come on, don't nobody want to see that. It's like I said, it ain't about the titles it's personal between me and him. I think Floyd fighting Baldomir would be cheating boxing fans."
GL: Some people would say your unimpressive showing cheated boxing fans more than anything and as a result the Mayweather fight won't have the same luster to it.
Zab Judah: "I don't really care what some people think, I care about what most boxing fans think and I think most boxing fans would rather see me and Floyd fight than Floyd fight Baldomir next. I feel that the fans not having the fight happen next would be really cheating the fans because I think it's still the fight they want to see and the best way to show people that I'm the best fighter in the world pound for pound is by becoming the first person to beat the so-called pound for pound king."
GL: During your post fight interview you had some harsh things to say about Don King. Why did you make those remarks? And do you regret making those remarks since it kind of makes it look like you're blaming Don for not getting the decision?
Zab Judah: "I spoke with Don today and we worked out a lot of stuff together since last night. We're just looking to move forward and we're both trying to make this money. We agreed that us going at it won't get it done, it won't get anything done, so we're going to move forward together and get right back on top of this game."
GL: Is there anything you want to say in closing?
Zab Judah: "First of all I want to thank everyone for their support and apologize to everyone for not being at my best. Believe me, I'm more disappointed than you are. I should have gotten the decision and didn't, but that's not going to hold me down, if Floyd wants to fight, on April 8 it's going to be on and popping!"
Send questions and comments to: gleon@Boxingtalk.com