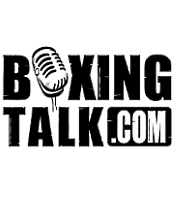 Young Muttley, a compact and strong puncher from the industrial middle of England, surprised everyone as he outpunched British Welterweight Champion Michael Jennings to claim the Manchester champion's belt. Not everyone agreed with the 115-113, 113-116 twice verdict, but no-one could dispute that Muttley, (real name Lee Woodley), had been the bigger puncher and had landed the better quality shots. 
Jennings, who had looked in dynamic form previously when winning the vacant belt against Jimmy Vincent and defending it in a thriller against Bradley Pryce, used a high workrate and neat boxing skills, jabbing and slotting home quick, straight right hands as Muttley stalked, guards held high, looking for the big punch.
The 29 year old challenger from West Bromwich, who had spent most of his career in small-hall shows, fighting 4 rounders just to stay active, would suddenly spring to life, however, nailing unbeaten Jennings with a hard left hook or clubbing right to stay in the fight.
Generally though, Jennings, 28-0-0 coming in, was controlling the action. His speed was superior, and his movement was giving Muttley fits.
As the rounds went by, both fighter's work became slightly more ragged, and this seemed to favour Muttley, as he inched closer and roughed the slicker champion up on the inside. He would rattle off quick combinations to the body and club home short left hooks around Jennings' gloves to the side of the head. By the final stretch, the fight was better suited to Muttley's style and Jennings was not being given the room to box as he had earlier on.
The twelfth round saw a packed Nottingham Arena crowd on their feet cheering what had been an absorbing and thoroughly entertaining bout, and Muttley gave a grandstand finish. The challenger put his obvious tiredness to the side for three more minutes, and swung home a slew of power punches to leave Jennings looking slightly disorganised. The final minute saw both holding to catch their breaths, but the crowd shouted approval as the bell rang to end a good, honest fight.
Many thought Jennings' better earlier boxing had won him the fight, but no-one could really argue with Muttley's effort and determination or begrudge him a lucky verdict. As the midlander's hand was raised, he fell onto his knees to celebrate, and you could not help feel for the plucky challenger who had spent so much of his career behind closed doors on small local bills. He improved to 20-1 (11), and finally gets his place in the spotlight.
Send questions and comments to: mattwinsper@yahoo.co.uk