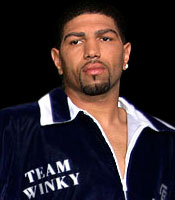 Hang around the fight game long enough and you're bound to hear the story of the underappreciated, hard working, gutsy fighter from that one gym who fights anywhere but under the big lights of Madison Square Garden or a huge casino in Las Vegas.  The story is all too familiar to boxing fans who never hesitate to throw out 50 bucks to see the best boxing has to offer, despite poor judging, controversial endings, missing ear lobes or the latest fighter to feel the wrath of steroids.
Sometimes boxers just use the story - commonly referred to as their 'struggle' - simply to put their name out in the air and get the chance to prove their talents, only to wind up
flat on their backs before hearing the ending bell. But sometimes we as fans are lucky enough to watch a skilled, but unknown fighter battle through the politics and adversity that sport has made a living off of over the last 100 years.
Bernard Hopkins did it a few years ago, and now Winky Wright has finally gotten his cue, and no matter how long overdue, he is right on the money.   Shane Mosley did what others fighters and networks wouldn't do. He fought Wright. Not once, but twice and both times his losses were what Wright had been waiting for since turning pro 15 years ago in little known Tampa Bay, Florida. 
Wright will be looking to spoil the second fight of Felix Trinidad's return parade this Saturday night on HBO pay-per-view.  Just as he began his career with those that doubted his abilities, Wright is tabbed somewhere around that of a 2-1 underdog going into his first pay-per-view fight. Odds are nothing new to Wright, though.
Despite not having lost since his 1999 fight with a young Fernando Vargas - a fight Wright still believes he won, and with good reason - Wright has yet to be embraced by the general boxing public. One would think that a win over Don King's cash cow, Trinidad, this weekend is sure to make Wright, already the indisputable junior middleweight champion of the world a true cross-over superstar, right?
Don't hold your breath. Beating Trinidad should make Wright a household name, but this is boxing and its not too far-fetched for one to believe that even after a winning performance, Wright still may be doubted by many. Perhaps the doubters will be the millions of Puerto Ricans who still believe Bernard Hopkins' thrashing of Trinidad in 2001 was a fluke or Monday morning quarterbacks just waiting for Trinidad to lose so they can proclaim that his brief two year retirement hindered his skills, thus giving Wright an edge he wouldn't have had he stepped into the ring with the Trinidad of five years ago. Or maybe the fact that Wright's boxing style isn't as pleasing to the eye as most big punchers in the game is what will hold Wright back from becoming the mega superstar he has proved he should be over his career.
Excuses and doubters are as much a part of boxing as black eyes and blood.  With Winky Wright even press that questions him is better than nothing at all.
I don't like to be wrong but this is one time I wouldn't mind boxing getting the best of me. I'd like to see Wright be given the praise and money to go along with his world champion status. I hope that win, lose or draw, Wright is able to cash in with more than just his bank account.
Send questions and comments to: tyson180@aol.com