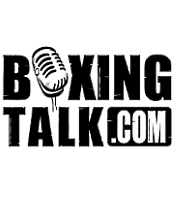 Former European, Commonwealth and British Light Heavyweight Champion Clinton Woods gets a stiff test tonight as he meets Australian hardman Jason DeLisle for the IBF number two position at 175lbs. Sheffield, England's Octagon Centre hosts the Fight Academy promoted event, which also features as chief support Denzil Browne and Lee Swaby squaring off for the vacant British cruiserweight crown. Boxingtalk.com had the good fortune of speaking with Clinton as the three time world title challenger was preparing for this pivotal matchup which could very well decide the outcome of his long and storied career. Read on for a detailed look at just what the Sheffield native is looking to achieve against DeLisle and what roads he intends to travel in search of the elusive goal that has so far exceeded his grasp.
Clinton Woods, 35-3-1 (21), has held more than a few prestigious belts in two weight classes and can claim victory over many an accomplished foe. To date, only Roy Jones Jr and Glen Johnson have bested the rock solid Woods at light heavy, as the thirty two year old was rebuffed in his attempts to wrest the Unified Crown and the IBF title, respectively, from the two American based fighters. Now Woods, managed and promoted by Dennis Hobson, meets Jason "The Nailer" DeLisle tonight for the IBF number two contender slot.
Like Woods, DeLisle, managed and promoted by Stuart Duncan, is thirty two years of age but brings far less experience to the table. Hailing from Sydney Australia, DeLisle has recorded fifteen wins, eight early, to go along with two losses and two draws. "The Nailer" is a former Australian Light Heavyweight champ and currently holds the IBF Pan Pacific belt. Only one of his two losses has been telling, a fifth round KO at the hands of the heavy handed Danny "Green Machine" Green, when the solidly built DeLisle made the mistake of going down too light at super middle.
For Woods, this bout will be his third straight big fight. A year ago Woods grinded out a controversial draw against Glen Johnson as they contended for the vacant IBF belt before losing a unanimous decision and the vacant title to Johnson in the rematch this past February.  Woods' struggles against the Jamaican native were placed in a more positive light after Johnson successfully made his first title defense by knocking out the once invincible Roy Jones. "When you watch Glen Johnson fight, he doesn't look as good as he really is," stated Woods. "He's one of those fighters that you think 'yeah, I fancy fightin' him' until you're up against him and he's a lot tougher than you think. In our rematch he was very strong and caught me with a lot of big shots. I felt as if I couldn't get anything going, but that's the type of fighter that Johnson is; he doesn't let you do what you want to do and he's a lot better fighter than people think."
While Woods relishes a third opportunity with Johnson, in order for that or any future meaningful fight to happen, he'll have to get past the Australian obstacle, something Clinton is certainly not taking for granted. "I've seen a few of DeLisle's fights and he's quite tough," he said. "I've been in with a lot of big names but all of DeLisle's fights have been difficult contests and I think that most Australian fighters are tough anyway. He's tough and strong but I think I've got the better boxing ability. He basically comes rough-house forward, throwing big shots and with my superior skills, I think that I can counter punch him."
"He's a very fit fighter who can go twelve rounds and reminds me a bit of Glencoffe Johnson, but not as skilled. In the videos I've seen of him he's been hurt a few times and been down a few times as well. I'd love to force a stoppage and that's what I'm looking for really. I think the light heavyweight division is wide open right now and if I can get myself right, I think I'm in there with the lot of them. On my day, I'm as good as any of the top fighters in the division; I just need to get myself right. I feel good right now and I really haven't felt this way in a long time. Hopefully I'll feel this way on Sunday because I think it's going to be a great fight. A win puts me right back at the top of the tree and if I can feel my best, I'd love to fight Glen Johnson again."
Boxingtalk.com would like to thank Clinton Woods, Dennis Hobson and Tom Moran for making this article possible.
Send questions and comments to: thomaspointrd@aol.com