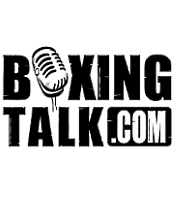 But He Could Fight So That Probably Removes Him From The Cotto Sweepstakes!
Bradford's Junior Witter has asked WBO light welterweight champion Miguel Cotto to give the fans a super fight by defending against him on June 11th. The Puerto Rican is scheduled to appear on that date at the Madison Square Garden in New York. Initial rumours as to his likely opponent are far from satisfactory. "I have heard Cotto may be fighting Italy's Gianluca Branco," began Witter. "Fight fans and broadcaster HBO deserve better." He added: "I have always said that Branco is scared of his own shadow and he proved it last month.
"He was supposed to fight me and was full of talk in the build up to the fight and then pulled out. Instead I boxed Lovemore N'Dou and did a number on him. I put in a much better performance against N'Dou than Cotto did, flooring him twice, even though I fractured my hand during the fight. Cotto couldn't even put a dent in him and was extended all the way. Given that I outperformed him, Cotto should want to fight me in order to prove himself, not take the soft option.
"What has Branco done to deserve this shot? His last two fights have been a six rounder and an eight rounder against people I have never heard of. Does a 6/8 round fighter warrant this opportunity? I am the British, Commonwealth and European champion; that represents a major portion of the world.
 "Why would he rather entertain Branco?
"It is Puerto Rican day on June 12th and there is a big parade in New York to celebrate. Lets have a marquee fight to go with it, not one that in my opinion would be conning the fans.
"I am here, ready and willing to step in and face him in the kind of fight HBO are renowned for. I know I will knock Cotto out. I am hopeful he will step up to the plate, even though he turned me down as an opponent before Christmas. My promoter Mick Hennessy had verbally agreed the money with his promoter Bob Arum - we were more than reasonable. But then his management declined the fight. They preferred a match against a fighter whose best days are a long way behind him, not a live dangerous opponent like myself."
Cotto is not the only fighter at 140lb looking to take the easy route. "Floyd Mayweather has also ducked a fight against me," Junior explained.
"I offered to step in and fight him earlier this year but he chose to beat up on poor old Henry Bruseles instead.
"You also have Gatti fighting blown up lightweights Dorin and Leija, it's just not on.
"In my opinion the only reason Gatti eventually signed to fight Mayweather, a former super featherweight and lightweight champion, was because it was an easier option than fighting me.
"I reckon I should get a little bit of credit for helping to make that fight happen!
"They can only run for so long. I will catch up with them sooner or later."
Junior is confident that he will get his men, even though he is not always afforded due respect by the sports governing bodies.
"I am not sure what is going on at the WBO," Junior added. "Before I went to fight N'Dou I was ranked 4th at light welterweight with only Henry Bruseles, David Diaz and Ricky Hatton in front of me.
"Bruseles then has the floor wiped with him, David Diaz loses to an unknown and a fight between Hatton and Kostya Tszyu was agreed. Surely then even before the N'Dou fight I should have been number one contender? I still go to America and prove myself against world class N'Dou and now somehow in the latest rankings I find myself at number 6th.  Can someone please explain this situation to me? A lot of no names have been moved ahead of me. In my opinion someone could be pulling strings here.
"I should be their mandatory contender. I deserve that position and am asking the WBO to do the right thing here and hold an enquiry into this."