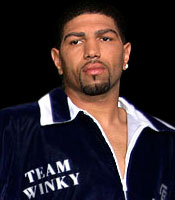 GL: Wink, I understand you will be training in Florida for the rematch. The first time around you trained in Houston. Are you concerned of any potential local distractions?
"Naw, Greg. I'm in Florida but where I'm at it's private. I'm in a whole different area code so everything's going to be good."
GL: When I saw you in Vegas on September 2 you were about 185 pounds. Where are you at now?
Winky Wright: "About 167. Right now I'm working hard and I'm taking camp very seriously."
GL: What were your thoughts on the Trinidad-Mayorga fight?
WW: "Tito looked great. I thought he looked real sharp and the rest did him good. Mayorga was made for him but he looked great. He went out there and executed and I give him an A+ on his performance."
GL: In the past you've said the first fight was easy. Does that make it more difficult for you to stay as hungry as you were for the first fight?
WW: "Yeah it does. The first fight, I had to show the world that I am one of the best fighters, but I've got bigger and better things to do. Shane Mosley was just a stepping stone to the bigger and better fighters like Tito and Bernard. Now I have to go out and prove myself again because there's still people who doubt me. I'm working hard everyday to make sure I'm the best fighter I can be on November 20, but I've got some big fish to fry."
GL: If everything goes well for you on Nov. 20 which fight would you prefer, Trinidad or Hopkins?
WW: "Tito. I would rather fight Tito. I respect Bernard a whole lot but I would rather fight Tito. He just came back, he looked sharp and for me there's no bigger fight than Tito. Once I win, hopefully me and Tito can do a deal, but I won't do it until after I'm done with Mosley. I won't count my chickens before they hatch."
GL: Some might look at that as if you're looking to fight more for the money than to fight the very best?
WW: "Naw, G. I could get money fighting Bernard too, but what it is, everyone says they'll fight Winky Wright, but Tito is the only one who stepped right up after the Mosley fight. He wanted to fight me, but being that Mosley used that rematch clause we had to put that fight on close. Shane wants his rematch, I'll give it to him because I'm a man of my word. He gave the me the chance, so I'll give him the chance back."
GL: Several interviews ago you told me that Don King is not your promoter and that you're still a promotional free agent. Is that still the case?
WW: "That's still the case. We had some deal going down but it never went through. I think that my lawyer and manager never finished the deal so we're still flying solo from what I understand."
GL: Based on what you saw from Trinidad on October 2, do you think a Hopkins-Trinidad rematch would go down any differently?
WW: "I think it would go down differently. I ain't saying that he'll beat Bernard, but I think he looked a lot sharper and he did some things he wasn't doing before. Like I said before, that's against Mayorga, so who knows how he'd do with a Bernard Hopkins. I feel the fight is Wright Vs. Tito. First we're going to do in Shane Mosley and then we're going to go after that fight."
GL: You're a very good friend of Roy Jones Jr. After watching his last two fight do you feel it's in his best interest to retire?
WW: "I don't think that. What I think happened with Roy, to me it seemed like Roy was at a whole different place. He was there but he wasn't there. He wasn't throwing his punches, he just wasn't Roy Jones. Glen Johnson went out there and fought a good fight but Roy Jones wasn't himself. I think maybe he needs to take some time off to really see what he wants to do. If this is still what he wants to do he should do it. I think he's still one of the best fighters out there."
GL: Are you saying he should continue fighting?
WW: "I'm saying that he should take some time off and realize what he wants to do. If he wants to continue to do this he needs to forget about other things, forget about videos and focus on boxing to prove that he's still one of the best fighters out there. I just don't think he was into that last fight."
GL: After all he's accomplished and all the money he's made what else is there for him to prove?
WW: "There you go, now you hit right on the head. But that's something he's going to have to look into himself. There's not too much for him to prove unless he's coming for revenge with Tarver or the other guy. If it was me, I would sit down with my family but I would do what I felt was best for me. If it wasn't in me anymore, I would definitely stop."
GL: In a fight like this upcoming rematch with Mosley where you clearly won the first fight, what's your motivation for this fight
?
WW: "To win it even better! I know Shane Mosley is going to go back and train hard and come with some things that he didn't do last time but I'm going to have the answer for that. I'm going to be A.I. in the boxing ring. I'm going to have all the answers. And I'm still fighting a very good fighter, I just dominated him that's all it was. Great fighters adjust and I'm expecting him to make adjustments, my job is to key in on him when he tries something new."
GL: Is there anything you'd like to say in closing?
WW: "I want to thank all my fans who support me. We've got to go out here and do this fight again and we're not going to do nothing stupid. We're not going to show off, we're just going to take care of business. We're going to box him and beat him for twelve rounds or less. I'm coming to win by any necessary."
MEMBERS CLICK HERE TO SEE WHAT ELSE THE BEST JUNIOR MIDDLEWEIGHT IN THE WORLD HAD TO SAY!
Send questions and comments to: gleon@boxingtalk.net