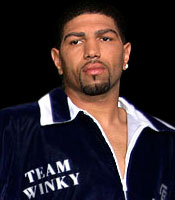 "I don't think Mosley can do anything to me."
After working his way up the boxing ladder for what must have seemed like an eternity to him, Winky Wright finally got the recognition he long deserved when he defeated Sugar Shane Mosley last March to become the world junior middleweight champion.  The win catapulted Winky into being recognized as an elite fighter, while the loss for Mosley proved to be a costly one as it ruined his plans for a megafight against Felix Trinidad.  Winky is honoring the rematch clause in his contract by giving Sugar the chance to regain the championship this Saturday.  Boxingtalk spoke with Winky yesterday as he was finishing up his training to get his thoughts on fighting a more fired up Mosley, what another win against Mosley will mean for him, what he expects from his opponent, and his future beyond this weekend.
"I've trained hard and I'm prepared, so I don't think Mosley can do anything to me."
Boxingtalk: Winky, you are now two days away from the fight.  What has your training been like these past couple months?
Winky Wright: It's been going good.  Everything is good.
BT: Have you done anything different preparing for November 20th, compared to when you first fought him last March?
WW:  I'm doing the same thing, I haven't done anything differently.  Why try and fix it if it ain't broke.
BT:  What is your motivation for fighting Mosley again?
WW:  My motivation is to prove that I'm the better man.  I proved it the first time but they want to do it again, so let's do it again.
BT: But in all honesty you are giving Mosley a rematch because he gave you a shot at becoming the undisputed champ, and as a good sportsman you want to return the favor…
WW:  Most definitely, and he deserves it.  He gave me a shot at the titles, and he deserves a chance to get them back.
BT:  Do either of you have a rematch clause in your contracts?
WW:  No.
BT:  If Mosley was to walk away victorious on Friday, would you want a rubber match?
WW: If he was to win, yeah there could be a rubber match, but there ain't gonna be no rubber match, because he ain't gonna win.  But yeah, if he lucked up and something was to happen, I would definitely want to fight him again, but I don't see it that way.  I am going to win and that's that.
BT: You have already proven that you could outbox Mosley and take his punches last March.  Will we see any different from you on Saturday?
WW: No, I don't see how it will be any different.  I will be going about what I plan on doing…just execute.  Mosley will try and execute his plans, so I'm looking for an exciting fight, but I'm definitely looking forward to winning.  I've done everything I had to do to win, so I'm ready.
BT:  Mosley has said that he felt like he had a monkey on his back when he fought you last March, and that he was not at his best.  Do you feel you were at your best in that fight?
WW: I felt really good in that fight.  I am very satisfied with my performance.  I don't think it was my best performance ever, but I was very satisfied with it.  If he had something wrong with him, that was him.  I'm not going to play down what I did.  I was happy with my performance and that's it.
BT: Can you see any possible way for Mosley to beat you on Saturday?
WW: That's what I've been saying to myself, I can't see anyway he can win.  I'm ready for everything.  I've trained hard and I'm prepared, so I don't think Mosley can do anything to me.
BT: Where you effected by his power punches last March?
WW: For me, he doesn't have any power.  He can punch but his power is nothing that can hurt me.  It just felt like somebody hit me.  It wasn't like he hit me and I staggered or anything like that.
BT:  A lot of people are talking about you fighting Trinidad after this fight.  Has there been any word from his people about a future fight with Tito?
WW: There hasn't been any word.  When I saw Tito he was like he wanted to fight me and I wanted to fight him, but nothing has been discussed.  We'll see about all that later.  He did what he had to do, he beat Mayorga, now it's my turn for me to do my business, then we'll talk about all that afterwards.  Right now I'm focusing on Mosley.
BT: What is your prediction for Saturday?
WW: A win. A win for me, that is all I need.  I don't need anything else but a win. Anything else is a bonus, but a win is the only thing I'm going for.
BT: You can easily assume that Mosley will come out stronger than before…
WW: I want him to come at me strong.  That way I won't have to go chasing him like I did last time.  Let me see what he's going to do.  He put his own foot in his mouth by telling me last time what he was going to do.  How he was going to knock me out, how he was going to hurt me, and than he realized he couldn't do it.  He's starting to do the same thing again.  He's telling people that he's stronger and he's going to do this and that to me…OK, let's see you do it then.
BT:  How much of a role do you believe Joe Goosen will play for Mosley?
WW: It could help him or it could hurt him.  It really doesn't matter.  It's all about what I'm going to do to him.  Joe ain't doing anything.  I'll be the one hitting Mosley.
BT: Both Antonio Tarver and Glen Johnson have mentioned in a press release that they are picking you over Mosley.  I'm sure it is no surprise to you that most people agree with them.  Does this effect your game plan, confidence, or motivation at all when people are expecting you to win?
WW: No it doesn't bother me, that's cool.  I'm just glad people believe in my skills now, but that doesn't change the way I am going to fight either way.  I'm coming in knowing I have to fight Sugar Shane Mosley who is a tough fighter.  He's competitive and doesn't give up, and that's who I'm going to have to go in and face.
BT: What would you like to say in closing to all your fans out there on BoxingTalk?
WW: Thanks for your support, keep watching me, and look forward to me being victorious on November 20th.
BoxingTalk thanks Winky for taking the time to speak with us.  We wish him continued success both in and out of the ring.
CLICK HERE FOR MORE OF THIS EXCLUSIVE
Send questions and comments to: Fool4Rush@aol.com