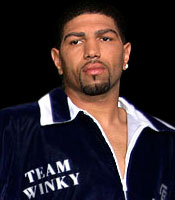 "I'd knock Mayweather out! And if I didn't, I'd beat him up REAL BAD!"
GL: Last Week on a Boxingtalk chat session, Floyd Mayweather said he'd be willing to move up to junior middleweight on November 12. Since then the a few other stories have insinuated that the discussions to make this fight happen are more serious than people may think. What's the real deal Wink?
"I don't know nothing about no discussions, but if he's not just talking and he's really serious about fighting me. If he wants to move up to 154 it could happen  and I think it would be a good exciting fight. He told me that he'd fight anybody, he can't get no fight, I can't get no fight, let's fight each other. Look Greg, I'm not going to turn any big fight down, it's just a matter of how badly he wants it."
GL: If Mayweather moves up two divisions to face you, aren't you in a lose-lose situation, because even if you win, you'll just have beaten the MUCH smaller man?
Winky Wright: "Ain't no such thing as lose-lose when you're talking a lot of millions and that's what they'd have to come with. If he wants to step up and take the fight I wouldn't mind beating up on a little Floyd for big money."
GL: What did you think about Taylor-Hopkins?
Winky Wright: "It was a boring fight, Hopkins didn't do much but he dominated the last four rounds so maybe he should have gotten it, but the rest of the fight none of them was doing nothing so it could've went either way. Bernard didn't want to fight me and that's what you get when you tell the world that you're not looking to fight the best. I definitely think Bernard would win the rematch though. I take my hat off to Jermain though, he fought a great fight."
GL: Would you be disappointed if Hopkins defeated Taylor in a rematch and then walked away from boxing before fighting you?
WW: "Naw. I'm cool. I want to fight the best and if the best don't want to fight me I'm going to keep it moving."
GL: How was the recent trip to Puerto Rico?
WW: "It was cool, me and Tito Trinidad hung out and had some fun homey. He's a great person and I can tell all the fans he's definitely not coming back."
GL: If this Mayweather fight ever comes to fruition, how do you see it playing out?
WW: "I'd knock him out, he'd be reaching a bit too high with that one. And if I didn't knock him out I'd beat him up REAL bad. He has some fans who think he might be too fast, but I don't worry about that speed, I think my jab will slow all that down. If he comes up to fight me, he's going to be the one with everything to worry about."
GL: Why do you consistently shun the fight the fight that makes the most business sense, a rematch with Fernando Vargas?
WW: "F**k Vargas. I don't know why you always ask me that homey you know what I'm going to say."
GL: Is there anything you'd like to say in closing?
WW: "Stay tuned to Boxingtalk, my man G's going to give it to you. If Floyd ain't really serious about fighting, I'll be back on HBO in November."
Send questions and comments to: gleon@Boxingtalk.net