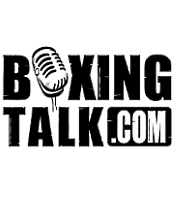 Duva discusses Sam Peter: "We're looking at Brock or Mcline next!"
Hard punching local favorite Darnell "the Ding-a-Ling Man" Wilson pounded out a hard fought unanimous decision against Houston's "Rocking" Rodney Moore (17-6-2, 7 KO), Thursday night in the latest installment of Ballroom Boxing at Michael's Eight Avenue in Glen Burnie, Maryland.  Wilson, Boxingtalk's #24 rated light heavyweight in the world, improved his record to 18-1-3, 15 KO.
Entering the ring to his trademark Ding-a-Ling Man ice cream song, Wilson got to work quickly, applying pressure to Moore from the opening bell, with a style of relentless power shots.  Moore boxed and counterpunched well, but was unable to keep Wilson from continuously advancing, and never seemed to hurt the Ding-a-Ling Man.  Moore's combinations were too few and far between to capture more than a couple rounds on two of the judge's cards, while the other judge had it 80-72 for Wilson, in what was nevertheless a very entertaining scrap.  Boxingtalk scored the bout 78-74 for Darnell Wilson.
Legendary trainer and manager Lou Duva was on hand Thursday night to watch his junior middleweight prospect, Baltimore's Maxell "the General" Taylor, deliver an impressive second round knockout in the co-feature.  Taylor (11-1, 4 KO) utilized a series of hard right hands and left hooks to score two second round knockdowns against Calvin Shakir (7-4, 3 KO), from Atlanta, GA, the second of which sent Shakir to the canvas for good.
Duva spoke with Boxingtalk about his future plans for rising heavyweight contender Samuel Peter.  Planning to keep Peter busy in order to capitalize on his recent impressive performances on HBO and ESPN, Duva revealed that Calvin Brock and Jameel McCline are being considered for Peter's next significant opponent en route to a potential heavy weight title shot sometime late this year, or early 2006.
On the under card, New York heavyweight Jerome Tabb scored his first ever decision win with a hard fought majority nod over Adele "Super Bad" Olakanye, from Silver Spring, Maryland by way of Lagos, Nigeria.  Tabb, who improved to 7-1, 6 KO, entered the ring to some snickering from the crowd when he revealed his short, well rounded physique.  However, Tabb quickly turned those jeers into cheers, as he continuously landed hard power shots against the immaculately sculpted, but out classed Olakanye (6-3-1, 4 KO).
In a light heavyweight match up, James "the Mighty Burner" Shedrick (3-1, 1 KO), from Philadelphia, PA, won a convincing four round unanimous decision over Washington DC's Jarrell "the Unpredictable One" Jackson (1-3). 
Junior Middleweight Orazio "the Razor" Robinson (4-1-2, 4 KO), from Mannassas, VA, scored a brutal first round TKO victory over Willis Silver (2-6, 1 KO), of Battleboro, NC.  Robinson started fast, and caught Silver in the corner with a barrage of power shots before the referee jumped in and rescued Silver at 2:15 of round one.
The evening's opening bout featured a pairing of junior middleweight journeymen.  Washington, DC's Larry "the Gladiator" Brothers won a six round unanimous decisions over Vance "the Bronx Bomber" Garvey (6-16-2, 1 KO).  Brothers, who's last appearance at the Ballroom was a second round TKO loss to Andre Dirrell's younger brother Anthony, improved his record to 6-15-2, 4 KO.
Promotor Scott Wagner serenaded the packed house with a saxophone version of the national anthem prior to the main event of yet another memorable evening of Ballroom Boxing.
Stay tuned for a complete video report, including fight highlights courtesy of Ballroom Boxing, as well as Boxingtalk's exclusive video interview with the great Lou Duva.
Send questions and comments to: don@stofberglaw.com