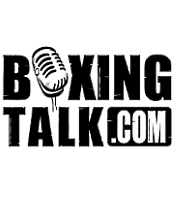 Undefeated heavyweight Damian "Bolo" Wills avenged the sole blemish on his record in impressive fashion, winning a unanimous eight-round decision over tough veteran Sedreck "Big Buck" Fields. The bout headlined a six bout LB4LB Promotions card at the Music Box at the Fonda Theater in Hollywood, California. The two men fought to a six round draw last June, with some believing that Fields deserved the nod. There was no controversy this time though, as Wills showed patience, poise, and ring smarts in winning a shutout on all three judges' scorecards.
    Wills, 249, Los Angeles, outboxed his methodical opponent from the opening bell, scoring with jabs, hooks, and an all important left uppercut as Fields edged forward with his gloves held high. Wills stepped around Fields after catching him with quick shots, but also did some good work when he stayed inside. It seemed that Fields had entered the bout with the gameplan of letting Bolo punch himself out, before looking for a kayo in the later rounds. Wills paced himself well though, content to land quick hard punches instead of loading up.
     By the later rounds, the right eye of Fields was closing from the steady diet of lefts he had been fed since the early rounds. Fields did manage to score with an occasional body shot or right upstairs, but Wills absorbed them well. Fields, at 265, was over thirty pounds heavier than for the first fight. Wills on the other hand, weighed twelve pounds less than last June. Bolo's record improves to 19-0-1 with 15 KOs with the win. Fields meanwhile, heads back to Florida winless in his last six.
    "The guy is strong, he takes a great punch", said Wills after the bout. "I got to work a lot of things."
    "I thought it was a good performance. He listened really well. He worked good bodyshots, good jab. Good uppercuts", said trainer Terry Claybon. Claybon also stated that Bolo will return to the ring on the next LB4LB card on April 27th, probably in a ten rounder.
    In the co-feature, cruiserweight Deon Elam remained unbeaten with a four round unanimous decision over Milton Hulbert. After an early feeling out period, Elam walked down his opponent for the remainder of the bout, hurting Hulbert in the third with a well placed counter left hook. In the fourth, Elam had Hulbert holding on after landing a left hook-right combo. Two judges had it a shutout for Elam at 40-36, while the third had 39-37. Elam runs his record to 5-0 with 2 KOs, while Hulbert evens out at 1-1.  
    Jean El Issa, 142, Las Vegas, outslugged Angel Flores, 140, to win a four round majority decision in a crowd pleasing junior welterweight four rounder. Jean improves to 4-3-2 with 3 KOs, while the baby-faced Flores suffers his first professional defeat. His record now stands at 3-1.
    On paper, nobody would have given George Moreno much of a chance heading into his junior middleweight four rounder with Peter Nyland. Moreno carried a less than spectacular mark of 2-11 into the contest, with nine of those losses by way of stoppage. Nyland's ledger meanwhile, stood at 3-1-1 with 3 KOs. But fights aren't fought on paper, and a single punch can nullify conventional wisdom. That punch landed early in the first for Moreno, as he scored with a right hand high on the head of Nylund during an exchange. A dazed Nyland retreated to the ropes where Moreno unloaded on him with both hands, dropping the former kickboxer to the canvas.  That was it for Nylund, as referee Raul Caiz Jr. waved off the bout early in the count. An overjoyed Moreno fell to his knees and pointed a glove toward the sky in victory. Moreno is now 3-11 with 1 KO, Nyland slips to 3-2-1 with 3 KOs.
    Vardan Gasparyan, 148, Glendale, CA, overwhelmed debuting Norm Wardsworth, stopping him in the second round of their junior middleweight contest. The bout was scheduled for four rounds. Gasparyan was able to slip under Wardsworth's shots and counter effectively from the get go. He floored Wardsworth in the first with a left hook, and had him in trouble on the ropes in the second when referee Jerry Cantu had seen enough. Gasparyan improves to 5-1-1 with 2 KOs, while Wardsworth is 0-1.
    Marcus Dear, 261, Los Angeles, spoiled the undefeated record of Denver's Chris Green, 233, stopping him in the third round of a scheduled for four heavyweight contest. The bigger Dear absorbed some solid shots in the opening stanza, but continued to press the action. In the third, he floored a noticeably tiring Green early in the round with a solid right. A groggy Green beat the count, but didn't pass the visual inspection of referee Raul Caiz Jr. Dear improves to 2-1 with 1 KO. Green falls to 3-1 with 3 KOs.
    Ring announcer for the evening was the charismatic Hector Duarte Jr. Celebrities in attendance included Marlon Wayans, Adam Carolla, and famed attorney Thomas Mesereau Jr. The next LB4LB Promotions card at the Music Box @ the Fonda is scheduled for Thursday April 27th.