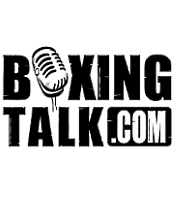 By Charles Presnell
Something isn't right with the advance word on the DaVarryl Williamson (Boxingtalk #14) versus Derrick Jefferson (Boxingtalk unrated) heavyweight bout.  When Boxingtalk reported their fight will be staged on April 30, 2005 at New York City's Madison Square Garden, it alerted boxing fans that it could be a title eliminator.  But for which sanctioning body?  It hasn't been announced yet because promoter DKP is shopping the fight around to see who will sanction the fight as an eliminator.  Boxingtalk looks at the reasons why this fight, althought a worthy fight to be held, is not worthy of being a title eliminator.
Derrick Jefferson has won his last five fights since being stopped by Wladimir Klitschko back in 2001, when the younger brother was being promoted as the heir apparent.  He also showed heart a few years ago by continuing to fight Oleg Maskaev when he hurt his ankle in the first round.  Jefferson was also being looked at to challenge Chris Byrd in 2004 before he suffered a cut in a fight against Julius Long.  Even then, something smelled fishy when the corrupt IBF inserted Jefferson in the top fifteen for no apparent reason other than to accomodate Byrd's date.  Still, Jefferson has the credentials to fight on the undercard of a heavyweight title fight and has the power, heart and lack of chin to make an exciting fight.
DaVarryl Williamson is more qualified. He may be 3-2 in his last five fights, however, but Joe Mesi, Oliver McCall and Wladimir Klitschko are among the fighters he's fought.  And he beat McCall and many thought he had a good chance to beat Klitschko before the fight was stopped due to an accidental head butt.  Williamson is showing improvement in his late age and needs the test Jefferson can provide him before he moves on to being a legitimate heavyweight contender.
Overall, Williamson-Jefferson is a very good match up, a crossroads fight with the potential to be a good scrap.  However, the problem isn't with the matchmaking, it's the prospect of sanctioning bodies allowing this to be an eliminator for a world title.  Of the four major sanctioning bodies, Williamson is rated in the top ten by two of them (IBF & WBC) and Jefferson isn't ranked by any in the top ten.  The highest rating Jefferson garnishes is 15 by the IBF.  Neither fighter is rated in any top five.  Making this an eliminator would be completely unfair to more deserving heavyweights.
Two of the four heavyweight titlists are fighting their mandatory defenses, Ruiz against Toney in the WBA and Vitali Klitschko against Hasim Rahman in the WBC.  Chris Byrd, the IBF champion, has his next mandatory set with Monte Barrett.  Theoretically, there is room for new mandatory challengers after the fighters are done fighting their current mandatory defenses.  However, for the WBC, Monte Barrett has already won an elimination bout, knocking out WBC#3 Owen Beck on February 5.  This could mean he has his choice between either Byrd or the Klitschko-Rahman winner.
In reality the IBF and WBC are the only possible sanctioning bodies for a Williamson-Jefferson eliminator because they are the only organizations which both fighters are ranked. 
To break it down, the WBA and WBO should not sanction this fight as a world title eliminator because neither fighter is ranked by their organizations.  The IBF, who would be the most plausible to sanction the fight, already, has Monte Barrett as Chris Byrd's mandatory title defense.  But should the IBF jump the Williamson-Jefferson winner ahead of more deserving guys like the Jameel McCline-Calvin Brock winner?  And the WBC has one mandatory who is about to receive his shot, Hasim Rahman, then has Monte Barrett with the option to fight the winner, because he has already won a title eliminator.  Not to mention the WBC has Williamson as #10 and Jefferson as #26.  Once again, this is a good fight; however, it is hardly eliminator material.  Nonetheless, don't be surprised if one of the money grubbing sanctioning bodies accepts this fight as their elimination bout and collects another sanctioning fee.