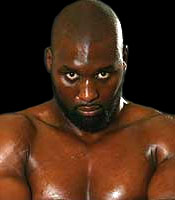 BOXINGTALK BRITISH WRITER'S PICKS INSIDE
This Saturday night sees a clash of two heavyweight bombers in what is certain to be one of British boxing's events of the year. The Excel Arena, London, England show pits Commonwealth titlist Danny Williams, fresh off a big win over pretender Audley Harrison, against unbeaten British champ Matt Skelton, who has compiled an exciting 18-0-0 record, 17 of those wins by stoppage or knockout.
American fans may pour scorn on what is essentially an eliminator between two fringe top twenty guys, but the Brits can get genuinely excited about this fight. Whatever the limitations of the two, they are both huge punchers and very evenly matched, which of course makes this a must see for the fans who have watched their careers evolve. Williams, 34-4-0 (28), has been a mainstay of the domestic heavyweight scene, reigning on and off as British or Commonwealth champ since knocking out Mark Potter in 2000. Incredibly, he won that fight after dislocating his right shoulder in the 3rd round, punching through the pain to take out Potter in the 6th.
And Danny showed his heart further when upsetting an old Mike Tyson nearly two years ago. A Tyson bomb nearly launched him into orbit in the opening round, but Danny bravely sucked it up and took Tyson out three rounds later. He was, of course, splattered by Vitali Klitschko in his only world title fight to date, but was defiant to the end, getting up from the canvas five times before being stopped in the 8th.
Since then, Danny has eased himself back, scoring a routine stoppage over journeyman Zoltan Petranyi and then flooring London rival Audley Harrison in the 10th to clinch a split decision win over the formerly unbeaten Olympic Gold medallist. He came into that match weighing an astonishing 272lbs, and ambled around the ring in slow motion for much of the fight. Although the win looks good on paper, it was only Harrison's utter lack of effort that forfeited many close rounds to the 32 year old Williams.
Skelton, on the other hand, was put on the fast track to British title success after a long career as a K-1 Kickboxer. Half-a-century of Martial Arts-style fights all around the world have allowed him to develop into a fit and powerful, if limited, brawler. His enormous reserves of strength saw him breeze his way to the British title in just eighteen months…but he is 39 years of age already so is now making up for lost time spent in the Kickboxing arena. His brawling, mauling style has scored him six consecutive knockouts in scheduled 12 rounders, mostly by wearing his opponent down before clubbing them to the canvas with crude but heavy blows. He floored British champion Michael Sprott for the count in the final round after raining a series of brutal swings onto the tiring veteran's arms as he protected himself. Sprott sagged to the canvas, utterly spent and exhausted, to sit out the count. Skelton did the exact same to big hitting Australian Bob Mirovic, hammering him to the canvas after some of the roughest, most physical 4 rounds of heavyweight boxing I've seen. He is not pretty, but he is darned effective.
Williams, however, is the opposite. He has the skills, he has the moves, he has the experience…but he often needs the proverbial 'kick up the backside' mid fight. His fight with Audley Harrison was typical Danny - his opponent was outspeeding him, out-moving him and (barely) outworking him as neglected his skills and talents…but his power won him through in the end.
With Matt Skelton in the other corner, though, it might take more than power for a Williams win, as Skelton will be on top of him from the first second of the first round onwards. Big Matt will swarm him, club him, and constantly lean his huge 250lb frame on to Danny, who hopefully has been putting the effort in at the gym. William's endurance will have to be damned good on Saturday night.
Of course, with fitness fanatic Jim McDonnell back in the Williams corner (Danny virtually trained himself for the Harrison fight), we can hope that the Brixton Bomber has been worked into tip top shape. He will need to fight for the full three minutes of each round, and get his jab working early on. Skelton, for all his physical characteristics, has yet to fight a boxer with Danny's natural ability, and this may well tell us just how far his brawling can take him.
If Skelton is impressive in bowling over Danny Williams, as only Vitali Klitschko and Sinan Samil Sam have done (and the latter only because Danny was allegedly suffering from the flu), then the world stage awaits.
If, however, his strength, fitness and will to win are slightly less than they have appeared when KO'ing the likes of Michael Sprott, Bob Mirovic and John McDermott, then you would expect Williams to pump that jab in his face and tee off with big right hands until Skelton goes down or runs out of rounds.
I predict the truth will be somewhere in between. Skelton will give any heavyweight in the world a tough old time, simply because his power is enough to worry them, his determination is enough to push them and his chin is solid enough to keep him going for a few rounds with a big puncher.
But unless you're Rocky Maricano, raw power and commitment will only take you so far. An on form Danny Williams will be too much for Skelton, and although I expect Danny to have to ride out a few rough patches, by and large his extra skill should hold him steady and secure a hard fought points verdict in which Danny emerges with a enhanced reputation following the disappointing Audley Harrison fight, and Skelton shows he can fight on competitive terms with a world class opponent…if a fringe one.
Of course, however, part of the attraction in this fight is just how wrong I could be. It's quite conceivable that Skelton, despite being nearly 40 (and some sources quote him as being older even than that), is just too fit and strong for the underachieving Williams, who hasn't exactly sparkled in his last three fights. If Williams cannot fight to his best abilities, Skelton could run all over him and stop a tiring Danny in the late rounds.
If forced to pick, I'd go for the former scenario simply because I usually go with tried-and-trusted over unbeaten-and-untested, but don't be surprised if I get it wrong. This is, after all. British heavyweight boxing…and nothing is more unstable and unreliable as a British heavyweight boxer!
BOXINGTALK BRITISH WRITER'S PICKSMatt Winsper - Williams by Decision
"It's tough to decide, but I'm going to go with the experience and skills of Danny Williams. He'll keep his jab in Skelton's face, nail him with the occasional right hand, and ride out the inevitable inactive periods (that he so often has) to clinch a close decision. It could go the other way, however, with Skelton's strength being too much, so don't put money on it!"
Ben Carey - Skelton TKO9
"Unless Williams can reproduce another miracle "Tyson-Like" performance, I expect Skelton to be too big, too determined and too strong and steamroller his demoralised opponent in nine rounds. Simply, Williams will not be able to cope with Skelton's relentless pressure."
Andrew Mullinder - Williams TKO8
"This is perhaps a fight that's going to be decided on the intangibles rather than anything we know about respective attributes of either fighter.  Will Williams be able to impose his superior boxing ability on the fight in the midst of Skelton's mauling and spoiling style?  Can Skelton take a punch from the hardest hitter he's faced thus far?  Will the Williams who beat Tyson or the one who lost to Michael Sprott turn up? It's a particularly difficult fight to predict, but I think Williams can do it.  It'll probably be scrappy early on but if Williams can get any kind of distance between the two, Skelton won't be able to compete as Williams' superior jab and more accurate combinations will dominate. Since the murmurings regarding his fitness are positive I think Williams will be able to find the separation he needs in the middle rounds.  And let's not forget that Williams has a big dig and that Skelton is less than elusive. 
Send questions and comments to: mattwinsper@yahoo.co.uk