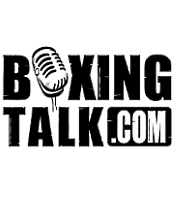 A 272lb Danny Williams came into the ring looking surprisingly lean and fit, and then proceeded to take away Audley 'A-Force' Harrison's unbeaten record with a split points decision for the vacant Commonwealth Heavyweight title. 
It was seen beforehand as a crossroads-type battle, with Williams, 32, on the way down after a hard career punctuated by a recent world title challenge, and Harrison, despite being 34 years of age, was on the way up with a sterling 19-0 resume and an Olympic Gold medal to boot. 
However, the form book was ripped up for two reasons. One...Danny Williams' refusal to adhere to the script, which expected him to be outboxed by the 6'6" southpaw. Two...Audley Harrison's extreme negativity, which saw him pawing with the jab and cautiously backing away when he could have easily been landing punches and racking up the points. 
The first 9 rounds were dire, and from the 7th to the 9th the 15,000 fans in attendance at the ExCel Arena in London, England were chanting 'What a Load of Rubbish', soccer style. Harrison used his reach to throw pitter-patter jabs and would then circle back out of range, whilst Danny Williams plodded forwards, guards high, swinging the occasional right hand haymaker that would invariably miss but bring about huge cheers. There was no doubt that the crowd had been turned off by Audley's cautious boxing and wanted him to engage Williams. Nevertheless, a difficult fight to score was roughly even on my card. 
Suddenly, in the 10th round the fight exploded. Danny Williams managed to close Audley down for a split second...and that was all it took. An arcing right hand bounced off Harrison's temple and the Olympic Champ suddenly short circuited. He sagged back into the ropes and fell forwards onto all fours to receive the mandatory eight count from referee Dave Parris. 
When he stood up, he was shaky and looked worried...but then Danny Williams inexplicably let him off the hook. Instead of charging in to finish the job, he went back to ambling forwards and allowed Audley to regain his senses. By the end of the round, Harrison was jabbing more efficiently, but had lost the round 10-8. 
The 11th saw the kind of action heavyweight fans expect to see. Danny came out bombing away to the body with meaty shots that made Audley wince, but Harrison bravely mounted a come back in the middle of the round, stunning Danny Williams with a chopping southpaw left. Suddenly, as Audley slammed home several hard uppercuts on the inside, it was the former British and Commonwealth champion who was looking ready to go. His legs betrayed him, and Harrison chased him around the ring, pouring on the pressure. 
With Danny struggling to stay up, he managed to land a straight right hand that momentarily backed up his opponent, and Harrison decided to call off the assault for the moment, and peppered a tired looking Williams with southpaw jabs until the bell. 
The 12th round saw both men exhausted...but it was still all to play for on the cards. Williams, not wanting Audley's momentum to carry on from the previous round, rushed out and launched a sustained assault to the body. Harrison was suddenly the one looking tired, and although he fought back on the inside, and even managed to buzz Danny for a moment, Williams fought strongly until the final bell, to receive a split verdict by scores of 116-113, 116-112 and 113-114. 
With the win came the Commonwealth belt, but more importantly this was a win to put Danny on top of his British rivals. It may not have been as sweet a win as his momumental knockout of Mike Tyson last year, but it was still a good win on paper. 
The fight, however, was shown on terrestrial national TV in Britain, and on a low priced PPV in America...and it is unlikely that the two of them have cooked up much interest Stateside. Audley is so cautious he makes Lennox Lewis look like Jack Dempsey and Williams has already disappointed US fans when being destroyed by WBC champion Vitali Klitschko. Neither will be considered viable world class opposition on this form.
On the undercard, British heavyweight champion Matt Skelton bombed out contender John McDermott in a single round to retain his belt for the third time. McDermott was not considered to be a huge threat, but it was expected his decent skills would at least take Skelton to the midway point before he succumbed to the champions unrelenting pressure and enormous strength. 
It is another impressive win on the slate of Skelton, who has little boxing skill or experience (he is 38 years of age but has only been a pro for three years after a long career in kickboxing), but uses his fitness, power and determination to walk through his opponents until they fall. Whilst Audley Harrison bores the fans with his caution, and Danny Williams throws a ridiculously low number of punches, Skelton, 18-0-0 (17) is always in entertaining fights simply because he tries so darned hard. 
Of course, the fight British fans now want to see is Skelton-Williams for both of their British and Commonwealth titles.
Amir Khan cruised to a 4th straight professional victory by stopping Daniel Thorpe in two rounds, flooring the Sheffield journeyman once in the opener and again in the next round before referr Richard James Davies stepped in to halt the carnage.  
Before that, Thorpe, 137lbs like his opponent but physically smaller, had tried to make it rough on the 19 year old Olympic Silver medallist, rabbit punching him, hitting him low and pushing him around in the clinches. Khan, however, was too big, too fast and too powerful to succumb, and a clubbing right hand quickly dropped Thorpe to the canvas just before the bell. 
In the second, Thorpe landed a few counters shots on the over eager young talent, but Khan's improving power saw him detonate two hard rights on to the journeyman's chin. The first wobbled him, the second dumped him onto the canvas for another count.  
After the 8 count, Thorpe was under more serious pressure and it was stopped. Khan moved to 4-0-0 (3) and is a seriously good lightweight prospect.
Send questions and comments to: mattwinsper@yahoo.co.uk