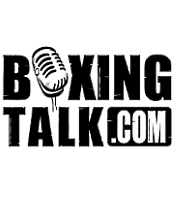 Vivian Harris holds the WBA junior welterweight title and has defended it twice, but he still hasn't been seen by a wide audience in the United States since his title winning effort against Diobelys Hurtado in August 2002. But Harris has hurt his own cause by turning down bouts with marquee fighters on two notable occasions which could have helped make a name for himself in a division that is filled to the brim with big fight possibilities.  Harris has called out some of the divisions brightest stars, starting with undefeated Floyd Mayweather and ending with the young blood of Puerto Rico, Miguel Cotto.
Crying and complaining along with frequent F bombs luanched at opponents and advisors alike, isn't enough to draw a fighter into the ring with you. Harris hasn't learned that yet and from the way his mouth runs, who knows if he ever will. He's currently scheduled to face little-known Arturo Morua in June, hardly a big-profile fight, but at least Harris will be seen on HBO PPV as the co-feature to Gatti-Mayweather.
Seeing Harris behave the way he has when Mayweather is brought up reminds me of Antonio Tarver chasing Roy Jones, only with a lot less class. Tarver was able to undermine Roy Jones Jr. so badly at his post fight press conference after Roy's win over John Ruiz in March 2003 that he ended up getting a shot at Jones.
Harris does all the talking but this is boxing after all, and you don't get paid simply to talk. Tarver did what Harris refuses to do. Yes, he talked a hell of a lot about Jones and even made it public for a couple years how Jones refused to give him his chance.
But Tarver also continued to fight, even after Eric Harding broke his jaw and beat him back in 2000. Tarver stayed active all the while continuing to talk about Roy Jones. He went on to work his way back up though increasingly tough competition:  Lincoln Carter, Chris Johnson, Reggie Johnson and finally, knocking Harding out in a rematch. The rest is light heavyweight history.
By comparison, Harris' career has resembled something more of ancient history. 
Harris, who unlike Tarver when he was chasing Jones is already a champion. Harris believes he is on the level of a Mayweather, but now he has to show it to the viewing public. 
He had a big chance last year when it appeared he would be facing Ricky Hatton. It's no secret that Hatton doesn't leave his home of Manchester, England to fight but still a win over Hatton in front of his home crowd would immediately elevate him to star status and assure him of getting bigger fights and more money down the road.
Harris pulled out of the fight that could have put him on the map because of money issues. He didn't feel that $750,000 was enough to put his portion of the title, on the line.  Harris may be the better fighter of the two, but he's not the bigger draw and in boxing money
talks.
Usually fighters fight, but once again Harris decided to stay on the
shelf and go back at doing what he does best, talking, complaining, and
putting all the blame on Ricky Hatton and his promoters.
It's never Vivian Harris that is to blame, according to Harris.  But let us take his side for the moment. Even if promoter Frank Warren protected Hatton, so what? Hatton's proving to the world that he's nobody's worm.
He's calling his shots and making his own bed. That's commendable after all. Another fight is drawn up, this time it's the highly regarded prospect Mohamad Abdulaev. The man who beat Miguel Cotto in the 2000 Olympics. Sure, it's short money but it's yet another chance to show those who don't have a clue who Harris is just exactly what he is about. Harris failed to come to terms and once again was left idle, something he should be used to by now. Instead Abdulaev is going on to fight Miguel Cotto. Oh well.
Harris is a fighter and a good one at that. But no matter how much he learns in the gym working the mitts or hitting the speed bag, the real lesson doesn't come from something inside a ring, rather it goes back to growing up and being taught to stand up for what you believe in.   As a close friend of mine, Johnny Dombrowski, once told me, "a fighter growing up without dignity and pride is stripped of his self worth and is likely to be left to be fed to the sharks circling the ocean of life." I didn't quite understand it then but as I began to get more experience around fighters, I began to see what he meant.
Harris will always have his pride because he refuses to swallow
it. He believes he's the best fighter in the world and believes that the other top fighters in his division are afraid to put their pride on the line. Dollars make sense and it doesn't quite add up to Harris, but dollars don't make the man. As long as Harris continues to choose to cry and complain more often than he fights, he can be assured he will be left out of boxing equation. Life's not always fair, especially in boxing, but it can only become of what you make it. Right now Harris is making his a lot less than what it could possibly be.  P.S., Happy Birthday Mom.
Send questions and comments to: tyson180@aol.com