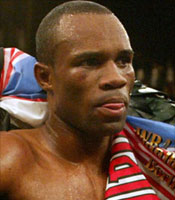 Vivian Harris is one of the most talented young fighters in the 140 pound division and he's one of the most avoided. Harris has made his presence felt at 140 amassing an impressive record of 24-1-1(16) in less than seven years. Included in these wins was a total destruction of then title holder Diosbelys Hurtado, who had been in the ring with the likes of Kostya Tzuyu (knocking Tzuyu down twice in the 1st round), Pernell Whitaker (whom Hurtado was clearly in control of for the first ten rounds, and Ricardo Mayorga. Harris' devestating power which has shut eyes, broken noses, and scored him knockdowns in his last five fights poses a problem for anyone who would challenge his rightful place in the junior welterweight division. He's physically imposing, using his height(5'10) and reach (74 inches) to his advantage, and he has a granite chin only being down once in all 26 of his fights. Add the fact that now Manny Steward is his manager and trainer and that spells tons of trouble for his opponents. He stood poised to get the recognition he deserves with a fight against Hatton in the works, but that fight fell through and now Harris is searching for another opponent. So, what fights could he take that could get him the exposure and recognition that he wants?
Vivian Harris' mandatory right now is Floyd Mayweather Jr. and while Harris and his team are hopeful that this fight can be made, there is a good chance that Mayweather opts to fight for the WBC title as he is the mandatory for Gatti also. If this happens then Harris' leading available contender will be Oktay Urkal, who he already defeated in Germany. When asked about Urkal, Harris has said that he hasn't been thinking about him and previuosly he said that he wanted to move forward. But, if there is no way possible for him tom get around it his next fight could very well be against Urkal. With all the things that happen in the Hatton negotiations it seems that Harris and his people would push for a fight with Urkzl to happen here in America, because as Harris stated a champion shouldn't always have to travel to fight. Either way this would be a tough fight for Harris.
Another possible option for Harris could be to get some kind of exception from the WBA and fight another ranked fighter. In this case the next available would be Jesse James Leija 47-6-2(19) who has reinvented himself after a tough fight with Kostya Tzuyu and won four straight, including an impressive win over highly rated prospect Francisco Bojado. This fight would put Harris against a tough rugged veteran who knows a couple of tricks in the ring. This fight could be very entertaining as Leija likes to apply pressure and with Harris' power the fight be over with one punch. Another very interesting fight for Vivian would also be one against Paul Spadafora. Spaddy has never lost posting a record of 38-0-1(15). The Pittsburgh Kid has only been down twice and rumor has it that he even got the best of Floyd Mayweather in a sparring session. At 5'9 with 69 inch reach, Spaddy is a good technical fighter who uses his speed and height to his advantage. This would be a great fight for Harris, who in the past had a little trouble with fighters who move well and work behind the jab, throwing combinations.
Next, a fight with Lovemore Ndou 39-7-1(25) would be a possible fight of the year. Ndou has never been knocked out in a fight and is 7-2 in his last nine fights, his only losses coming against Sharmba Mitchell and Miguel Cotto. Ndou is a savvy veteran with good power and plenty of heart. This fight could be one of those career defining fights that produces the kind of fireworks that keep people talking for years to come.
A fight that would definitely be one that raises Harris' stock in the boxing world is one against Junior Witter of England. Witter has been hot winning his last 14 fights by KO or TKO. He hasn't lost since being decisioned by Judah in 2000, and is a different fighter from then looking to prove that he's great. A win in this fight gains Harris more fans in England and does wonders for his name. This fight could move Harris high into the WBC rankings possibly even putting Harris in a mandatory position to face the winner of a Gatti-Mayweather fight since Witter is ranked number three behind Mayweather and Branco in the WBC. This could force a unification bout for Harris.
Either of the fights mentioned could be good for Harris. He has expressed many times that he's not content with Main Events, and the only way to get out of his contract is to fight. Harris has the skills and ability to be great and he will be, but in order to gain exposure he has to fight. Taking fights on the undercard of big PPV events would serve him well. Even getting his people to get him fights on ESPN or Foxsports Net would be good for him and this would allow him to build an even larger fan base, because he would be able to appeal to more people. This in turn could get him fights on HBO and Showtime, because as we see many times in our beloved sport, recognition is important. The tools and talent that Harris has coupled with the expertise of Steward make for a dangerous combination, and as long as Harris stays hungry and keeps winning he'll go far.  
Questions/Comments will be forwarded to Robert By emailing G. Leon
Send questions and comments to: gleon@boxingtalk.net