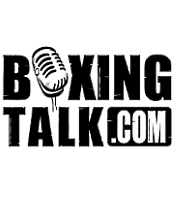 DKP Press Release:
  According to "Irish" Micky Ward, Thomas
Damgaard (34-0,l 26 KOs) not only lives up to his nickname of  "Lionheart," he also poses a serious threat April 2 in his first fight outside of his native Denmark.  Damgaard is set to challenge for Jose A. Rivera's WBA regular welterweight title (Zab Judah holds the WBA super championship). "Damgaard's tough, real tough," Ward remembered. "He's a good fighter who comes forward and throws combinations. He's not a one-punch knockout guy, but his accumulated punches take a toll. Damgaard is very strong." Damgaard challenge of Rivera (37-3-1, 24 KOs) in the latter's
hometown of Worcester, Massachusetts is the 12-round co-feature promoted by Don King Productions. The world cruiserweight championship bout between Wayne "Big Truck" Braithwaite and Jean-Marc Mormeck (30-2, 21 KOs) is the headliner. In 1999, long before Ward's legendary trio of fights with Arturo Gatti, Damgaard brought Micky to Copenhagen as a sparring partner before his
European light welterweight title fight against Khalid Rahilou. "Most
European fighters stand straight up and don't look that strong,"
continued Ward. "Damgaard, though, doesn't stand as tall and is very strong. He has a good style, strong upper body, and more movement—not as stiff as your basic European fighter." Ward offers a unique perspective on Rivera-Damgaard because he's also sparred with Rivera numerous times. "I've been to Jose's gym for sparring a lot of times," Ward noted. "He's the real deal, more of a boxer type, but he can hurt you if you go to sleep on him. He really puts his punches together and knows boxing. Jose has a lot of ring knowledge—the ins and outs of boxing—and he's going to have to be smart against Damgaard. This guy is dangerous and Jose can't get too excited fighting at home, especially in the early going. It's going to be a great fight." Tickets, priced at $35, $50, $100 and $250, are on sale at the DCU Center Box Office and all area Ticketmaster locations.