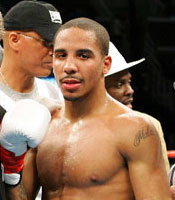 Prepped and ready to put on a smash hit in the Northeast this Saturday, 2004 Olympic Gold Medalist Andre Ward arrived at Foxwoods Resort Casino today.  In the Saturday night co-feature of the 2006 premiere presentation of HBO's "Boxing After Dark" series, the undefeated Oakland, CA native puts his 8-0 (4 KOs) record on the line against unbeaten Andy Kolle (9-0, 7 KOs) in the Olympian's first scheduled eight-round middleweight fight.   
"Saturday Nights All Right For Fighting," Ward insisted, referring to the 1970s hit song made popular by Elton John.  "Each fight I've learned something new, and I feel I'm getting better and better.  I am especially looking forward to this next step in my career and performing for the fans at Foxwoods as well as the HBO audience."   
This will be Ward's second appearance on HBO.  Ward is promoted by Goossen Tutor Promotions and Roy Jones' Square Ring, Inc., managed by James Prince and trained by Virgil Hunter.