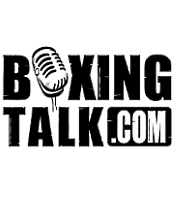 Isaac "Argie" Ward is bidding to become the first boxer from Darlington, UK to win a British title when he challenges bantamweight champion Martin Power for the Lonsdale belt at London's York Hall next Tuesday, May 30, 2206. SKY Sports will televise the bout live in the UK. The fight was originally scheduled for March 10 but Power was forced to withdraw with just a week to go after sustaining a shoulder injury in training prompting a furious outburst from Ward, who had been in training since Christmas and taken time off from running his sign making business. "It's a joke! I can't believe he's got an injury a week before the fight. You normally wind down in the build-up to a fight, you don't normally train, so how come he has an injury? "
Ward and Power have many similarities. Both are travelling fighting men, unbeaten (Ward in 15 fights with two draws while Power has won 18 straight) who enjoy throwing copious amounts of leather. Add in some pre-fight needling and fans should be in for a treat.
Ward continued, "He's let his mouth go for a long time and now when it [came] to the crunch he's bottled it and I think he's a coward. I think he has underestimated me and knows he is in for a hard fight," said an irate Ward to the Darlington and Stockton Echo.
Power's team claimed their charge injured his shoulder a week earlier and when the injury failed to respond to treatment they felt they were left with little option but to pull Power out. Now fit again the champion is in defiant mood. "I know Ward has sold a lot of tickets, but his supporters will be outnumbered by mine, I have no intention of giving up my title to a Northerner. I had a look at his record and it consists of wins over journeymen, who has he ever beaten to get a shot at the British title?
"I need to finish this one in style inside the distance to give the fans something to talk about. People have questioned my punching power. What they don't realise is that I go more for accuracy than for power and this can be seen by the way my opponents are marked up by the end of the fights. I know I can stop Ward inside the distance," said a bullish Power, whose 18 wins include seven by stoppage.
Power, from London claimed the vacant British bantamweight title with a bloody points win over Huddersfield's Dale Robinson a year ago. As sole arbiter, referee Paul Thomas controversially ruled 116-113 in Power's favour, despite a knockdown of Power in the eleventh when he tumbled off-balance to the canvas (which should never been awarded). In what was a poor night for the experienced official, he failed to spot a blatant headbutt from Power in the second round which caused a severe gash above Robinson's left eye.
Spurred on by the blood streaming down his face, Robinson generally appeared to have the upper hand and hurt Power to the body. But Martin gamely battled on and soon met fire with fire, drilling Robinson with some two-fisted attacks of his own in a mini classic.
Power displayed his toughness and incredible will to win that night. He needed both of these attributes to scrape through his first defence with another controversial victory over former amateur flyweight standout Ian Napa in November. In a captivating back-and-forth affair, a right hand from Napa in round nine had Power teetering on the brink of collapse. Once again Martin was forced to dig deep and weather a crisis. The champion rallied in the championship rounds to eek out a majority points win over the unfortunate Napa (116-113 twice for Power, 113-116 for Napa).
No doubt Ward will have been encouraged by seeing Power in dire straits against a fighter who has a reputation for not being able to break an egg (Napa has failed to record a single stoppage in his 17-fight career). However, the challenger himself is no Julian Jackson, sporting only a solitary KO on his own 15-fight slate and that coming on his professional debut against Neil Read in August 2002.
"I was knocking them all out in the amateurs and I thought I could do the same in the pros. I began boxing at 100mph but ended up getting cut a lot. (Ward required six stitches for an eye injury sustained in his second pro bout against John Paul Ryan and three when he drew with Rocky Dean two fights later). As a result I've had to learn to box more against naturally bigger men then me," explained Ward to Boxing Talk.
The undefeated North East man will arrive in London with some pedigree having reached the final of the 2002 ABA's before losing out to David Mulholland. After winning his first three pro bouts Ward was held to a four-round draw by future English featherweight title challenger Rocky Dean in his native Darlington. Two fights later Ward set the record straight, outscoring Dean over six. He followed this up with an excellent points win over James Yelland who was making his return to the ring after being outpointed by Nicky Booth in an unsuccessful British title challenge eight months earlier.
The only other blot on Ward's copybook was a six-round draw with journeyman Peter Allen (who was 4-24 at the time) in Hartlepool last April. Given that Ward was virtually on home turf this result is cause for concern though he was conceding half a stone in weight to his opponent. Since then "Argie" has won three straight against modest opposition, including victory over the then 0-18 Billy Smith, the only time Ward has completed the eight round trip.
"Though I've yet to prove it I see myself as a 12-round fighter. I've been sparring Dale Robinson and Paul Appleby, not to mention having sparred hundreds of rounds with Michael Hunter (Ward's stablemate). I'm not worried about going to London to box Power – hopefully I'll be able to win big. I've got my gameplan and I've seen a few weaknesses in Power but I do rate him as a fighter," said Ward.
The pre-fight advantages are all with Power though. The younger man (26 to Ward's 29) has fought tougher competition (Napa, Robinson, Jean Marie Codet – who was recently crowned France's bantamweight champion), is more experienced and, perhaps crucially, has home advantage. The champion isn't short of confidence either. He is already eyeing a voluntary defence against Damaen Kelly after this. Kelly, of course, was cruelly deprived of the European title against Italy's Simone Maludrottu last month.
"In my opinion Kelly was robbed and if he doesn't get the rematch he thoroughly deserves I will willingly give him a shot at my British title. I need one more notch for my Lonsdale belt," Power was recently quoted as saying.
Following a protest from Kelly's team, the EBU have refused to grant the Irishman the immediate rematch he craved, but have ordered the winner of Maludrottu and Karim Quibir to defend against Kelly within 90 days of their contest which must take place before the end of July. It will be interesting to see if Power and Kelly get it on in the interim (preliminary discussions between Power's and Kelly's camps have previously taken place).
But first Power can't afford to be complacent. He wouldn't be the first fighter to come unstuck through looking too far ahead. The tenacious Ward will give it everything and trainer Neil Fannon is sure to have whipped him into the shape of his life. Cuts could be a factor in this one. Ward is a bleeder and Power, one inch taller at 5'6, can be dangerous with his head. However, Power has to be favoured to retain on points in what should be an action-packed affair.
Send questions and comments to: benjcarey.yahoo.co.uk