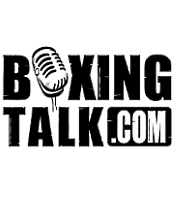 PRESS RELEASE:
It was decided during the final day's session at the World Boxing Organization's annual convention that the undefeated Guzman, a former WBO world champ at 122 pounds, is the mandatory challenger to next fight current WBO featherweight (126 pounds) champion Scott Harrison.
      Speaking to Sycuan Ringside Promotions president Glenn Quiroga, WBO president Francisco "Paco" Valcarcel laid out an exact timetable for Harrison-Guzman to unfold.
      Quiroga immediately began face-to-face discussions with representatives of Frank Warren, the British promoter whose company, Sports Network, handles Harrison's ring business.
      "We were given 30 days in which to conclude good faith negotiations with Harrison's team," said Quiroga.  "They want to hold this world title bout in the United Kingdom.  We have no problem with that.  In fact, Guzman is anxious to return there as he won his first world title belt in Wales.  But Guzman must be properly compensated."
      If the parties fail to reach agreement, then the matter goes to purse bids.  In any case, the fight must happen 120 days from Nov. 6 when Harrison has an optional title defense against an Australian boxer.
      A beaming Guzman, who attended the convention to show support for Valcarcel, was delighted with the WBO's verdict.
      "I know Harrison is a tough guy, but I am confident," said Guzman.  "Let him bring his bagpipers and I will bring my salsa music and we can put on a great show in his country.  But I will bring the title belt back to Sycuan and to my homeland, the Dominican Republic."
       Besides the Sycuan Ringside Promotions contingent, Guzman was greeted and supported by key media and government representatives from Santo Domingo, D.R.
       "That made us feel good," said Jose Nunez, Guzman's manager.  "Joan was feeling the love of his people and the press and, of course, the Sycuan Ringside Promotions staff."
       Guzman achieved the No. 1 mandatory contender position Aug. 26 when he battered rugged Thailand fighter Terdsak Jandaeng in White Plains, N.Y.
       "It shows you what a true warrior Joan is," said Scott Woodworth, vice president of Sycuan Ringside Promotions.  "Many fighters or ex-champs would ask why they have to go to the other guy's country.  Instead, Joan says when are we leaving.  He wants to collect his next world title belt."
       In other business, the WBO executive committee took under advisement a request for a world ranking for another Sycuan star, former International Boxing Federation lightweight champion Julio "The Kidd" Diaz.
       Orlando, Fla., was chosen as the site of the 2006 WBO Convention and Sycuan placed a preliminary offer to the president and to the board about hosting a future convention for the world governing body.
       Sycuan Ringside Promotions is considered to be the fastest-growing and most dynamic promotional entity in the sport.  Sycuan Ringside Promotions made its promotional debut during 2004, but already has or had three world champions and has promoted and presented world title bouts on premium cable networks. 
      Sycuan Ringside Promotions has many notable boxers in its stable including International Boxing Federation junior featherweight champion Israel Vazquez, former IBF lightweight champ Julio Diaz, undefeated former WBO junior featherweight champ and current WBO No. 1 featherweight Joan Guzman and World Boxing Council No. 1 welterweight contender Carlos Baldomir.
      Sycuan Ringside Promotions is led by Quiroga; Willie Tucker Sr., senior vice president; Woodworth; and Michael Marley, vice president of public relations.