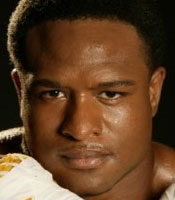 Lamon Brewster will make the first defense of his WBO heavyweight title against Pan Pacific heavyweight titleholder Kali "Checkmate" Meehan Sept. 4 on SHOWTIME CHAMPIONSHIP BOXING at 10 p.m. ET/PT (delayed on the West Coast). Tickets for the Sept. 4 event that features a world title fight between undisputed welterweight champion Cory "The Next Generation" Spinks against former WBC champion Miguel Angel Gonzalez are priced at $500, $300, $200, $100 and $40 and are on sale at the Mandalay Bay Box Office and all TicketMaster outlets. To order tickets by phone, call (702) 632-7580. Don King Productions will promote the world championship doubleheader on SHOWTIME from Mandalay Bay Resort & Casino in Las Vegas.
LAMON BREWSTER
"Some seem to think that this is going to be an easy fight for me, but I have been in the ring with Kali Meehan and I can tell you for sure that this fight is going to be anything but easy.
"They say in order to be a truly great champion, you have to fight great fighters, but just because only a few have heard of Meehan does not mean he is not a great fighter. Believe me, the guy is tough. He is tall, crafty, has heart, a great right hand, speed and can punch.
"So there is no way I can going to underestimate him. I learned in the amateurs too never take anybody lightly. Back then, I would be told I had an easy fight, and they would turn out to be the toughest.
"That is why I train for all my fights like they are going to be the toughest and hardest of my career. And, besides, it is not always the best fighter who wins, but who connects first. Look what happened to Roy Jones against Antonio Tarver.
"All you need to know about this guy and how much I respect his talent and ability. I trained five weeks for my fight against Wladimir Klitschko. I will have trained eight weeks for Meehan.
"Not a lot has changed since I beat Klitschko to become WBO champion. I am getting more attention, and that is nice. But I am making sure that I maintain an even keel. You are only as good as your last fight, and if I lose, I am sure all the attention that is coming my way will go away in a hurry,
"The last fight, I fought for my trainer Bill Slayton, and the memory of Bill Slayton, for my family and everybody here at the 108th (Broadway) Gym. This fight is for all who believed in me and for a bigger and better opportunity.''