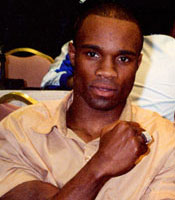 Former WBA junior welterweight champion "Vicious" Vivian Harris told Boxingtalk, "First I was supposed to be the frontrunner and then it was going to be Lazcano. I have nothing against Lazcano, he's a good fighter but now that he's gotten injured I think the right fight for HBO to show is Ricky Hatton vs. Vivian Harris. It don't get no better than that for him at 140 right now. Everyone knows that, HBO knows that so now Hatton just needs to step up to the plate. I don't know why they're looking for other people when Vivian Harris is ready to fight. This is what is supposed to him. We're supposed to fight on May 13, this is my dream and it's going to happen."
GL: Do you feel you deserve the fight more than guys like Ricardo Torres and Junior Witter who Hatton allegedly turned down?
VH: "Once Lazcano hurt himself I should have been the next name called. Even with Lazcano, I should have been called. But like I said Lazcano is a good friend of mine so I'm not going to hate on him but none of them other guys is on our level. The fight right now is Hatton and me. Everyone wants to see the fight so we need to get it on."
GL: Are you surprised that there has been so much difficulty in solidifying Hatton's opponent?
VH: "They know who they want to fight and I think they want to be fully prepared and give their opponent not much time to prepare. They know Vivian Harris will be prepared and I think that's why they'd rather take the easy route. The easy route is trying to be a step ahead but they will never be a step ahead of me because I'm keeping myself ready. It's like I said if he's the best guy at 140 he needs to fight the best guys available to him at 140. Forget about lightweight fighters, beat the top guys in the division. If they're not available fight the next best available challenge and right now that challenge is me. I'm not knocking Hatton though, him and his promoter know what they're doing. They know who they want to fight and who they should stay away from you feel me? He's fighting on the east coast, why not fight a New York fighter?"
GL: What do you say to the critics who point to the Maussa fight who say you might have gotten the fight had you beaten Maussa
?
VH: "They're right for saying that but everything happens for a reason. That doesn't change the fact that I'm the best available fighter at 140. Even though I lost that fight it still looks like that guy is afraid of me. Fans from England are emailing me telling me he should fight me, now it's just up to Hatton to step up to the plate."
GL: What message would you like to send to Ricky Hatton?
VH: "You're a great fighter, you've proven yourself in England and have fought some of the best, now prove yourself in America against the toughest challenge out there for you at 140, Vicious vivian Harris."
Send questions and comments to: gleon@boxingtalk.com