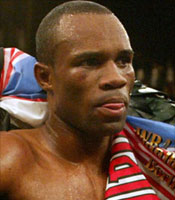 Maussa to replace Morua against Harris?
GL: I understand Arturo Morua pulled out of his fight with you on June 25. What can you tell us about who will be replacing him as your opponent?
"Right now they're talking about me fighting this kid from Columbia named Carlos Maussa. I just hope he takes the fight, but I'll definitely be fighting on June 25. Morua pulled out because he says he hurt his hand but in the fight he just had it doesn't look like he hurt his hand."
GL: Will Emanuel Steward work your corner on June 25? And who's training you day to day right now?
Vivian Harris: "Right now I'm training with my father Herman Harris and Dillon Parsley. I'm supposed to be going into a camp with Emanuel but I don't know when that's going to happen so right now I'm just doing what I know I'm supposed to do. I'm focused and my mind is right. I want to thank all of the fans who showed me support at Madison Square Garden (Saturday) night. It was good to see you and your son, it's always good to see you Greg."
GL: Thank you for making me feel special today.
VH: "Shut up Greg! It's Sunday, I'm being nice." (laughs)
GL: Has the situation with Main Events been rectified? If so, does not having all of the behind the scenes, personal stuff, make it easier for you to stay focused?
VH: "Yeah. But it don't matter what I'm going through outside of the ring, I'm not going to let that interfere with taking care of my business in the ring. Right now everything is good between me and Main Events. We're working towards this fight and we're going to be working towards future fights also."
GL: In terms of class, Oktay Urkal ranks quite a few notches higher than guys like Maussa or Morua, but in terms of exposure, beating Maussa on HBO will do more for your career than beating Urkal twice did. How do you feel about that?
VH: "People know I can fight. Even though they haven't really seen me yet they know I could fight, they just want to see me. It doesn't matter who I fight, when people tune in to watch Vivian Harris fight they're going to see someone more determined, focused and more stronger than any other junior welterweight in the world. I'm the best 140 pounder in the world and I'm going to show my killer instinct on June 25."
GL: Do you feel any extra pressure to look fantastic on June 25 to really put some heat on guys like Mayweather, Gatti, Tszyu and Cotto?
VH: "I'm not looking at it like that. People always ask me when I'm going to fight those guys, but right now I'm taking my next fight very, very seriously. I have nothing on my back. I'm going to train hard and I'm going to win my fight. I have no pressure on me. I think going into Germany to face Urkal the first time when the people over there didn't really like me and I had some personal things I was going through."
GL: If the big names at 140 continue to look the other way after your next title defense, will you look to make one mandatory after the other or would you move up to welterweight and try to make something happen with the big names out there?
VH: "If I can't get a big fight at 140 soon, I'm definitely considering moving up to welterweight. Oscar De La Hoya is coming back down there, Shane Mosley is there, Margarito and Zab. I want to fight the big name fighters so hopefully the guys at 147 are more willing to make a big fight that Gatti, Mayweather and Cotto."
GL: Is there anything you'd like to say in closing?
VH: "I just want to let the fans know, Vicious Vivian Harris is coming to Atlantic City on June 25 to steal the show! Brooklyn stand up!"
Send questions and comments to: gleon@Boxingtalk.net