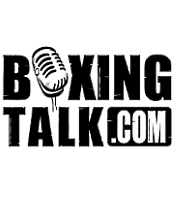 Ukraine born Vitali Klitschko is the best heavyweight boxing has to offer. To many, he is a strong fighter, but not necessarily dynamic enough to be considered the most exciting. Klitschko is a fighter who has been plagued by injuries: wrist, hand, back, and shoulder problems that have resulted in time off, including his most recent, an eleven month layoff. Klitschko is a fighter who does not like to discuss his plans of destruction outside the ring. "I don't like to make predictions," he says. "I show my strategy in the ring." Today, October 26, on a national conference call, Klitschko discussed his plans for Hasim Rahman, the interim WBC heavyweight champion, and how he has prepared to dominate over his opponent on November 12th in Las Vegas.
The call began with a warm welcome from Klitschko, as well as his trainer, Fritz Sdunek. "We have worked for nine years together," Fritz explained. "We've had a great preparation so far. We've been working together since October 1st in L.A. We're in a hot sparring session. Vitali is improving day by day and we feel at 100 percent when it comes November 12th. We rank Hasim Rahman very high, but we have sparring partners that have Rahman's style. Vitali has conditioning, he is in shape. We will stay the heavyweight champion of the world." 
A reporter quickly jumped in and inquired about Klitschko's recent surgery, as well as his time off from the ring. "I feel very well," Klitschko explained. "I don't have a problem anymore. I don't think about my injury. I concentrate and look forward to the fight. In sports, you get injuries, every sportsman it happens. My break was for long but right now I feel great, I'm in top form, and I'm ready to fight again. Of course the break was a little bit long, but anyway I have my experience, I train all the time and I am ready to show a great performance on November 12th. I feel great and I think I'm really hungry right now for boxing and I am enjoying every training, and I want to be in the ring."
Klitschko was then asked a political question about his home country, Ukraine, and how involved he is with recent elections. "I fight for democracy," Klitschko said. "I'm really happy we won this election and that Ukraine won. This was very important for our country, our government, and our president. It's a long process but we're very happy with that. I see how many years the U.S. has had to work with democracy and Ukraine is a very young country and that's why we need a little bit more time. If I can, I help a lot because I have experience in Germany, in the U.S., and I know how to work for democracy in this country, and I try to bring good examples to Ukraine. I travel a lot."
Klitschko then focused on a question about the importance of beating an American such as Rahman, who is a well known name in the heavyweight division. "For the boxing public, it's very important to show a good performance and an interesting fight. It's not important for the nationality of who I fight, it's important to show a good, emotional fight that people want to see. It's not just my personal opinion that he is one of the strongest heavyweight fighters in the world right now. My biggest mistake is to underestimate Hasim Rahman. Every single punch can decide the fight. That's why I prepared for this fight very well. Rahman is a big puncher and that's why I prepare for this fight very tough. We have prepared and developed a strategy for this fight. We have option A, option B, and option C. We have prepared for every hesitation in the ring. I am conditioned for twelve rounds, but I don't think it will go that far. I won't explain my strategy, because I want to show that strategy in the ring."
"Does it favor you if Rahman comes out and tries to knock you out?" one reporter asked. "Yes, of course," Klitschko explained. "Hasim will try to use his skills, he's very dangerous. I want to use the experience of Lennox Lewis. We shot together Ocean's 11 in Las Vegas, and I asked Lennox before his fight with Rahman, 'What are you doing here?' He underestimated Hasim Rahman, and I was not surprised that Hasim Rahman knocked Lennox Lewis out because he wasn't 100 percent concentrated for that fight. I know that Hasim is a very good fighter and he will use all his skills to be world champion, but I will not give him this chance. Rahman has a lot of good skills and I don't need to explain how many good skills he has. I want to repeat again it's the heavyweight division and every heavyweight has a lot of power to knock somebody out. It could be Hasim Rahman or somebody else. I have fought against many fighters who were strong punchers and so I have experience and I prepare to surprise my opponent if my opponent can use his weapons."
When asked what needs to happen for the heavyweight division to capture some of its previous glory, Klitschko answered honestly. "You know what, I'm just a fighter. I give my best for every fight and I'm ready to fight everyone. It's always people thinking that the past fighters were better. I and my brother give the best in the heavyweight division. For me, it's step by step. I don't want to talk about my next fight before I fight Rahman. I want to keep all the belts in my hands or the hands of my brother. I know so many new heavyweight fighters. A new generation is coming. It's very difficult to say who will be world champion because everyone has big advantages to be world champion. A professional's way to a world title is very long, and let's see who, in the next couple of years, will be the strongest in the world. I know many guys have big potential for the future. Nobody knows though. I know many young people who are ready to show great performances. In Germany, in Russia, and in the Ukraine. The new generation is very hungry. It's a very philosophic question because no one knows what's going to happen tomorrow."
When asked why he feels that he is the best, Klitschko hurriedly explained it was not a question for him to answer. He leaves it up to the boxing public and the experts, and says it rests in the hands of the public to decide who is, and will remain, the best. Bob Arum then jumped in with his own opinion on the matter. "It's because he's the best heavyweight fighter in the world. That's why Top Rank was motivated to bid on the fight, because he's the best in the world. And Hasim Rahman is the dangerous challenger. I don't know anybody out there who has the potential to beat Vitali, with the exception of Hasim Rahman. I wanted to do this fight because it's a quality fight and from here on in, we'll stop fooling around with nonsense fights that the commission dictates, and that the fans don't want to see. It depends on the heavyweight division for its popularity. And this fight can be called to the attention of everyone in this country and around the world. So tune in November 12th and you'll see who the best heavyweight is."
A reporter then discussed Rahman's inconsistency in the past and how that may or may not be a factor for Vitali Klitschko. "We studied Rahman," Klitschko said. "I studied many fights of Rahman, and we are prepared. It depends on how good he'll be and that's why let's just see. I don't want to make predictions. It's very important for me to win this fight. I am ready to knock him out in every round. I use his mistakes to knock him out."
The last question pertained to Vitali's younger brother, Vladimir and how inspired he was in watching him beat Samuel Peter. "It was a very important fight for Vladimir. It was the first time he was an underdog in his fight. Many people have asked if he has a good chin or a good heart. He showed good skills and right now, he's an official challenger for the world title. I'm more than sure Vladimir will be world champion and he has much more boxing skills than me. I'm glad the Klitschko brothers are back on top."
On November 12th, we will see if Vitali Klitschko can stay on top by defending his title against Hasim Rahman. Tune in to HBO Pay-Per-View and watch Seek and Destroy, a battle for the heavyweight championship of the world.