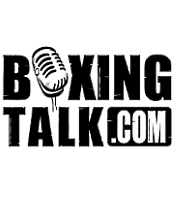 "The Knockout is going to come and it is going to look beautiful."
Boxingtalk.com recently caught up with heavy handed Heavyweight Contender Vinny Maddalone 25-2(18) to get his thoughts on his highly anticipated rematch against Brian "The Beast" Minto 20-1(11). Many feel that if the bout, which will take place on the Tarver-Jones III televised under card tonight in Tampa, FL, is anything like their first meeting back in July 2004, fans paying $49.99 can expect a great heavyweight appetizer leading up to the main event. However, Maddalone, an all action slugger, says he doesn't feel any pressure to make it as an exciting a fight as their first encounter. "I am just going to go in there and try to stay relaxed and I think it is going to come. I am not going to be looking for it. I have in my mindset that if it goes ten rounds I am going to win every round and if the Knock out comes it comes." Well at least that is what he said when I started talking to him, but by the time he was ready to go he was stuck on "The Knockout is going to come and it is going to look beautiful."
RC: The last time we spoke you had just found out that you would be fighting Brian Minto in a rematch instead of facing Shannon Briggs (His original opponent). Then you went on to tell us some of the changes you'll have to make in preparations, how did everything go?
VM: What I have been doing with Al (Certo) is I have been sparring everyday. Even before I was going to fight Briggs, before the Minto fight, before I was moving around with a lot different guys. I am just taking all what I have done not just in this camp, but all what I have done and I am putting it all together and carrying it over into this fight.
RC: Do you feel any pressure to make it as good a fight as you guys put on the last time?
VM: Nah definitely not, I am just going to go out there and… you see before I was looking for the big shots, but you know what Ray? I am just going to go in there and try to stay relaxed and I think it is going to come. I am not going to be looking for it. I have in my mindset that if it goes ten rounds I am going to win every round and if the Knock out comes it comes.
RC: Initially you were suppose to fight Briggs this weekend, now would you have preferred to take the step up level fight which Briggs would be considered, or take this rematch fight against someone that previously defeated you, then move on to a step up level fight?
VM: Well without a doubt I want it this way. He (Briggs) even made sense with it; the fight with Briggs and me should be made in New York. That is definitely a New York fight. If everything goes well and I get by Minto, then me and him in New York, you know it makes sense. We will be the main event and it would be good for the crowd. But I gotta focus on my fight this weekend for right now.
This is big for me, ever since I first put on the gloves I always said to my self that I want HBO and this is it, I got it. This is my time to shine, I have busted my ass for this fight, I am going to take care of business and that's it. I don't care what Minto is standing in front of me, and I am going to look good. And you know what Bro, it is going to come. The Knockout is going to come and it is going to look beautiful.
RC: Vinny are you telling me you are changing your prediction for this bout and your final answer is that this fight wont be going the distance?
VM: If it goes the distance then… but pretty much you know me. It is going to happen, one of these shots is going to land and I don't think he is not going to get back up. I am looking forward to this man, I have been thinking about this day with a rematch with this kid, and once we get this done we can move on and get the Briggs fight done.
Send questions and comments to: rayocampbelljr@hotmail.com