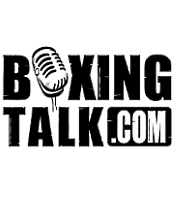 By Darren Nichols @ Ringside
After a six month layoff from the ring, undefeated flyweight Brian "Hawaiian Punch" Viloria received the opportunity to headline Thursday night's HBO Latino card at the Olympic Auditorium in Los Angeles.  Without hesitation, Viloria accepted the challenge of fighting on two days notice against Angel Priolo, a rugged opponent whose only loss came against former IBF flyweight champion Irene Pacheco.  Even with the smallest amount of time to prepare for Priolo, the boxer with the Hawaiian Punch felt he was ready due to his work at Freddie Roach's Wild Card Gym these past several months.  Once Viloria and Priolo left their respective corners to begin the first of a scheduled twelve round duel, it was Viloria who proved to be the quicker of the two fighters.  Viloria landed his leather first to the head of his opponent, and then they spent the next six minutes of action standing toe-to-toe in the center of the ring punishing each other with rapid-fire jabs and cracking hooks upstairs. 
Viloria pressed the action for most of the third round catching Priolo with a stretched out left cross, following it up with three unanswered jabs to his opponent's face.  Priolo, who was momentarily staggered by the Hawaiian's punches, quickly regained his footing, and the two fighters spent the remainder of the round engaging in a back-and-forth war that involved landing monstrous hooks and crosses upstairs.  At any point during this fierce exchange, as both Viloria and Priolo were landing their head-jarring leather with a great amount of intensity, either one could have gotten an up close and personal view of the canvas.  Remarkably however, the two pugilists remained upright in battle, causing the crowd to rise from their seats and cheer for the heated exchange to wage on.  In the midst of non-stop battling, with seconds left in the round, the Hawaiian Punch landed a right hook typhoon on his opponent's chin, dropping him in the neutral corner.  Priolo easily beat the count, but for Viloria there was not enough time in the round for him to finish off his fine work of art.
Fortunately for the Hawaiian Punch, who was becoming more accurate with his shots, he was able to continue where he left off from the previous round by brilliantly dodging Priolo's attack in rounds four and five, landing crushing right hooks to Priolo's head followed up by stiff shots to the same vicinity.
In the sixth frame, Priolo became more active than he had in the last six minutes of action by continuously tossing out two left jabs, then following his peppering by landing a left-right combination to Viloria's head.  The Hawaiian Punch attempted to catch his opponent with his vicious right hook, but Priolo made his opponent fight cautiously by attacking Viloria's body.
Viloria came out for the seventh round and landed the same shots that were hurting him in round six.  Stalking Priolo until he was trapped in a corner, Viloria punished Priolo's body with a barrage of rib-cracking hooks.  In pain and almost rendered defenseless, Priolo found the strength to move his legs and escape the snare that he found himself in.  However, while on the retreat, Priolo quickly found Viloria right behind him to finish off his fine work.  After suffering more punishing shots downstairs that Priolo simply could not answer, Viloria knew that end was near, and put his opponent down with a stinging right hook to Priolo's ribs.  He tried to get up, but could not beat referee Ray Corona's count.  At :54 seconds in Round 7, Priolo was counted out, allowing Viloria to fall on his back and celebrate his victory with a horizontal hula on the canvas.  Viloria keeps his ledger clean with a record of 16-0 (10), while Priolo drops to 30-2 (20).
Andrade Takes Reid Out in Four
It was Thomas Reid who came out swinging the moment the first bell sounded, but it was super middleweight Librado Andrade (rated #24 by Boxingtalk) who actually landed the first two punches of the fight in the form of a lead left-straight right combo.  Reid tried to inflict damage to his opponent's head, but the champ would have no part of it, and found it easy to not only avoid Reid's jabbing leather, but at the same time answer back with two-punch combinations upstairs.
In the second frame, with Andrade fighting more relaxed, he repeatedly found Reid's head and ribs with three- and four-punch combinations that went completely unanswered by the more experienced fighter.  At the ten second mark in round two, Andrade impressed the judges again by landing monstrous combinations of uppercuts that dug deep into Reid's sides and chin.  Had it not been for the ropes surrounding the ring, Andrade would have had enough room and momentum to put his game opponent down.
In the third round, both fighters resorted to attacking each others' bodies.    Andrade used his money shot: the right uppercut, while Reid punished the champ's sides with monstrous hooks.  Both warriors continued their attack downstairs in round four, but when Andrade started landing the same shots he was being hit by from his opponent, Reid showed that he could not take what he was dishing out.  Andrade stung Reid with hooks to both sides of his body, and the older boxer simply could not fight back.  Instead, he turned his back away from Andrade hoping that referee Raul Caiz Jr. would step in to save him, but Caiz allowed the hurt fighter the chance to show some fight.  When Andrade kept landing his hooks without any response from Reid, Caiz stepped in at 1:52 of round four, giving Andrade a KO victory.  With the win, Andrade earns himself a record of 21-0 (15), while Reid drops to 33-14-1 (13).
Ornelas Survives Knockdown to Take Majority Win Over Barthelemy
Fresh off his first professional loss in nineteen bouts, Enrique Ornelas came out of his corner looking to toss out the precise punch that would put the La Habra resident back into super middleweight contention.  Ornelas was brilliant with his counterpunching, landing classic one-two's whenever Giorbis Barthelemy entered his personal space.  He topped off the round by landing a straight right that put the more experienced Barthelemy on the mat.  Barthelemy quickly rose, but with a matter of seconds left in the round, Ornelas simply did not have the time to seal the deal.  When the second inning got underway, the younger brother of the NABO Super Middleweight Champion Librado Andrade was once again boxing beautifully until he was caught by Barthelemy's head that referee Pat Russell deemed a legal punch.  With the crashing of heads, Ornelas found himself sitting in the neutral corner taking a mandatory eight count.  Barthelemy pressed the action once the fight was allowed to continue, but with only nine knockouts in 36 fights, he did not possess the power to finish off his younger opponent.  For the next two rounds, both combatants fought cautiously as they did not want to dedicate too much time standing in the middle of their opponent's reach.  In the fifth round however, when Barthelemy once again felt brave, he came in to throw a quick combination of jabs, but was instead caught with a quick left jab from Ornelas.  The single punch leveled Barthelemy on the canvas, who easily beat Russell's count, but he found himself in a similar position when, in the sixth frame, was floored by an Ornelas' left hook upstairs.  With Ornelas ahead on the scorecards, and Barthelemy fighting cautiously after being caught one too many times, the seventh round was fought at a slow pace.  However, in an attempt to redeem his single knockdown in the fight, Ornelas fought Barthelemy aggressively in the eighth and final round, stalking him like a lion would with injured prey.  The younger fighter forced his opponent in the corner, and when he saw his openings, landed single powerful rights to Barthelemy's head.  When the judge's had their say, they saw it 76-72, 75-73, and 74-74.  Ornelas takes the majority win and improves to 20-1 (13), while Barthelemy drops to 27-8-2 (9) 
CLICK HERE FOR FULL FIGHT REPORT AND PHOTOS
Send questions and comments to: fool4rush@aol.com