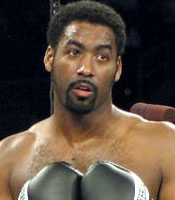 Heavyweight contender Calvin Brock (25-0, 20 KOs) is coming off what is undoubtedly the best win of his career. Brock defeated tough Jameel McCline last Saturday and looks as if he finally may have grabbed the attention of the heavyweight division (Boxingtalk now rates him at #9 in the division). The 2000 Olympian survived a late knockdown to win a unanimous decision over the much larger McCline. In this interview, Brock gives Boxingtalk his breakdown of the McCline, discusses his future and answers some of his critics.
BT - Calvin, you are coming off of the biggest fight of your career, give us your thoughts about the fight against Jameel McCline.
CB - Well I thought it was the toughest boxing match I have ever been in. Jameel McCline is the toughest opponent I have ever faced, he was a lot better than I thought he was, he was quicker, and had more power than I thought he did. Jameel was very good, and I think he is very capable of coming back and fighting against top 10 heavyweights, and even another title shot opportunity. I don't know about what the boxing people think, but he's that good, but I am better and I want to thank God for the opportunity, and this victory and for the opportunity to move forward to becoming the next heavyweight champion of the world.
BT - Calvin, now that the fight is over and done with I am guessing you have big respect for McCline don't you?
CB - Yes I respect McCline, not only as a boxer but as a person. McCline said some very nice things about me, and it takes a man to admit the truth. I respect anybody that admits the truth.
BT - Calvin, talk about the knockdown a little bit. McCline rocked you with a right hand, followed by a left hook that put you down, did you see that punch coming, and is that the first time you have ever been down in your career?
CB - That's the first time that I have ever been down, I didn't see that punch coming. I recovered from a great shot, by the time I hit the ground I was alright, but he did knock me out of my senses for a second. I took my time getting up, which you are supposed to do, it's something that I learned as an amateur fighter. I didn't want to jump back up right away because blood rushes to your head, and makes you even more dazed, so I just
took my time getting up, and then pretty much won the rest of that round. One judge had that round 10-8 and the rest had it 10-9.
BT - One of the things Teddy Atlas said was that you won the rest of that round. Calvin, did that knockdown anger you? Did you say to yourself " I better quit messing around with this big guy, it's time to roll with this guy".
CB - The knockdown suprised me, because I didn't see the punch. That knockdown was the first time I have been down in my career, and it hurt my pride and it gave him satisfaction that he knocked me down. After the knockdown I figured I better try to take him out, and put him down because he put me down. The knockdown made me feel kind of chumped by getting knocked down by him, so I closed the gap and did my best to get him out of there, but I didn't do that.
BT - Calvin before all of this, you cracked McCline on top of his head and wobbled him, talk about that for a minute.
CB - Yes, I hurt McCline 3 or 4 time throughout the fight. McCline fought like a champion in there, it's funny, I think around the 4th round he leaned in on me and told me " I am here baby, I am not going anywhere" (laughing), I knew then that I was in for a long and hard fight against this guy.
BT - Calvin, after the fight McCline talked with Jeremy Schaap and seemed pretty dejected. McCline hinted around retiring without actually saying it, did you get to talk to Jameel after the fight at all?
CB - I didn't get to talk to him much after the fight, he did come to my dressing room and shook his head. Jameel nodded at me, and shook my hand in respect, but I didn't get into a conversation with him. After that, my heart went out the guy because I knew he needed that win, but I needed that win too. Boxing is a very tough game, and you are only as good as your last win, but I hope the boxing industry gives McCline a third chance because I think the guy deserves it, he fought a great fight. Jameel fought me better than he fought Chris Byrd, he came into the fight in great shape, fought smart. With that said, I am the real Heavyweight Champion of The World, and I beat him.
BT - C Brock, you came into this fight at 218 so you knew what you had to do to win this fight. Calvin, talk a little bit about your conditioning coming into this fight.
CB - I was in the best condition of my career, and the next time I fight I will be in even better shape. I trained for 5 straight weeks for this fight, I dieted right, and the weight just came off. Next time people see Calvin Brock, I will be even better.
BT - Calvin, let's move on and talk about your future.
CB - Well, things from here can only get bigger and better for me. I just beat Jameel McCline and I expect to be ranked within the top 10 in the world, Main Events and I are waiting to see where I will be ranked and we will move forward from there. I want to fight sometime in June or early July before I get married on July 23rd.
BT - C Brock, we have John Ruiz/James Toney coming up, we have Chris Byrd to talk about as well. Are there any names you want to throw out there for a possible next fight for you?
CB - No, no names right now I just want to follow God's will and we'll see what happens next.
BT - Calvin, you already stated that Jameel was your toughest opponent. What is it that you most learned coming out of this last fight?
CB - My preperation for this fight was excellent, but there are a few things that my trainer Tom Yankello and I have to tweak out. I looked good, and I performed well, but I wasn't fully satisfied with my strength in myself during the match. There was a few things that I didn't do during the match because I didn't feel I had the strength to do them. There are also a few slight things within my diet that I will change as well. I will also work on  some things so that I wont get caught with another punch, and get knocked down like I did.
BT - Calvin, there have been some doubters out there within the boxing world concerning Calvin Brock. Some said you are over-rated, and that you had no chance against McCline. Is there anything you would like to say to these people now in response?
CB - Everybody needs to know that I am whoever I say I am, and I am whoever God says I am. There isn't anything anybody can say, or write that will   change my predestined future of becoming the next Heavyweight Champion Of The World. People may as well just jump on the Calvin Brock band wagon now because nobody is going to beat me. I am going to train hard, and there isn't anybody out there that can keep me from winning. That's all I have to to say to those doubters, or those who used to doubt me.
BT - C brock, if you had your pick between Klitschko, Ruiz, Toney, or Byrd, who would you like to go after next?
CB - I want Toney and or Klitschko because it's a bigger draw, and the world would rather see those matches over a Brock/Byrd match up.
BT - Calvin is there anything else you want to say to your fans?
CB - Calvin Brock is the real Heavyweight Champion Of The World.
Send questions and comments to: bradcooney1@bellsouth.net