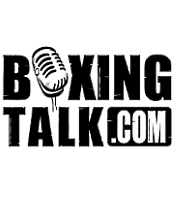 PRESS RELEASE: Boxing history is replete with trilogies.  The one that usually springs to the fight fan's mind first is the classic series of bouts between heavyweights Muhammad Ali and Joe Frazier. Now Israel Vazquez, a world champion promoted exclusively by Sycuan Ringside Promotions, is getting ready to complete his ring trilogy with another world champ, Oscar "Chololo" Larios.
      Vazquez, the International Boxing Federation champion at 122 pounds, and Larios, the World Boxing Council champ at that weight, finally will have their long-discussed rubber match Dec. 3 at Mandalay Bay in Las Vegas.
      Larios-Vazquez III, presented by Golden Boy Promotions in association with Sycuan, will be the co-main event on a show topped by the middleweight title rematch between veteran Bernard Taylor and upstart Jermain Taylor.  HBO Pay-Per-View will televise the card.
      There is no question in anyone's mind that this battle will decide supremacy in the 122-pound division.  Ring Magazine, the "Bible of Boxing," already has given its imprimatur to the matchup and will recognize the winner as the world's best junior featherweight fighter.
      The pair first tangled April 12, 1997, in Mexico City when Vazquez had an 11-1 record and the highly touted Larios was rolling along with a perfect 20-0 pro mark.  Vazquez was explosive in the opening round and knocked out Larios.
      They crossed gloves again five years later on May 17, 2002, in Sacramento when Larios scored a technical knockout victory in the 12th and final round.  But now both proudly wear title belts.  Larios has made nine title defenses while Vazquez has made two.
      Both of these Mexican fighters know what is at stake Dec. 3 and so do their promoters.
      "This one is for all the marbles," Glenn Quiroga of Sycuan said.  "This one is all about pride and country and bragging rights.  The winner truly can say he is the better boxer."
      "We are very proud to have been able to work with Sycuan to make this rubber match a reality," said Golden Boy's matchmaker, Eric Gomez.  "This fight is different for both of them because they both bring world championship belts into that ring."
      Larios, whose overall record is 56-3-1 with 36 knockouts, downplayed his other two losses, one to Willie Jorrin and one to Agapito Sanchez.
      "This will be a great fight," said Larios, "because we both know each other very well.  I consider Israel to be the only fighter to ever beat me.  I got robbed in those other two bouts, so he is really the only guy to ever beat me."
      Larios, who is 28 and comes from Guadalajara, did not get any argument about the difficulty of the rubber match from the
27-year-old, Mexico City-born Vazquez.
      "I am real motivated, but I know it will be a very hard fight," said Vazquez, who has a record of 38-3 with 28 knockouts.  "I went into the second bout with him overconfident.  He surprised me in the rematch because he fought so intelligently and he had so much movement.  He was just better prepared for that second fight.
      "You will see a war in this fight December 3," said Vazquez, who now lives in Los Angeles.  "But I think and I believe it will go my way.  For this one, I will have much more and better sparring and I will pick my shots.  This will be a great fight which will have boxing fans talking for years.
      "This is the decisive battle.  This is the fight that will decide our destinies."