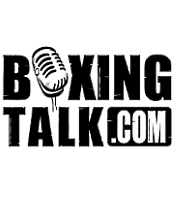 By Rea Frey
Today is a good day for Chicago. Mexican boxing fans flock to JABB Boxing Gym, a relatively new gym in Chicago which was founded by 8 Count Productions frontman, Dominic Pesoli. The classy gym sits on a quiet block on the northwest side of Chicago, and is home to many Chicago hopefuls. Today, fans and fellow boxers await the arrival one of their most beloved fighters, "Ferocious" Fernando Vargas.
Vargas is a young boxer, whose emotions have often been exemplified in the ring. His fans have watched him grow from a young, hotheaded kid, who once tested positive for steroids, into a more composed and mature fighter, as seen in his last fight with Raymond Joval. At only twenty-seven years old, the California fighter has accomplished a great deal – once a two-time junior middleweight world champion, who is now on a quest for the WBC title. Vargas's upcoming fight is set for August 6th at the Allstate Arena in Rosemont, Illinois. He does not yet have a set opponent, but has many great opportunities for a potentially explosive fight. A fight against Javier Castillejo was sought out, but it didn't materialize as Don King intervened to match Castillejo vs. Ricardo Mayorga.
At exactly 1:00p.m., I arrived at JABB Boxing Gym, ascending a steep set of blue stairs. The gym opens up in a flurry of navy paint, scuffed hardwood floors and a beautiful ring that has been flagged with Miller Lite banners. People mill around, eating from the small Mexican buffet that is set up for this festive occasion. There are several rows of white plastic chairs perched in front of a conference table, which is flanked by promoters, managers, and a single row of Miller Lite beer bottles.
Upon Vargas's entrance, fans cleave to him, photographers vying
for a clear shot of the stocky fighter. He is dressed in a button up shirt and shiny shades that block his expressive eyes from the crowd. The occasional child runs up expectantly, hoping to grab a shot with the two-time world champ, or have him sign a brand new boxing glove. After a lengthy interlude of pictures, Vargas takes his seat at the conference table, surrounded by the "Ferocious Squad," which consists of his co-manager, Rolando Arellano, and a slew of other supporters. Rolando stands behind the small podium and announces how happy he is to be in Chicago, despite his original reservations to set a fight here. "You know, I'm the business man behind the organization. I got sure money in Las Vegas. I know Fernando Vargas would get paid one way or another in Las Vegas, because they pay us to go there. You know what he told me? He goes, 'No. I need to go to my people.' He understands that the second largest Mexican population in the United States is here in Chicago. He says, 'I'm going to Chicago. Whether you like it or not, I'm the leader of my ship.'" Rolando pauses before continuing. "Ferocious Fernando Vargas is in Chicago. We're here and we're going to tear the roof off the Allstate Arena."
There are a chorus of cheers as other people come to the microphone, including several Chicago pros that are present: David Diaz, who will be fighting on Vargas's card in August, as well as Freddie Cuevas, Angel "Toro" Hernandez, Francisco Rodriguez, David "Danger" Pareja, and Donovan "Da Bomb" George. Finally, Vargas is introduced, first speaking in Spanish and then addressing everyone else in English. He explains how happy he is to be here, despite his manager's wishes to go to Vegas, where the money is. "I'm a gambling man. I like to take my risks and that's why I'm here. I know that us hard-working, blue-collared Mexican-Americans, blacks, and Puerto Ricans, they appreciate the fact that we come here. Because it gets hard being a Mexican and having kids… I understand that getting the flights to Vegas, getting the tickets is hard… so I said to myself, I'm going to come over here where my fans don't usually get a fight of this magnitude. And they'll appreciate it. So I'm here and I'm excited."
After the initial introduction, the media begins asking questions. The first question concerns his back. Vargas explains that his back is better. He has been performing strength exercises, focusing on the core muscles to make him stronger. Vargas addresses the audience. "I still have discomfort, I still have pain sometimes. But I'm on a mission. I want that WBC title. That's the only one I haven't had, and to me, that's the only one I really want. When I was a kid, and I saw my idol, Julio Cesar Chavez, with the belt around his waist, and seeing him on the cover of KO magazine, I was like, 'That's my dream.'" Vargas says that he has been blessed twice with both titles, but the last one is the one he truly wants, and that he will have to work hard to achieve it. He also explains that he is extremely comfortable with Danny Smith as his trainer, and that Smith has opened his eyes to many new skills. Like many boxers, Vargas assumed he was at the top of his game and that there was not much more to learn, but with the help of Smith, he has realized his new potential and is excited to perform these newly taught techniques. He wants to continue to learn but does not reveal his "secrets" of his new regimen. "The game is sold, not told," he says with a smile.
When asked if he will return to 154 pounds for his next fight, Vargas explains that while initially he thought he could not make 154, he feels that he can with his new strength and wellness coach. "There are some great fights at 154. I think Trinidad is going to get Winky Wright out of there, and I want to resurrect him, and I want to fight Winky Wright because he talks a lot. I still want him." He mentions Mayorga as well, and says that these are the fights that Mexicans want to see.
One reporter asks Vargas what he would say to the critics who think his best years are behind him. Vargas smirks, his dark eyes hidden behind his sunglasses. "It's like this. I won my last three fights, looking better each time. And, you know, people are going to say what they want to say. All I know is that whenever I show up to fight, my people show up. Obviously, if they thought I was finished, why do they continue to show up and show me that I'm not?"
Another reporter asks how he would rate himself on his last fight. Vargas says he would give his last performance a 2 ½ or 3, as he is his own worst critic. His last opponent, Raymond Joval, was a middleweight and a solid fighter who had never been knocked out. Vargas, who thinks Joval was closer to the light heavyweight limit by the time they stepped into the ring, reiterates how he almost had Joval out of there. "But, hey, you can't knock out everybody," he says.
When asked if Vargas has an opponent in sight, he explains that he does not handle the matchmaking, but that he would not mind getting a rematch with Trinidad or De La Hoya. As far as the upcoming Chicago fight, however, he does not worry about the match – he will simply show up and do his job.