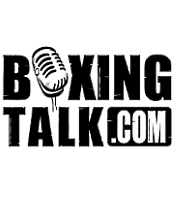 Garcia Escapes With Draw
Kirino Garcia and Derrick Whitley were the main event, but it was Adrian Valdez and Mickey Roman that stole the show Friday night in Jaurez, Mexico in a card promoted by Oswaldo Kuchle and Promociones Del Pueblo, while Garcia and Whitley's bout ended in a draw for the vacant NABO Light-Heavyweight title, Valdez scored a his second devastating knockout in the last five weeks, in October Valdez stopped  former WBC featherweight champion Caesar Soto in the first round, with a straight left, this time around Valdez put Hector Marquez down for the count with a vicious right hook that had Marquez flat on is back and unable to continue.
Unbeaten Miguel "Mickey" Roman recovered from a 1st round knockdown to halt Famosito Gomez when Gomez's corner threw in the towel in the 9th round.
In a rematch from last a bout last fall, a bout which Garcia 36-25-3 captured a split decision over the toughest 22-23-1 fighter in the world in Whitley, this time the result ended in a draw, with the score cards 116-112, Whitley and the other two had the equal of 114-114. It was revealed after the fight that Garcia suffered a broken rib in the second round, which hampered him the rest of the fight.
Early on it was more a stick and move strategy for Whitley with Garcia pressing forward trying to trap Whitley on the ropes or corner, but Whitley would have none of it by moving to his right from his left-handed stance. Garcia would attempt to throw lead right hooks but would miss wildly on most attempts.
The crowd became a little restless with the action in the fifth round, as they are more accustomed to their Mexican warriors fighting and not using the tactics of Whitley, the referee even told Whitley to fight more before the beginning of the seventh.
Whitley did oblige as he had a good round by out landing the frustrated Garcia, it was not apparent if it was from his rib injury or him not able to land something meaningful on Whitley. It may have been a little of both.
Rounds 10 and 11 saw Whitley looking to have been on the way to victory by controlling the action by out punching Garcia, who was still missing his right hands, completely off target.
The twelfth may have been the round that cost Whitley the decision, as he used the ring to stay away from Garcia, who pressed forward and putting some leather on Whitley, nothing hard but scoring points, with Garcia winning the round on the official scorecards bring two judges to the even tally of 114 each, taking it off cost Whitley the NABO title.
When we asked Whitley's trainer if they had thought they would could come to Mexico and win a decision, He stated, "We knew we couldn't stop Garcia with his tough chin, but we thought we did enough to get the win." Unfortunately for Whitley, he should have learned from Oscar De La Hoya/Felix Trinidad fight, that nothing is for sure and you don't coast thinking you have the fight won.
In the co-main event Miguel Roman took a huge leap in competition when he took on former world challenger Famosito Gomez, Gomez who has a huge following in Juarez, tried to impress the crowd early attacking Gomez  right off the bat in the first, he caught Gomez with a right hand that sent Gomez to the corner where Gomez, using his experience countered Roman with a hard right hand that put Roman down, Roman beat the count, but he was defiantly hurt, but was able to finish the round where he got time to recuperate
Gomez, who has been in the ring with former world champions, Paulie Ayala, Johnny Tapia and Danny Romero used everything to his advantage in his 67 fight career to try to spoil Roman's unbeaten record. Gomez main weapon was his left hook to the body, which he was able to catch Roman often in the first four rounds.
The tide changed in the sixth round, as Gomez left hooks to the body were a offense him, but it also cost him a point, with Gomez catching Roman bellow the belt costing him a point and giving Roman a 10-8 round, from there Romans was able to wear down Gomez with lead right hands to the head of Gomez, many of them sending Gomez backwards on uneven legs.
In ninth round Roman continued his attack, once again catching Gomez with right hands, Gomez's corner threw in the towel, only to have the referee throw it back to the corner, Roman threw another right hand that sent Gomez to the ropes, once again the corner threw in the towel, this time the contest was halted giving Roman his 11th win, with no defeats. Gomez falls to 48-18-2.
The fighter that was the most impressive was Adrian Valdez; Valdez who keeps improving each time out scored a vicious knockout over the durable Hector Marquez, Marquez has gave current world featherweight champion Juan Manuel Marquez a battle before he was stopped.
Valdez, 16-3-3, coming off a first round stoppage over former champion Caesar Soto in October, didn't disappoint Friday night either, as he put Marquez out and flat on his back with a single right hook in the third round.
The first two rounds were pretty even with both fighters having their turns, Marquez landing several right hands to the head of Valdez, with Valdez landing his left hand with frequency from his south-paw stance, but the sudden end would be his right hand in the third, with Marquez coming forward leading with his head Valdez throw a thunderous right hand that put Marquez on queer street, there was no need to count, as the ring doctor came into the ring to check the medical status of Marquez, with Valdez being carried  on the shoulders of his handlers.
In undercard action Terry Castro made east work of Armando Bosquez in the first round, when Castro landed a right hand-left hook to end the nights work and bring his record to 2-0, Nelson Estupinan (10-0, 8 KOs) won a six-round decision over pro survivor Julian Romero (7-44-2, 2 KOs); Luis Enrique Moreno (1-1) lost a six-round decision to Oscar Olivas (3-2); and Martin Avila (1-0) won a four-round decision over Roberto Tiseno (4-4) in the opening bout of the night.