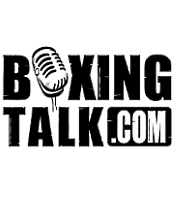 Boxingtalk's G. Leon conducted another
MUST SEE
double whammy interview with heavyweights
Hasim Rahman
and
Monte Barrett
, who are scheduled to face each other for the WBC interim heavyweight title on July 23. Unlike the Mayorga-Ouma fiasco, this one on two interview was planned. Rahman and Barrett take some subtle jabs at each other and then nearly trample Leon when he gets "too bold for someone talking to two big boys like us," as Rock so eloquently stated. ONLY on Boxingtalk, It's
GREAT
to be a member!
Boxingtalk's G. Leon received a special invite to 
Diego Corrales mansion
to shoot some exclusive footage of the lightweight king's crib. BT members get to see Corrales at his most relaxed discussing his instant classic with Jose Luis Castillo, his future plans and MUCH MORE. You definitely don't want to miss this one! ONLY on Boxingtalk. It's
GREAT
to be a member!
Boxingtalk's G. Leon went one on one with WBO junior middleweight champion
Daniel Santos
moments before Winky Wright's career defining performance against Puerto Rican legend Felix "Tito" Trinidad. Santos speaks on signing with DKP, his plans to unify titles with the Castillejo-Mayorga winner and much more! It's
GREAT
to be a member!
Boxingtalk's G. Leon caught up with
DaVarryl "Touch Of Sleep" Williamson
at the MGM last weekend. Williamson speaks on his future plans, hopefully a return on DKP's expected July 23 PPV bash, and more. You don't want to miss what one of the hardest hitting heavyweights in the world had to say.
Don King
shared his post-fight thoughts on the Wright-Trinidad bout with several members of the media at last Saturday night. Does King regret putting Trinidad in with Wright? What about the rematch clause? Was he surprised at how easily Wright handled Tito? All the answers are just a click away.
Over the weekend, Boxingtalk's Darren Nichols caught up with undefeated IBF super middleweight champion
Jeff "Left-Hook" Lacy.
The St. Pete's native discusses his August 6 bout with Robin Reid and future plans to face undefeated WBO super middleweight champ Joe Calzaghe later this year.
When it comes to James Toney testing positive for steroids
, IBF heavyweight champion Chris Byrd
, usually as mild mannered as they come, doesn't bite his tongue in this MUST SEE EXCLUSIVE INTERVIEW. Byrd calls Toney a joke and discusses what "a black eye that James put on the sport!" You don't want to miss it. It's
GREAT
to be a member!
Boxingtalk spoke with premier boxing manager
James Prince
moments after Winky Wright gave Felix Trinidad the boxing lesson of his life. Prince discusses Wright's options and the epic encounter between Diego Corrales and Jose Luis Castillo. Top Rank's Dana DuBoef makes a cameo when Prince suggests that Arum should put Erik Morales in with Diego Corrales. You don't want to miss it! It's
GREAT
to be a member!