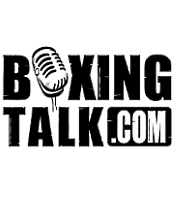 Middleweight World Champion Jermain Taylor was nice enough to sit down for a few minutes and discuss his upcoming epic rematch with BernardHopkins. Taylor as always shows that he is not only a champion inside of the ring, but he is a champion outside of the ring as well. Jermain's training camp is full steam ahead in Memphis Tennessee, and for those who think that the Taylor camp is just sitting idly by, they can think again. Jermain Taylor is as focused as he has ever been, and he is itching for his chance to make a statement against Bernard Hopkins. You don't want to miss what the world champion had to say in this
BOXINGTALK EXCLUSIVE!BT - Jermain first off what are your thoughts on the situation with Bouie Fisher, it looks as if it's a health situation?
JT - I just hope Bouie is ok, he's a great trainer. I wish the best for Bouie, he has always treated me with respect and spoke to me, and patted me on the back, I hope he's ok, he's a great guy.
BT - Jermain there are some pictures of Bernard Hopkins carrying around a fake Jermain Taylor head, and he's got your face on a poster looking like the old Dennis Rodman. Do you want a chance to respond that?
JT - (laughs), It doesn't surprise me about Bernard, I mean there aint nothing he can do to bother me. He is trying every thing in the book, and he is just trying his best to hold on.
BT - Jermain, so that kind of behavior just doesn't phase you?
JT - Oh no sir, that doesn't bother me in the least, and to tell you the truth I didn't even know about it until someone told me.
BT - Jermain, how important is it for you to come out and make a statement against Bernard Hopkins?
JT - It's very important Brad, he still thinks he won the fight. I still think I have a lot to prove to my fans... Bernard thinks he won the fight, and I want to take all of that out of his head.
BT - Jermain, let me throw a few names at you and get your thoughts on each...Pat Burns
JT - Pat brings everything, he brings the best in training, and every day there is something different I learn from him.
BT - Lou Dibella
JT - A great guy, and he lets me do my job and I let him do his job. Lou calls me and checks on me, and he makes sure everything is ok, and I appreciate that.
BT - Al Haymon
JT - I don't think this fight would be possible without Al. Al puts out a lot of fires, and I appreciate him very much.
BT - Jermain, Ray Rodgers has been around a long time. Talk about Ray Rodgers, and what he brings to your corner as one of the best cutmen in the business.
JT - Ray is always joking (laughs), he always calms things down, he is just a great guy.. I have never seen this guy angry in all the years I have known him.
BT - Jermain, how do you stay grounded? I mean, you are just a country boy from Arkansas and all of the sudden you are the undisputed middleweight champion. With all of that comes fame, and money.
JT - I just keep doing the same things I have always done. I keep training hard, I keep the same friends, and I try not to change anything.
BT - Jermain, you still show up at the amateur shows...talk about how important that is to you to stay involved in the amateur game?
JT - Always, and I want the amateur kids to know that if I can make it you can too. I didn't get involved in boxing with a whole lot of talent, and I still don't think I have a lot of talent. I just work hard, and that's what I encourage the kids to do.
BT - Jermain you ended up training out of Memphis Tennessee, how has Memphis been for you, and why Memphis?
JT - You know I am working hard here, and it's a great place to train. Everyone in Arkansas knows that when I am at work that I don't play. Other than that it's good. Everything in Memphis is perfect...
BT - Your last fight against Bernard you jumped on him early and won the first rounds easily. Bernard came back strong and took some of those later rounds, and in some people's eyes Bernard won the fight. If you were to grade your performance against Bernard 1 through 10, what grade would you give yourself ?
JT - I would give myself a 5, the only thing I did right was win the fight. I didn't feel like it was my night, and if Bernard was going to beat me he should have beaten me when he had that chance, it was a bad night for me.
BT- Jermain, last time we talked you mentioned that you were a little nervous before the first fight with Bernard, and fighting in front of that many people, and television viewers. Now that you got that first fight under your belt, what type of Jermain Taylor will we see against Bernard this time?
JT - You will see a more aggressive Jermain, but a much smarter Jermain as well this next time around.
BT - Talk to all of your fans Jermain, the floor is yours.
JT - I want to tell my fans that the last fight was extra close, and I am going clear all of that up this next go around!
*Special thanks to Pat Burns*
Send questions and comments to: bradcooney1@bellsouth.net