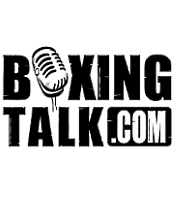 Even before he was put on the boxing map thanks to NBC's The Contender, Peter Manfredo, Jr. was doing his thing in the boxing ring. Fighting out of Providence, Rhode Island, Manfredo had a regional title at junior middleweight, with an undefeated record to boot. Then he went on to warm the hearts of millions of television viewers and built his fan base to an all-time high by showing America his heart, class, and that he's all about family. Many of you who got to know him through television are asking "What is Peter up to now?" Well, let's find out....
BT- First of all, congrats on being runner up on The Contender. Many people are very proud of you.
PM- Thank you very much, that means a lot especially coming from the fans, those who I inspired throughout the show. You know, that's all that matters to me. I lost the fight, I came in second but I really won in a way. I am not going to get too down about it, I gave it my all but I just didn't have it that night. He [Sergio Mora] was the better man that night. Hopefully I will get another shot at  him. I am going to keep training hard, all great fighters fall, it's the great ones that get back up, and fight.
BT- Peter, some of the things you demonstrated to the people in America, and beyond on The Contender was your dignity, your heart, and how important your family is to you. Talk a little bit about that, and how tell us how important those things are to you.
PM- I think the most important thing to me in my career is my family. If it wasn't for my wife, and my daughter I would not be the person I am today. My wife and my daughter are my inspiration. The reason I do this is all for them, I do not want my daughter to struggle in life like I did. The same goes for my wife, she grew up struggling, and didn't have a lot. I want to build a foundation, and my family is my foundation.
BT-What was the most difficult part about being on the show?
PM- The most difficult part of the whole thing, was actually being on the show in general. Having to deal with all the challenges right before a fight running up hills with logs, doing crazy things that professional fighters don't normally do before a fight. Also, not having your trainer there with you, living with the guys that you have to fight, doing interviews right before the fight or whenever, not getting the rest you need. The whole show was a challenge,but that's what the show is about, to see who can handle the pressure. The whole experience was definitely tough, you know it was alot of pressure especially this last fight knowing who we'd have to fight for 6 or 7 months, and always having it on your mind and then finally having to go out there and fight him after not fighting for 7 months. It was the toughest thing I have ever done in my life. Would I ever do it again? Most definitely, reason being all the experience I got doing it, and the people I met. I have become close to a couple of the guys that were on the show, and I still keep in touch with them to this day. The popularity....it's all worth it in the end.
BT- Peter, when you lost to Alfonso Gomez early on in the show you seemed very down. What was going through your mind when you sat in the locker room after the first loss? What was going through your mind when you got the call to come back on to the show?
PM- When I lost my first fight it didn't really hit me until I got into the dressing room. I got in there, and then it hit me "man, I blew my opportunity and I am out of here."  I knew that I kind of beat myself, because I was not myself that night. That was on account of me having to lose so much weight, but I never really said it on the show, and I don't really want to say it now, because I am not about making up excuses, Alfonso was a good fighter and he was the better man that night. When I got sent home, I didn't want to think about boxing. My weight blew up to like 175 and was depressed and although I am not an emotional person, I found myself getting teary eyed sometimes, and didn't know what I wanted to do from here. Then when I got the call to come back, I wasn't sure if I even wanted to go back. I wasn't ready, I was going to go back..for what??  lose all that weight again, and lose to somebody I know I should beat? plus, I was an emotional wreck on top of it. My mind was not there, and that's very important in boxing. But I had no choice, it was either toughen up mentally and physically and go back, or not go back and be a loser. Being a loser or a quitter is just not me, you know what I mean? I am not either of those. So I sucked it up, and in the short time I had to suck it up, I go back and fight 5 days later, and to pull of a fight like that was unbelievable. I gave it all of my heart, that's all I had, and that's why I came out with the victory.
BT- Peter, now that the show is over what are your intentions?
PM- Well, I definitely will continue with my boxing career. I have learned alot from being on the show, and I learned alot from the two losses on the show as well. I just want to be on top some day, I want a rematch with Sergio Mora, I know I can beat him. Eventually, I want to be a world champion. I will train and work hard to be a world champion, and I also want to be a role model for all of the kids out there, and I will do my best to do that.
BT- Peter, what is your contractual situation as of right now?
PM- Well after the show, NBC decided that they want to promote their own fighters. I just found out a couple of days ago that I was one of the fighters that that NBC wants to sign. When this will happen I am not sure, hopefully sometime in August. That's really all I know as of right now on the contract situation.
BT- So your intentions are to sign with the producers when they make the offer, can we say that much?
PM- Yes, exactly. If they offer me a contract I have to sign with them because when I was on the show, Jimmy Burchfield signed me over to NBC, and they have the right to re-sign me or not. So if they offer me a contract, I will fight for them.
BT- Peter, how has The Contender most changed you?
PM- Brad, the most important thing I got out of the show was that I learned to become a man on my own. In my boxing life I always had my father with me. Out there, I didn't have that luxory, I had to think about things on my own. I didn't have anyone to talk to, I had to learn how to become a man out there. The experience has brought me even closer to my wife, and my family, and it made me a better person.
BT- Peter, talk a little bit about your experience with Sugar Ray, and Stallone. One of boxing's all time greats, and one of Hollywood's all time greats.
PM- That's a great statement Brad, Sugar Ray is one of the best fighters I have ever seen in my life. At first, it was so surreal, I couldn't believe that I actually standing next to Sugar Ray, and Stallone. I grew up watching Rocky, and Sugar Ray being one of the greatest. But then after awhile you get to know these guys. It's just like you and me talking right now, the average guys... if you have a problem with something, you just go and talk to one of them. I actually got sick of them after awhile (laughing), you know.. I seen them every day. They were just great, both guys.. if you need advice on how to throw a hook, Sugar Ray was right there.. no problem. Same thing about Stallone, not so much boxing, but anything pertaining to movies, he was great.
BT- Peter, earier you mentioned that you stay in touch with some of the guys from The Contender.
PM- Yeah, I talk to Jessie Brinkley all of the time and Joey Gilbert all the time.
BT- Peter, before we wrap this up talk, to your fans a little bit. Tell your fans what they can expect out of Peter Manfredo Junior in the upcoming year.
PM- Okay, first of all I would just like to say THANK YOU to all my fans. My fans give me the inspiration that I need to go on with this. I also want to tell my fans to stay with me, keep supporing me, I am going to do some big things this year.
BT- Peter, thank you very much for talking to Boxingtalk.
PM- Anytime buddy, anytime.
PURCHASE MY NEW BOXING BOOK,  BRAD COONEY'S LET'S TALK BOXING
http://www.authorhouse.com/BookStore/ItemDetail~bookid~26398.aspx