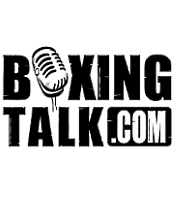 BT - Mark, talk about how you first met Freddie Roach, and how long you have known Freddie. "
Okay, well I met Freddie in 1993 it was an acting job that I did for a Ray Mancini boxing fitness video. We shot the video at Mickey Rourke's gym and Freddie trained Mickey, and ran his gym. Freddie was training Frankie Lyle, and was going out of town and he told me he would be back in a month or so, when he came back we became good friends. I didn't that much about Freddie at the time, the guy never blew his own horn. Freddie was like 150 and 11 as an amateur, and alternate on the 1976 Olympic team, which was one of the best teams we ever had. Everyone else would talk about Freddie, except for him. Freddie and I started hanging out, going to fights together, then I started a business of my own, a deli and an ex fighter came in and told me that Freddie opened up a new gym. Freddie was training Michael Moorer at the time, this was about 1997. I went down to the gym, and we picked up where we left off. I spoke about a documentary to him, and he loved the idea but wanted to wait until after the Moorer fight. I got the first editing done in 1999, and the final copy edited in 2000. I had to this project out of my own pocket, so that was a big part of the delay."
BT - Mark, paint a picture for the reader. What was it about Freddie?
MH - I have not met many people in life, not just the fight game that seemed to have such a peace about them. Freddie's life was filled with violence, he was forced to fight at the age of 6, he started training at 6. At Freddie's house it was said either you fight, or you get out. Freddie had one brother that didn't fight, and was thrown out of the house at 16. Freddie's came from a background with no love, or nurturing, yet he is one of the sweetest, kindest man you will ever know. I mean you know him Brad, you know Freddie personally so you know what I mean. There is no pretense about Freddie, you meet him and he is one of the most down to earth honest people you can meet. It was something about Los Angeles where everybody was a so called celeb, people blowing there own horns. Freddie was in the middle of all this, training Mickey Rourke, in the Hall of Fame, Trainer of The Year in 2003, and you never heard him say anything about this. There is a quality about Freddie that is special, when I met him he had already trained Marvin Starling, Frankie Lyle, Stevie Collins, and Virgil Hill. Freddie talked about none of this.
BT - Mark, so you decide to do a documentary, talk about how long it took you to do this.
MH - I was at the gym every day once we decided to do this. We would set up times to do the interviews, and I decided to  them in the gym because that's Freddie Roach, that's his life, in the gym. I wanted the environment to be Freddie Roach, no bells and whistles, just the real deal. You would hear the soft personality of Freddie, and the pounding of gloves in the background, the noises you hear in a boxing gym. I wanted the violent background
with the personality of Freddie. At the time Freddie was working with like 5 champions at one time, so we had to work around his schedule to do this.
BT - Mark, what was one of the most interesting things you learned about Freddie throughout this process.
MH - Probably his loyalty, and his love of family. I know this sounds strange after we just talked about how his youth was growing up, but Freddie really opened up about his mother. As a child Freddie couldn't stand her, because she put some heavy rules on him. His father was the opposite, as long as the boys all fought, they didn't have to go to school. If they got thrown out of school for fighting, his dad would give him credit for that, where themother tried to instill some morals so to speak. Freddie said in my documentary, " You know, my mom I hated as a kid growing up, but today she's like my best friend, I talk to her about everything". Can you imagine Mike Tyson, or James Toney saying that (laughing), Freddie's a tender caring guy, if he likes you and you are honest with him he will be the most loyal guy you will ever meet. Freddie is a real paradox in the fight world, when
you talk to the guy he's so mild, and tender but when he trains his guys.. it's something else.
BT - Mark, tell the readers how they can obtain a copy of this must see documentary.
MH - They can go to
www.keeppunchin.com
or they can go to your site
www.bradcooney.com
, and soon it will be available at        
www.wildcardboxingclub.com
just click on and order.
BT - Mark, thank you very much for giving us an inside peek at Freddie's life, I encourage all out there to grab a copy of this must see documentary.
MH - Brad, anytime thanks for having me.
PURCHASE MY NEW BOOK...BRAD COONEY'S LET'S TALK BOXING
http://www.authorhouse.com/BookStore/ItemDetail.aspx?bookid=26398
"There isn't a boxing fan out there that shouldn't have this book"
 HBO's Harold Lederman
" I enjoyed this book, especially about the author's experiences, I enjoyed the interviews as well"  Actor Gene Borkman "Raging Bull"
Send questions and comments to: bradcooney1@bellsouth.net