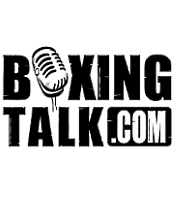 Boxingtalk just caught up with former US Olympic heavyweight Jason Estrada. Jason talked candidly about his young pro career, and touched on his Olympic experience as well. Jason also speaks to us about his friendship with NBC's Contender Peter Manfredo Junior, and much much more. One of the main goals of this young man is to move forward with his career, and to keep a positive light on things. I enjoyed this interview very much, Estrada proved to be a very intelligent young man.
BT - Jason you have a couple of pro fights under you belt now, talk about how things are going for you and how the transition has been for you coming from amateur to professional fighting.
JE - To be honest Brad, things have been fairly easy for me. I feel like the pro game is made for me in the first place because of the way that I used to fight before, so the change has been pretty easy for me.
BT- Jason, you have a scheduled fight for June 17th, any opponents named yet for the fight?
JE - Well we had an opponent for me, but im not sure what his name is. I know that we made him a contract offer and we haven't heard back from him yet. I am not sure who he is, but I do know that he has fought Klitschko, and Oliver McCall in the past. We were trying to get this guy, but as of right now he has not responded, so we are going with more than just this one option.
BT - Talk about your training regiment Jason, and also, how much are you weighing these days?
JE -  Right now I have been working, working really hard. I run in the mornings and then I come back to the gym from about 5 until 8 PM. My weight is in the low 250's right now.  I would like work my way down to the low 240's.
BT - Jason do you feel you will have all of your strength at 240
?
JE - Yeah, yeah... Where ever I feel comfortable at the time, that's where I am going to stay. I want to prove to myself that I can make 240 and still be strong.
BT - Jason, where do you see your professional career in one years time?
JE -  I see myself in one year somewhere in the top 20 area, that's the way I want to move. I want to fight good opponents on the way up so in order to move up a little faster. I don't want to fight guys with terrible records, I don't want that. I want to fight guys with winning records on the way up.
BT - Jason I have talked to a few people about some of todays fighters, and how they cushion their records by fighting much less talented fighters, I spoke with Evander Holyfield about this a few years ago, and he talked about how todays fighters do that. You seem like you want to go the route of the old time fighters, and fight more respectable opponents
.
JE - Yes, I don't want people saying that I fought "bums" on the way up. I want to do this a little differently than others, now I can't help who my opponents fought to get winning records, but nevertheless they will have winning records, and they can at least see it on paper.
BT - Jason, I think that's key these days in order to improve your stock, and your market value as a professional fighter these days.
JE - Exactly, that's exactly how I want people to see it. I don't need any further slack than what I got from the whole Olympic thing. I am trying to clean it up now, and move forward.
BT - For people that don't know you personally, I think they will soon find out that the past is the past, and that you have already shown you are a class act.
JE - Well, you know I tried, I tried you know? there was alot of people that was not there, and they don't actually know. There's nothing really that I can do, except try to change things.
BT - Let's shift gears for a minute Jason, there are some good young up and coming Heavyweights. Calvin Brock, Peters, Monte Barrett to name a few. What are your thoughts on today's Heavyweights?
JE - Well, we have a few guys out there who are trying to take the division over, much respect to those guys you just mentioned. I have known Calvin Brock for quite awhile, me and Brock are pretty cool, I remember him from the 2000 Olympic trials. Calvin is a good guy.
BT - Jason, it's good to see these young guys coming up in boxing.
JE - Yeah, boxing is working it's way back up especially in my division. To be honest some of the best Heavyweights in history have been smaller guys. You can see that this applies now, look at Brock and Peters. Look what Brock just did to Jameel McCline and he's a smaller guy. Joe Fraiser, Ali, Mike Tyson all around 6ft 2, 6ft 3.
BT - Jason, earlier you spoke about perhaps a year and you can crack the top 20 rankings. How many fights do you think it will take for you to get there?
JE - The way I am fighting now, and the kind of mark I am trying to make?.. maybe in 15 or 16 fights I can be there.
BT - Well granted, you'll need to win most of those (laughing)
JE - I don't plan on losing, I have worked very hard to get where I am in my professional career and I am not trying to lose. As of right now, I don't have what I want, and my goal is set very high right now. I am very focused.
BT - Back to the Olympics for a minute, not many people can say that they were a US Olympian. What was it that you most enjoyed about the experience in Athens Greece?
JE - The moment for me was the opening ceremony. When the whole US team went out there into that stadium that was overwhelming, it was humbling, it was a real tear jerker for me.
BT - Jason you and Peter Manfredo Junior are good friends. Most of the country has gotten to know Peter Manfredo from NBC's hit television show "The Contender". Talk about your relationship with Peter Manfredo Junior, and talk about the roller coaster ride you went on with him during the show.
JE - I was pulling hard for the kid, I was there for him and we were all together. At the time when he was actually doing the fight I was in Athens, and he would call me and tell me everything that was going on. We went back and forth, back and forth. Peter really needed that program, it was beautifulfor him, I am very proud of him for making it as far as he did.
BT - Jason would a Contender sequel offer for you be something you would be interested in?
JE - Nah, not me that's not for me.  It was good for boxing and good for some of the fighters who needed exposure. I don't really need that, I couldn't do the whole "game show" thing. No disrepsect towards the guys on that show, but some of them "played" boxing. I just can't do that, some guys in that house I thought should have been kicked off.. Hamed came to our gym, and he's pretty cool but he said some things in that house that I wouldn't have taken. Somebody would have fought in that house, I would have beat somebody up in there, don't matter who it was.. Stallone? somebody (laughing)...
BT - (laughing)... Jason, talk to your fans. Tell your fans what they can expect out of you for this upcoming year.
JE - Basically, a little of this and a little of that. I am really wanting to put on a show, and show the boxing fans that it's not always about the little guys in boxing that can do things like how Roy Jones does things. I have shown in just a few pro fights what I can do already, I just want people to focus on the heavyweight division like the old days.
BT - Jason when I think back to our first interview, I don't know, over a year ago at least; You made mention that you want to be a fan friendly heavyweight professional fighter. You want to interact with your fans sort of how Ali did it, maybe not all that hype but you wanted it to be known that you are an approachable guy, and that fans should know it... talk a bit more about that.
JE - That's exacty what I want to do. I am the kind of guy that you can see at the corner market, or in the mall. I am never really in a rush, I will talk, or sign autographs to whoever wants one. If you ever see me in the public, I want the fans to know that I want them to come up to me and say Hello.     
BT - Jason, thank you very much for talking to Boxingtalk. I will stay in touch, and look forward to a follow up interview later on this year.
JE - Brad, thank you.
Comments/Questions
bradcooney1@bellsouth.net
PURCHASE MY NEW BOXING BOOK    BRAD COONEY'S LET'S TALK BOXING BY CLICKING HERE
http://www.authorhouse.com/BookStore/ItemDetail~bookid~26398.aspx