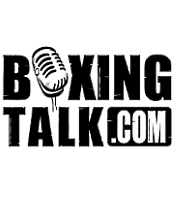 I recently had the opportunity to speak with one of the toughest women ever to put on the gloves, "Dangerous" Deirdre Gogarty. It was a long road to travel coming from Drogheda Ireland to Lafayette Louisiana. This former 5 Time World Champion took her hunger for the sport of boxing, and left her home country of Ireland to satisfy her hunger in The United States. A fight against Christy Martin in 1996 would be the fight that would put Deirdre on the boxing map. Deirdre came up short that night against Martin, but in spite of that it put her on the map for women's boxing for ever. Deirdre has a very interesting story to tell, coming from Ireland, a country that wouldn't even let her fight to The United States. It was in America where this Irish pit bull was able to show the world just how good she was. I hope you enjoy this interview as much as I did conducting it!
BT - Dierdre you retired in 2003, what have you been doing with yourself lately?
DG - Well, I just left my job of 7 yrs where I was a graphic designer for a sign company. Now I have my own design business, and I am also busy with building boxing ring shadow boxes, I would like to expand on this and get a lot more done. I have built these boxes for quite a few boxers careers. These boxes are a 3 dimensional display case that shows a ring inside, and it catalogs a boxers career displaying pictures of the boxers careers.
BT -  As a former world champion, what do you think women's boxing is doing right, and what do you think it's doing wrong today?
DG - What I think it's doing right is, beginning to make some important matches that I have felt have been neglected in the past. I hope this fight with Anne Wolfe and Laila Ali happens, Martin/Ryker .. at least they are looking to make these fights. What I think is wrong is there are so many women with so much 
talent out there that do not get exposure because they don't have the name, nor are they getting marketed right. There are so many great fights out there that just aren't getting seen by the public. The public only knows a few names, and don't realize how many good women's fighters that are out there.
BT - Deirdre, you and I both have seen each other at amateur shows in the past, and would agree that there are only a very few amateur women who show up with the boxing clubs to these shows, what do you think needs to be done to fix this?

DG - That's difficult, and it's harder for the amateurs because they have to pay their own way to these shows. What you will see is a lot of women turning pro a lot sooner than they should because of it. Really, it's the only the ones who can afford to go to amateur shows that get the experience that they need. I think it would grow if womens boxing would get more exposure, and if it were marketed better.
BT - Deirdre, you are a former World Champion, but your biggest fight came outside of the ring. Talk about the fight you had to deal with in Ireland outside of the ring.

DG - Well when I was boxing Ireland would not let women fight. The Irish Boxing Union would not let women fight, it was banned over there. It was the same thing in England. So what ended up happening in England, they developed their own license body and I had my first few pro fights there. They just made it very difficult over there, and I knew in The United States it wouldn't be a problem, so I came here.
BT - What was it that initially got you into the sport of boxing, and when did you realize "hey I am pretty good at this"?
DG - I really got interested in it when the Irish fighter Barry McGuigan won his world title, I was really interested in him. The fighters from Ireland, and England got my attention. Then I saw Sugar Ray fight Hagler, and that was when I decided to go for it. I been keeping an eye on the gym that I lived close to, and got the courage one day to go over there, and I asked a million questions. The coach finally said, " Hey do you want to train " ? I was pestering him to death about boxing...and of course I was in the very next night. I took baby steps, my first goal was to train, then spar, then fight, then fight in the USA, and it was a little bit at a time. The big dream was to fight on a big under-card, that came true when I fought on the under-card of the Tyson/Bruno fight.
BT - Sounds to me like The Million Dollar Baby movie took a page out of your life (laughing)

DG - (Laughing), yes and in fact when I watched that movie I got choked up a few times because when I saw her in the movie, it reminded me of "me" so much, just what she had to go through just to even get trained. No coach wanted to be seen training a woman back then, there was no future for them. My lucky break is when I moved to Dublin, I was sent there by the President of The Irish Amateur Boxing Association. I knew why he sent me there too, because it was two ex pro's that went with me, and he figured they would just run me off. The younger of the two was Pat McCormick, the former British Welterweight Champion saw my enthusiasm, and drive. He spent hours and hours with me, and taught me a lot. He always told me that if his daughter was boxing he would want someone that knew what they were doing training them.
BT - Have you ever seen any of these doubters in your past, and asked them "How do you like me now"? .. (laughing)
DG - (Laughing), yes I have seen them. I have always remember those who have encouraged me to fight, and I have always remembered those who said I  wouldn't be able to do it. I have found that it's the ones who doubted me that say " oh yea, I always thought you could do it "  it's amazing how things turn
around.
BT - Kind of makes you want to test your right hook on them doesn't it ?  (Laughing)
DG - (Laughing) yes
BT - Talk about your classic fight against Christy Martin, this fight put you on the international map.
DG - It was a good fight, but at the time of the fight I didn't think I was doing good. I was very nervous, there was a lot of famous people there watching. I only got 10 days notice for the fight, and 1 day of sparring. There was also a 15 pound weight  disadvantage between Christy, and myself. During the fight I just felt I wasn't too sharp, I was getting caught a lot. Martin was powerful, and when she dropped me I was shocked. I have never been dropped before, I was like "This girl is an animal" . She started getting tired near the end of the fight, and I started to pick it up, I wish the fight was a little longer. I look back now, and I see it as an eye opener, it was a good fight. I am glad that I was part of such a classic fight for women's boxing, and a historic turning point for womens boxing.
BT - You mentioned earlier about Anne Wolfe, and Laila Ali. If those two decide to fight (some people say Ali is ducking Wolfe), who do you think would win that fight?
DG - It's difficult to say because Wolfe is a powe-house, and Ali has developed, and come a long way in the past few years. If Laila can box, and not brawl with Anne she has a chance, but Anne is going to be right on top of her, and is real good at slipping punches, and head movement. It would be a very interesting fight.
BT - What was it that finally made you retire from boxing?
DG - Well I injured my shoulder and could not fight for a year and a half. I got to a point where I could fight, and I had 5 World Title defenses lined up, and every one of them fell through, it was just heartbreaking. I never got to fight in my hometown, but I  did get a chance to fight in my adopted hometown of Lafayette Louisiana, and those two fights fell through as well. Many people came to see me fight, and they were all disappointed when the fight was cancelled. I just had enough of it all, and decided to retire. I still miss it a lot, still would like a chance to do it again but at 35 it's probably not going to be the same.
BT -  Well you just left me some wiggle room to ask this question... would you consider a re-match with Martin if the purse was right?
DG - I would consider anything that was motivating to come back, but it would have to be motivating for me. I always stayed in shape for a possible rematch with Christy. I wanted to fight Mia St John, but she lost, and I lost my desire to fight her.
BT - Champ, thanks so much for doing the interview I thank you for your time.

DG - Thanks Brad, anytime.
QUESTIONS/COMMENT
bradcooney1@bellsouth.net
PURCHASE MY NEW BOOK, BRAD COONEY'S LET'S TALK BOXING -
http://www.authorhouse.com/BookStore/ItemDetail~bookid~26398.aspx
"There isn't a boxing fan out there that shouldn't have this book" HBO's Harold Lederman