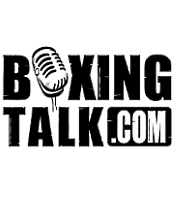 "I proved that I belong here, and I'm looking forward to the next fight to do the same thing."
Press release:
As far as boxing goes, there are far more negative stories than positive ones.  But Glen Johnson's rise to the elite level of the light heavyweight division in 2004 is a story that can make any fight fan smile, and one that he carries with him as he prepares for another big challenge, a December 18 superfight with Antonio Tarver at Los Angeles STAPLES Center which aims to determine who is the true king at 175 pounds. Johnson was a fighter who was always left on the outside looking in, always looking for the right opportunity to get a fair shake in a tough business.  But when Johnson got the call to fight Roy Jones Jr. in September, he made the most of his opportunity, knocking out the future hall of famer in nine stirring rounds. 
"The Road Warrior" wasn't as shocked as some in the fight game were by this outcome.
"Believe it or not I wasn't as surprised as a lot of people thought I would be," said Johnson of the Jones fight.  "I always believed in my skills, and I always thought I could beat Roy Jones.  Even at my low points I believed my style would always beat Roy Jones.  I used to say it around my neighborhood, around guys who were supposed to be my friends, and they would laugh at me. They would make fun of me and say 'you better not get in the ring with Roy Jones; he will kill you.  I said, 'okay, if that day ever comes, you will see.  And the day did come and I did prove my point."
No one's laughing at Johnson (41-9-2, 28 KOs) anymore. In fact, many see the 35-year-old as an inspiration.
"A lot of the guys who know me here in Miami tell me that I'm an inspiration," said Johnson.  "One of the guys called me 'Kid Hope'. For that I'm thankful, and if I can make a difference in one person's life in a positive way, I would like that to be my legacy."
It's a typical response from one of the true good guys in the fight game, someone who lives up to the moniker "Gentleman Glen".  But even though things are going great for Johnson now, he's had to deal with more bumps in the road than any other top fighter in the game today, having been the victim of a number of questionable decisions on his road to the championship.  For him, the low point came after a controversial loss to Julio Gonzalez in 2003.
"After beating him convincingly they still found a way to rob me and give it to him," said Johnson of the loss to Gonzalez.  "On the plane coming back, I was feeling real low, and in fact I retired on the plane.  My manager (Henry Foster) said, man, what are you talking about? You just beat this guy.  The judges don't know what they're looking at.  They're just ripping you off for the promoters.  You have the talent and you're one of the best light heavyweights out there.  Keep doing what you're doing and eventually you'll break through.  Those were thoughts that I already had in my head and to hear somebody repeat them confirmed them.  So I retired on the plane and I un-retired on the plane."
Johnson can laugh about it now, especially since he won his first world title in January with a decision over Clinton Woods, and followed that up with the win over Jones. Needless to say, 2004 has been a memorable year for Johnson.
"2004 has been a wonderful year for me, definitely the highlight in my career," said Johnson.  "And again, last year I had the same vision I have now.  I always believed in my skills and I always thought that my skills were good enough to make it.  I fought against the top guys in my weight class and none of them beat me up.  They were always close fights, the ones that I lost, and the other ones were just pure robberies.  So I always knew that my skills were enough to bring me to the top; my worries were always the judges and the influences that promoters have over these judges.  That was really my main concern."
Johnson's main concern now is Antonio Tarver (22-2, 18 KOs), who he will face in a highly anticipated matchup on December 18 at STAPLES Center.  Does Tarver's southpaw style make Johnson change his outlook at all? "Since I'm fighting a southpaw it's definitely a different camp from the last one," said Johnson from his training camp in Miami.  "All around though, it's the same focus.  I have a couple of game plans in mind that we're working on right now, but the main thing is learning to adapt inside the ring if something unexpected should happen."
"I don't have any problem with southpaws," continues Johnson, who has battled southpaws Eric Harding and Daniel Judah in recent years.  "I deal with southpaws the same way I would a right-handed guy – he's a man with two hands.  It's just a matter of adapting to where the big punch is coming from.  When you're fighting a right hand guy the big punch is coming from the right hand; when you're fighting a southpaw, the big punch is coming off the left hand, and then you look out for the right hook.  So, it's a small adjustment, but they're basically the same thing."
What Johnson has had to adjust to outside the ring is the flood of media attention that his come his way in the last two months.  It was definitely a life changing experience.
"Life has changed a lot, it's like night and day," said Johnson.  "Roy Jones carries a lot of fans, and when he's fighting, a lot of people who don't normally watch fights come out and watch him.  The fact that everyone who wasn't in the arena that night was in front of their TV, they got to see my skills that night and what I brought to the table, and I gained some fans that night.  For that I'm appreciative, and I'm embracing the new popularity that I have."
Even back home in his native Jamaica, the fans have embraced their new hero.
"It was a big deal," said Johnson of the reaction in Jamaica to his win over Jones.  "I got a lot of phone calls from dignitaries in Jamaica and media people.  Everybody embraced me and they want me to come down to Jamaica, but because of my tight schedule with this fight coming up, I haven't had a chance to go there yet.  As soon as my schedule loosens up I will be going down there to celebrate with the people of Jamaica." Needless to say, a positive result on December 18 would be the perfect way for Glen Johnson to lead into Christmas and a holiday vacation back in Jamaica.
"I'm glad that people are finally starting to recognize my hard work and my dedication to the sport.  They're starting to recognize my skills, and I'm thankful," said Johnson.  "I proved that I belong here, and I'm looking forward to the next fight to do the same thing.  A win over Antonio Tarver and an HBO contract; that would be a great Christmas gift for me," he laughs.
Tickets for Tarver-Johnson, priced at $25, $50, $125, and $250 are available now at STAPLES Center Box Office (open 9am to 6pm Monday through Saturday) and Team LA at Universal City Walk or by calling Ticketmaster at 213-480-3232.  Tickets are also available online at
www.ticketmaster.com
.  For group sales, please call 1-866-LA-GROUP. Tarver-Johnson, which is presented by Joe DeGuardia's Star Boxing, in association with Goossen Tutor Promotions, will be televised live on HBO World Championship Boxing beginning at 6pm ET / 9pm PT.