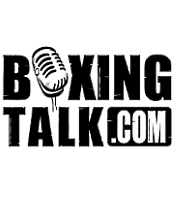 Accidental head-butt sends fight to the scorecards.
Brains versus Brawns is what many were billing this fight, but in the end it was blood that won out. The 10-round main event fight from Caesars Palace which was featured on SHOWTIME pitted DaVarryl 'Touch of Sleep' Williamson (20-3, 17) versus Dr. Wladimir 'Steelhammer' Klitschko (43-3, 39). Many expected this to be an action-packed affair that would answer numerous questions surrounding both fighters. Instead, both participants had strategic plans coming into this fight, and neither fight plan was to just come out swinging.
Through the first three rounds, is was apparent that Williamson was going to be more than happy to make Klitschko do the work, as he continuously dipped and circled around the bigger man. It wasn't until the fourth round that Williamson opened  up and a beautiful counter right hand dropped Klitschko, but he quickly regained his feet and fought back hard in the last half of the round. In the closing seconds of round five, Klitschko received a vertical gash on the forehead from an unintentional  head-butt and due to that cut the bout was sent to the cards after the round. Scores were 49-46, 49-46 for Klitschko, 48-47 Williamson. Doctor Margaret Goodman stated the cut was down to the bone. The surprise ending of the bout left a bitter taste in the mouths of those in attendance as well both fight camps.
"Wladimir is a big, strong guy, and my plan was to box him, keep him moving, keep him circling and wear him down. Our game plan was to box early, and pressure him late, unfortunately we didn't get into the later rounds due to the cut, but I feel a little cheated right now; the later rounds of that fight were mine. said an annoyed Williamson. "If you are fighting a big, strong guy that you know can punch, why would you stand in front of him?    It's kind of like playing in traffic. You'd be crazy to stand in front of a Mack truck and try to stop it with two hands, your best bet is to step to the side, move out of its way, and that's what we were looking to do."
Klitschko who took home the win on the split technical decision didn't have the spectacular outing that he had hoped for and many in boxing had expected. Looking very much the worse for wear, Klitschko attended the post-fight press conference sporting a large band-aid on his forehead, as well     as some bruising, swelling and bleeding around his left eye. During the post-fight interviews, Klitschko stated that he would consider another fight     with Williamson, and Williamson was adamant about his wants.
"I want to do it again, but I'm not sure that Team Klitschko will want to. They will probably take the ugly win, and move on, claiming a win is a  win and that my style is too awkward or something like that. The simple truth of the matter is that I feel I won the bout, I executed my plan, I put     him down, and take a look at his face, does he look like the winner? Take the head-butt out of the equation and then look at his left eye. Who do you  think won?" asked Williamson. "Maybe some people weren't happy with my style or my game plan, but I did knock him down with a good shot on the whiskers, and the TV replay shows that Wladimir wasn't as off-balance as his corner would like to believe. The plan was to circle him, counter him, make him gamble and force him to throw shots he normally wouldn't. If you look at it from a tactical point of view, I had a great strategy. I'm like a   race horse, I'm coming strong down the back-stretch, unfortunately we didn't get to the back stretch."
Both fighters stated that they would like to be back in the ring as soon as possible, but due to the nature of the cut, Klitschko will not be able to fight again for at least 60 days, and he will then have to have the medical clearance of a plastic surgeon. Given that Klitschko will be out of action at least   until early December, an immediate rematch may not happen, if at all. In the meantime, Williamson performed well against an opponent many thought would walk through him, and though it will show as a loss in his record, no one in the industry seems to believe that his stock will go down.
Williamson, feeling very much then winner, fielded the inevitable question of who does he want to fight next, and without hesitation he stated "If not Wladimir, I'd welcome a chance at Vitali; perhaps he would be willing to give me a chance to showcase my other plan for Team Klitschko. Right now, I'm going home to figure out the next step. At the moment I'm a promotional free agent, all my strings are untied, so we need to work on that first   before we decide who to fight next, but I'm open to all comers, but I'd really like to clean up this unfinished business with Wladimir."
For more information, please visit
www.tosboxing.com