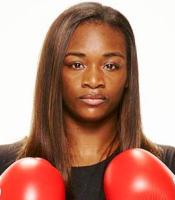 The GWOAT wants Braekhus or Savannah Marshall next
Greg Leon: Congrats on your victory and virtuoso performance against Christina Hammer. Can you give us some thoughts on it? Claressa Shields: "I haven't watched it yet, but I can say I was sharp. I stabilized her jab, I fought smart and I showed my boxing IQ. That's all I can say about it right now since I haven't seen it. GL: You were roughing her up on the inside a lot, she was doing a lot of looking at the referee, at what point did you feel that she didn't want to be in there anymore? CS: "I thought it was over in the eighth round. I had her in the corner and the ropes were holding her up. She was looking at the ground and her eyes were crossed and I thought the ref stopped the fight and it was over. I knew then that every time I hit her...some people are saying that I lost the first round, but I feel like I won the first round. I feel like I showed her that her jab couldn't land where she wanted it to and I made her miss alot. I felt like I was the stronger fighter throughout."
GL: I gave her the first round, but after that it was the Claressa Shields show. Did you expect to dominate in that fashion?
CS: "Man you know how much shit I've been talking? (laughs) Of course! You do not talk that kind of trash and then go in there and have a close fight. I wanted to make sure that I won and I dominated. I wanted to know that when the fight was over if I didn't get that knockout, then there was going to be no doubt about who the winner of the fight was. I wanted to beat her up and show here that as good of a fighter as she is, I'm on a different level and I wanted to rough her up. I saw bruises and blood on her face afterwards, so I feel like I did my job."
GL: Has it sunken in yet that your name is now on a very short list of boxers to hold all four of the major belts?
CS: "A little bit. At first I just couldn't believe it, but now I've gone to bed and I've woken up and I know I wasn't dreaming. I just know that I've always been an extremely good fighter and the best of the best, but it feels good. It's not the end for me though, this is just the beginning."
GL: Undisputed middleweight champion in nine fights. What does this mean to you?
CS: "I knew I could do it. Not just the only American with two gold medals, am I the faster boxer to ever become undisputed? Is that what it is? It's crazy to me, it's amazing to me the stuff I can do. I have 100% belief in myself and I put myself through grueling training camps so I'm able to smile after the fights."
GL: Where do you go from here? How do you continue to raise the bar from here?
CS: "I think from here, I'm going to look to continue to make the biggest fights. I want to fight against Cecilia Braekhus at 154 and I want to fight Savannah Marshall, the only girl to ever beat me."
GL: Which of those fights do you want the most?
CS: "Both of them. I don't see why I can't have both."
GL: Well shoot, the way you're looking you can fight them both on the same night.
CS: "Hello! Yep."
GL: How do you feel trainer John David Jackson has helped you improve?
CS: "Coach John David has helped a lot with my accuracy and calmness. When I spar against the men he's like there's times where I'm super tight, trying to land my hard shots and protect myself, but there's times when I'm relaxed and let my hands go and have that swag, he's like I want that boxer to be you in every round. I want you to be relaxed, calm and have fun in there. Coach John has brought that patience, accuracy and also the power. I feel like I was able to display a lot of that during the fight."
GL: Do you spar three minute rounds in camp?
CS: "I start at three minutes and then bring it down to 2:30. As it gets closer to the fight I do two minutes, just to have my timing right for the fight."
Mark Taffet: (Shields manager) "I went to watch her in camp and she sparred twenty (20) two and half minute rounds."
GL: I've been discussing with Dmitriy Salita and several other people and I think y'all should be going three minute rounds. As the biggest name in women's boxing, in your opinion do you think the women should be going three minutes?
CS: "Absolutely! We need to be going three minutes and twelve rounds just like the men do. History has proven that with two minute rounds it's hard to get knockouts. If you want women's boxing to flourish you have to give us the same opportunities you give the men. I think the WBC said it's to protect the women from ourselves, but we need don't need that protection, we chose boxing. I think last night with three minutes and twelve rounds I would have knocked Christina Hammer out."
GL: Out of your 9 fights how many knockouts do you think you'd have right now?
CS: "At least 6."
GL: And not that it's difficult to begin with for a talent like yourself, but if you had more stoppages it would be that much easier to market you like a female Tyson, you know what I mean?.
CS: "Yes."
GL: What needs to be done to fix this? Do all the top women need to show up at the sanctioning body conventions to voice your opinions? What do you think?
CS: "They say that this rule is the way it is because of some testing they did a long time ago in the 1980's and 90's and I think they really need to do that testing again. I think they need to reevaluate the women that box now. I believe that if the majority of champions would want to go three minute rounds then we should be allowed to do that. I think it's going to take women uniting and them doing the tests to prove that we can go three minute rounds."
GL: When are you hoping your next fight takes place?
CS: "Maybe in July or August. I don't really know against who, but there's a couple girls I want, but I don't know the opponent. I don't know."
GL: Are you locked in with Showtime now or free to fight on the highest paying platform?
Mark Taffet: "We have a tremendous amount of respect for Showtime and the support they've provided and if you respect the network and the executives there, then you make sure you give them every opportunity to do those fights. We expect to be talking to them soon, I believe that if the viewership figures on Tuesday are as strong as we're hoping they are Showtime or any network won't evaluate it as men or women, they'll look at it as quality of fight and number of viewers. That's what will dictate the television revenue and that's why we're excited about the next few months because we think it's going to be the dawn of a new era. Claressa delivered everything we wanted in the ring and the media coverage outside of the ring was phenomenal, and we believe the dawn of the new era started on April 14th."
GL: Appreciate your time Claressa, closing thoughts for the fans?
CS: "I want to tell my fans thank you for being supportive and continue to stand behind me and motivating me. I want to say something to the haters, what y'all got to say now? They was talking a lot of hoopla before this fight saying that I couldn't beat Christina Hammer. She was too tall, she was too long, she was too good, she was too experienced. I'm just a hype job. Tell them haters I said, say something now."
Send questions and comments to: Boxingtalkg@Yahoo.com