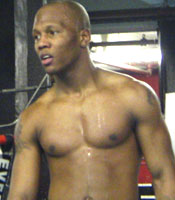 Good news-- Star Boxing announced on Monday that former two-division champion Zab Judah has been released from the hospital. Judah was admitted over the weekend after a punishing loss to Cletus Seldin in Verona, New York. Several websites falsely reported on Sunday that Judah had fallen into a coma. According to his immediate family, Judah suffered a brain bleed (subdural hematoma) and went to the hospital a few hours after his eleventh-round techical knockout loss. Star Boxing's statment said, "While he will need rest, the prognosis looks promising. Thank you to all of those that sent your well wishes to Zab and his family during this pressing time."
On Sunday, Zab's father and trainer Yoel Judah told Boxingtalk publisher G. Leon, "he never went into a coma. The bleeding on his brain stopped, the swelling went down. Zab is up, he's walking and talking. Right now he's just been held in the hospital for observation." It must be noted, Seldin has a documented history with PEDs, which Seldin claimed was a result of testosterone therapy.
PRIOR REPORTS:
The Seldin-Judah bout was promoted by Star Boxing. According to Star Boxing's Twitter account, "Zab Judah is in hospital awake, communicating & making progress. Family requests privacy... will update Tuesday. We are all praying for him & appreciate everyone's concern."
ESPN's Steve Kim writes: "According to [Top Rank VP] Carl Moretti, former matchmaker at Main Events while Zab Judah was with the company, He [Moretti] has spoken to his mother [and] Judah is 'doing better, was never in an induced coma, did have some bleeding on the brain. But did CAT scan today and went down a little.'"
The current matchmaker for Main Events, Jolene Mizzone, told Sports Illustrated's Chis Mannix that, "Zab Judah is resting comfortably at a New York hospital after suffering a brain bleed in a knockout loss to Cletus Seldin on Friday... He is alert and improving."
Ron Katz, Star Boxing's matchmaker, tweeted on Sunday morning, "Please refrain from what you think happened to Zab Judah. Star Boxing will be putting something out shortly about his present condition. Everything else you hear is just speculation or hearsay."
Boxingtalk has not yet seen any indication that news of the coma is true, and notes the following more optimisitc tweet by someone named Just Suzan at 10:30 AM on Sunday: "just confirmed Zab Judah from family he is not in a coma but he is in the hospital and he is in good spirits. He was not feeling well after his fight and decided to take the extra step of precautions to make sure he physically okay."
Prior to the news of Judah's hospitalization, Katz said, "There is an old saying boxing is a young man's sport. Zab left everything in the ring tonight and did the best he could but Cletus Seldin was a wrecking ball."
Judah, age 41, was inactive from 2013-2016, and won one low-level fight in each of 2017 and 2018 before facing the hard-punching Seldin. Boxingtalk will continue to follow this breaking news...