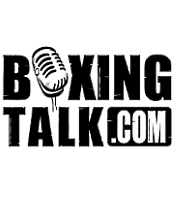 Press Release:
Heavyweight contender David Tua returns to the ring for the first time in more than two years when he faces American Talmadge Griffis in the ten-round main event on a show presented by Cedric Kushner Promotions on March 31, 2005 in Auckland, New Zealand. "I had a terrific camp" said Tua, whose relentless style and devastating power made him a feared slugger. Surprisingly, Tua is still only 32 years old. "I trained in a very sensible fashion in order to lose gradually the weight I put on during my time off," said Tua, who has a record of 42-3-1 with 37 knockouts.  His losses came against Ike Ibeabuchi, Chris Byrd and Lennox Lewis, with the draw coming in his last fight, to
Hasim Rahman.
The 30-year-old Griffis, from Colorado  Springs, Colo., has a record of 22-5-3 with 14 knockouts and is a respectable foe considering the long layoff for Tua. The show will be broadcast in the United States and elsewhere on tape-delay pay-per-view on April 2, 2005. Fight collectors alert: also on the broadcast which starts at 9 pm EST/ 6 pm PST are two other significant heavyweight replays that have never been aired in the United States: undefeated and world-ranked heavyweight giant, 7-foot, 325-pound Nicolay Valuev meets Attila Levin and world-rated Sinan Samil Sam faces Lawrence Clay Bey in a pair of regional title bouts scheduled for twelve rounds each.
"I know Itook a long time off," said Tua, "but when I got back in the ring I wanted to be sure I was 100 percent both physically and mentally."  Tua is involved in litigation with his former management team. Griffis is fighting with trainer Krishna Wainwright in his corner, a man who knows Tua well.  Wainwright fought Tua on the 1993 Evander Holyfield-Riddick Bowe  II card at Caesars Palace in Las  Vegas that was interrupted when the Fan Man landed in the ring during the main event. "This is a golden opportunity," said Griffis.  "I plan to take advantage of the fact that David has been off for two years.  I know what a win over a fighter like Tua will do in terms of boosting my career."
Tua has wins over current WBA heavyweight champion John Ruiz and former world champion Hasim Rahman (it was the rematch that ended in a draw), who is scheduled to meet current WBC heavyweight title-holder Vitali Klitschko.Valuev, entered the bout with a record of 39-0 and 29 knockouts and ranked #20 by Boxingtalk, #5 by the WBA, #7 by the IBF, #12 by the WBC and #14 by the WBO.  Sam entered his bout with a record of 22-2 and 15 knockouts and ranked #37 by Boxingtalk, #15 by the
WBA, #10 by the IBF, #4 by the WBC and #9 by the WBO.
The 28-year-old Levin entered the fight with a record of 29-2 and 23 knockouts while the 39-year-old Clay Bey entered his bout with a mark of 21-2 and 16 knockouts.