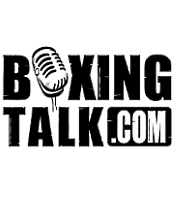 Wright: "We'll be watching Tito's hand wraps closely!"
What do you think about weighing in on dame day as fight?
Papa Trinidad: I think it's not healthy for fighters to weigh in on the same day as their fight.  A lot of fighters get dehydrated to make weight.  So you need the 24 hours in order to be in better condition to fight.  It's up to the fighter, and yes, he can jump up twenty pounds if he wants to.  But it makes no difference.  The most important thing is for the fighter to make weight on the day he has to.  It's up to each person's body to see how much more weight they need or can gain.  After the weigh-in it is not a matter of how much more you gain, but is up to your metabolism.
Winky's style, can you compare to previous fights?
Papa Trinidad:  His stance is different than other fighter we have faced in the past and we cannot compare his style.
Can you explain thoughts going into fighting Winky?
Papa Trinidad:  We didn't base it on his style.  We just want to fight the best.  Winky is at the top of the world's boxing elite.  He had challenged Tito in the past.  Tito has enough tools to defeat any fighter at this point of his career.  Now we have Winky Wright in front of us and we don't make any observations based on the styles of the fighters that we pick and choose.  We've always been happy to fight the best in the world and that's what we want to do.
What makes you think you will beat him?
Papa Trinidad:  We are not basing any of our training or preparations on Winky's weaknesses.  We are basing the entire camp on his potential. Working on his boxing techniques.  Working on his power punching.  Utilizing all of his power and his boxing ability that he has always had.  Winky's weaknesses will not be a factor in training, just Tito's potential that he has had in the past.
Tito Trinidad:  Winky has been willing to fight me and that's what I want to do.  I want to fight the best guys out there that are willing to fight me.
What were Papa's thoughts when Tito told him he wanted to come back and
fight again?
Papa Trinidad:  My reaction wasn't really that of surprise.  I the back of my mind I knew that there was the possibility that he would come back.  His fans were always pushing him and everyone was asking for him to return to the ring.  When he decided to come back to boxing I went along with the idea and told him I would help him as I always did in the past.
Birmingham said he found formula is de la Hoya and Hopkins fights to beat him…
Papa Trinidad:  We have also seen a lot of tapes of Winky's fights against Vargas and Shane Mosley, but the main thing for us is to get Tito's potential to come out in the ring and see that he is 100% ready for this fight.  The quality of the great champion will come out as it did in other big fights.
There is a rematch clause for Winky if he wins, would you give him one if you win?
Papa:  If it is worth it to give him the rematch we will do so.  We have no rematch clause in our contract but if it is worth it and it is a great fight, why not do it again?
If Winky sticks out his chin, what would you do?
Tito:  If Winky lowers his hands and he gives me his chin, I will give him the biggest punch of his life.  If I have that opportunity, of course I will take it again.
Tito:  I have been training really, really hard and there is no difference than in my previous camps, so it's basically the same thing. I have always trained to win the fight.  This is exactly what I did in the Mayorga fight.  There is no big difference between that camp and this one.
Do you think Shane fought a better second fight?
Tito:  I think in the second fight Shane Mosley did much better because it seemed as though he had more desire to win that fight.  Obviously Winky Wright pressed on in the later rounds to win but Shane had much more desire to win.
Who has Tito been preparing with that has Winky's power?
Papa:  We have quite a few sparring partners that we have been working with but of course they cannot match Winky's ability but let's not forget that Tito has faced six southpaws in his career and this won't be the exception. He beat all of those six guys and this shouldn't be any different.
Have you seen what you can exploit in Winky?
Papa:  I want to make this clear.  This fight will not be won because of somebody's inability to do something or a particular weakness.  Winky is a great champion and he has proven himself at 154 pounds.  We are much superior than Winky and that's what we'll prove on May 14.
Do you think Winky is prepared for you?
Tito:  I think in the back of his mind he has an idea of how hard I can hit. To tell you the truth, he probably doesn't want to get to May 14because he probably afraid of what I can do in the ring.  But he already signed the contract and he cannot back out of it and he will se how much punching power I have that day.
Has Tito seen another opponent be psyched out by all of his fans?
Tito:  I don't think it will matter that the people will be behind me in this fight as much as the other fights.  First of all, Winky is a very experienced fighter and has fought all over the world and that shouldn't be an issue.  It is not going to be the people chanting or the people behind me that will get him all psyched out.  It will be me.
How long does it take in a fight to pick out deficiencies once the fight starts?
Papa: That is extremely hard to predict.  It comes within the fight.  It could be the first round and it could be later.  It is just a matter of being there and seeing what is going on in the ring.
Do you feel Winky is in the same class as Hopkins, de la Hoya and Whitaker?
Tito: Obviously he is and that's why he is champion at 154-pounds.  There is no question about that.
Winky said there was an issue with hand wraps and will be very cautious as well…
Papa: They have a right to see how we wrap Tit's hands.  We'll do the same, supervising how they do their job wrapping Winky's hands and we'll both do the same thing.
What concerns you most about Winky?
Tito:  I don't want to take anything away from Winky Wright or be
disrespectful to him but I have no worries about what he will do.  I have no concerns about that and I'm not thinking about that.  I only know that he will be in great condition and he will come to fight.
Do you try to take advantage during the fight?
Papa: It comes with the fight just like my father said.  Of couse it could happen in the first round or it could happen later.  If I have the opportunity to finish an opponent I will finish him right away.  If I see that Winky Wright is not up to par with me, I will definitely take him out.
What was it like when he came back and he was in the ring listening to his fans?
Tito: It was one of the most exciting times of my life.  Just to hear the fans chanting "Tito, Tito," when I stepped up into the ring.  The only way I knew how to pay them back was to give them every single round and give the best performance that I could ever put together.  It was kind of hard to describe, to go back into the ring and hear my name and to hear people screaming for him.
Winky is known to have a pretty good chin, what is the plan?
Tito:  It is just a matter of conditioning really.  I always prepare for twelve rounds and this is the same case for this fight.  I prepare for twelve and of course if I can knock him out and I'll go along until I get that victory.
Are there any stipulations on gloves?
Papa:  They haven't decided on what gloves he will be wearing for the fight, color or brand, but that will be decided later.
Winky said you beat a blown up welterweight in Mayorga.
Tito:  It doesn't really matter if you think about it.  Mayorga was not a welterweight any more and I gave him the beating of his life and nobody can question that.  That was the end result and we already went through that.  I knocked him out and that is that.
Birmingham said this is just another fight for them.
Papa:  I can interpret that as saying it will be another loss for Winky
Wright and of course they will say whatever they have to say but never
underestimate the power and the quality of Tito the champion.
Papa:  Watch the show from the very beginning because it may end very early.
Winky:  Everything is going great right now.  We are training and doing a lot of boxing.  We are working on a lot of different techniques and on May 14 we will be ready for it.
Do you think your power is underrated?
Winky:  yes, I think it is definitely underrated.  But I'm just going to go in and win the fight. I don't have to knock him out.  I can just win in ten rounds.  I can definitely punch but I don't go in looking for the knockout.
Do you think you're the strongest southpaw you've ever fought?
Winky:  Most definitely. Like I said, Tito is a middleweight now but he
used to be a 147-pounder.  It' not like Tito has always been a middleweight. He happens to be tall and he put the weight on and he's a great puncher. I was at 154 and 60 is only one step up.  I going to be a lot stronger and I'm going to feel a lot better.
Do you plan on staying at middleweight?
Winky: When I win I will give Tito a rematch and that will be next and I don't want to talk about anything other than that.  Then after the rematch we'll see what's out there.  I've been fighting for a long time and I've been chasing these so-called best fighters in the world for a long time and now I'm getting my chance to fight them.  I want to fight the best that are in my era right now.
Winky: If I lose he won't give me a rematch, but if I win there is a
rematch clause in there.  Then we will look forward to what is next.  De la Hoya or whoever the fans want to see.  We have to go back and see who the fans want to see.
Winky: You'll see me looking for the best fights.  I've fought all the
rest.
How do you feel at 160?
Winky: I don't have to lose the extra 6 pounds.  I don't think it is a
great big thing moving up to middleweight.  I think I'm ready for it and May 14 I will show the world.
How confident are you?
Winky:  I am very confident.  Every fight I'm in I am very confident.  I'm not one to say that I'm going to go out there and knock him out.  All that counts is the win and that's what I'm going out there to do.
How long do you plan to stay in boxing?
WINKY:  It depends.  If I'm still on top and the fans want to see me fight and they are paying me well, then I'll be there.  When nobody else wants to fight, then I'll hang them up.
Do you think if your name wasn't Winky, do you think you'd be more
recognized?
Winky:  I think because my name is Winky I am recognized.  If the networks market you then you become a big name fighter.  If they don't market you,you could be the best fighter in the world but nobody will see you or know it.  Right now I don't see them giving any new contracts out but you don't get a name unless you are on the network.
How did you get the name?
Winky:  My grandmother gave it to me and I'm glad she gave it to me and once people here it they never forget it.  It was a nickname she gave me when I was a little kid and it just stuck.  Everybody knew me as Winky and that's how it went.  I don't want to be called anything else. Champ is good too.
Ronald…
Winky:  Excuse me. My name is Winky.
What about the face guard at the press conference?
Winky: I am going to deal with him like I deal with everybody.  Tito is a great puncher and I won't take that away from him but he's no different than anybody else.  I am going to go in there and put my game plan to work.  I always do that and I don't care how big a puncher he is you still have to hit me.  Also he's going to be taking punches back.  When he has some hard jabs coming at him, he isn't going to be able to just tee off.
What makes this fight for you so special?
Winky:  When people saw Tito come back and beat Mayorga, that's what the people want to see.  I am a proven fighter no matter who you put me against I am always coming out to win.  It's been a long hard road for me and that road led to Tito.  There is tow men colliding and which will be standing last?  And I think it is going to be me, most definitely.
What will you capitalize on?
Winky:  He looked great.  I think he got hit more because he was more
offensive.  If you throw a lot of punches you are going to leave yourself open for punches coming back.  Mayorga was too small to fight at middleweight and Tito knew he couldn't hurt him.  Tito went out there and executed his game plan well.  I think Tito will come out and throw a lot of punches but once he sees a lot of punches coming back and how hard they are coming back, he isn't going to be throwing that many punches.  It's going to be a great fight.  Tito has been a great fighter for a long time and I'm pleased to have this chance to fight him and on May 14 I'm going to go out there and show the world.
Why do you think it took so long to get these fights?
Winky:  Because nobody wanted to fight me because they couldn't gain from it.  I didn't have the title and I'm a tough fighter and they may lose the fight.  That's why I got to get back to number one because I fought whoever was there.  I never got a fighter to fight me unless I was his mandatory. All the times I had titles I was the number one contender. All the other fighters could be taken lightly and they could give them a chance when they were number ten because they knew they could beat them.  For me nobody ever gave me a chance and I took every chance I got.  It's been a long time for me to get to where I am at, and the networks have their favorites and that's cool.  But I'm here now and that's cool.
Is it your style?
Gary Shaw:  Winky might be the best fighter at his weight in his generation. He hasn't lost in five plus years.  He's only been down in one fight in his whole career.  Winky's not a guy with a lot of excuses but it had to do with his shoes and the type of canvas in South Africa. People don't fight Winky because Winky is too tough.  That's the answer.
Camp?
Winky:  I've been in training camp for about a month and a half.  I've been training with Carlos DeLeone and some other sparring partners here and there but Carlos has been my main sparring partner.
Dan, how did you go about developing the plan against Tito:
Birmingham:  I have been studying Tito Trinidad hoping for this fight since he was a welterweight.  I have been studying tapes, mainly the first half of the de la Hoya fight.  And the second half fight of the Hopkins fight. I think that is the blue print to beat this guy.  It's very simple.  I'm not to worried about what Tito is going to do.  We are working on Winky's strength and what he is capable of.  We want to make him as sharp as he can be and the rest will come natural.  Afew moves here and a few moves there, basically to make Winky the best that he can be. It is very exciting but I think Tito Trinidad is just another fighter along
the way.  It is the 52nd fighter that we have to get rid of and that's it, although I do respect Tito Trinidad.
Judging?
Winky:  The majority of the people know that I won those fights.  Even
though I lost, the people still come up to me and say you beat Vargas.  I beat him enough that everybody knows that even though I didn't get it from the judges and we know how the judges are.  It is about the fans and if Tito wins a decision like that, the fans are going to demand that they see the fight again.  I am going to go out and prove to the world on May 14th and if they somehow give him the fight and I know that I won effectively, I am going to prove that I am man about the money situation but in my eye I will know I have won.
I want the best fights for the people.  We want to give them what they want to see and if that's what they want to see.  They want that fight between Bernard and Jermain so I think that's going to be a great fight.  Jermain is looking very good but hasn't been tested but we'll se in that fight. Bernard is going to go out there and impose his will on him early and we'll see what happens.
What does it take Dan?
Birmingham:  It's a long tough hard road, I can tell you that right now.  We started Winky on day one and traveled all over the world.  It hasn't been easy but we enjoyed every part of it.  Within a few months we realize if a kid has the coordination and a big heart and stuff like that.  I've been training Winky for almost 18 years.  I started out as an amateur in 1968 and been in the game ever since.  I started training guys in 1988.
Winky:  Tito will be in great shape.  Even though Tito has great skills, I feel that I have way more skills than Tito.  He only knows one way to fight and that's it.  With me, I can box, I can fight inside and I can do what it takes.  I have more skills, but Tito always comes in great condition and he tries to outlast his opponent.  So we are going to come in great condition. I am not going to see how hard he can hit.  I'm going to be in there outthinking him and outboxing him.  I will beat him round-by-round and once I do I will get inside and hurt him.  This is the fight everybody wants to see and I've been waiting for my whole career and we will be ready to put it on.
Will you take more risks?
Winky:  I am going to go out there and give the fans what they want to see.  When I go out there I will do everything I've got to do and win. Those other guys are great fighters but I can beat them with the jab and a little movement.  I will pull out all the tricks in my bag.  With Tito I will have to do everything and that's what I'm looking forward to.
We have to give Tito credit for his heart.  For his will to prove that he is the best.  He came back and said Tito can fight anybody and people will come and see it.  Tito wants to prove that he is the best and he's proving that he's one of the great fighters that ever lived.  I take my hat off to him for that.  I think I am the better fighter and Tito and I should have fought each other a while back, but he moved to middleweight and I missed out again.  This is now the time and I will prove that Winky Wright is one of the best fighters.
Why did you move to Las Vegas?
Winky:  I needed to get away and really focus.  St. Pete is great but it is really hard to focus because everywhere you go people want to talk about how you are going to do this and do that.  I had to come out to Vegas where I could train hard and focus.
How close will you be watching the wrapping of Tito's hands?
Birmingham:  We are going to watch the hand-wrapping with a magnifying glass.  Making sure along with the Las Vegas commission, the great commission.  I'm not going to worry about his hands here in Vegas because the commission here will make sure that his hands a wrapped properly.