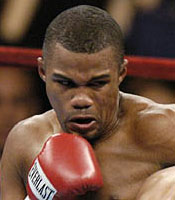 Tito Says, "It Will End By Early KO!"
No one could have blamed Felix Trinidad if he ended his two-year retirement with a couple of tune-up bouts before going up against the big dogs. Most of his fans would have been satisfied just to see their beloved fighter back in the squared circle again. That, however, is not the living legend's style. The deal Tito made with himself was, if he was going to come out of retirement, he would do it only to take on the best, just like he did before hanging them up back in May of 2002. On October 2nd, Trinidad will be facing the very dangerous and iron-chinned brawler Ricardo "El Matador" Mayorga at Madison Square Garden in New York. Boxingtalk caught up with Tito to get his thoughts on issues such as why he is taking on such a tough opponent after being idle for two years, what kind of fight he is expecting from Mayorga, his strategy for the middleweight bout, and what he will do next if he is victorious.
Boxingtalk: Tito, less than a year ago you were very adamant about staying retired, now you are fighting Ricardo Mayorga on October 2nd. What was your reason for coming back to the fight game?
Felix Trinidad: There were many factors that have influenced me to return. One of them is, of course, Don King. Another very important reason is for my people, my fans, and my public. They missed me in boxing and that is why I'm back.
BT: Why take on such a tough fighter like Mayorga in your comeback fight?
FT: Well, why come back to fight a dead body? I want to fight the best, and yes, this is a return fight for me, but it doesn't do me any good to fight somebody who is not a tough opponent.
BT: Was Mayorga your first choice for your return bout, or would you rather be facing someone else?
FT: My first choice was [Oscar] De La Hoya, but he didn't take the fight. Second was Shane [Mosley], but when he lost his fight against Winky [Wright]. When Winky won, we had the opportunity to fight him, but we couldn't make it happen, so the guy that stepped up to the plate and decided to fight me, and had the guts to do it was Mayorga.
BT: What have you been doing to prepare for Mayorga?
FT: I'm training extremely hard because I know Mayorga is going to be prepared for this fight. I know he will come ready to fight on October 2nd, and that's why my preparation is basically like I did before: training really really hard knowing that Mayorga will bring his best.
BT: What about Mayorga's unconventional style of fighting, will you be ready for that after being out of the ring for two years?
FT: I know he will bring it on October 2nd, but you can't forget that I also have a great punch, and the one that has to worry about anything is Mayorga. I'm not making any changes to my training regimen, and the one that should be more concerned about this fight is Mayorga.
BT: How does this training camp compare to your camps before your retired?
FT: There are a couple differences. One of them is that my father is 100% concentrated on what we're doing in the gym. Also, the team that I have is solid – very, very solid. We all work together on many things, and that is the biggest difference.
BT: How much of a factor do you believe your inactivity will have once that first bell rings?
FT: I don't think the fact that I've been idle for two years will effect by ability at all. I'm a healthy fighter, I've always been healthy, and I'm prepared for this comeback.
BT: Do you feel any added pressure to come back looking impressive, or will you play it safe in the ring if you have to?
FT: There's always pressure in every fight that I have. I want to win and I want to look good. More than anything else I want to have a smart fight and fight a smart fight. I know at the end I will be victorious and I will win.
BT: When Vernon Forrest first fought Mayorga, his plan of boxing Mayorga quickly turned into a brawl. What is your plan for fighting Mayorga, and will you go toe-to-toe with him if it turns into a slugfest?
FT: I am a great boxer, and I want to fight a smart fight, but what I want the most is I want to brawl, I want to brawl with Mayorga. He has talked so much about being a macho man and the toughest guy out there. I want him to give me the opportunity to stand in the middle of the ring and fight with him punch by punch. I definitely want to brawl with Mayorga. He has talked too much about this fight.
BT: After October 2nd, everyone will be talking about you and a rematch with either Bernard Hopkins or De La Hoya. Are those two fights that can be made, and if it came down to money would you be willing to take a 50-50 split in order for those fights to happen?
FT: Of course economics is a factor in all this, but we will see over time. I will fight anybody who wants to fight me - either Hopkins or De La Hoya. We will negotiate when the time comes, but first we have to see who will come out winning.
BT: You have been in the ring with both these fighters. What does De La Hoya need to do to beat Hopkins?
FT: I see no chance for De La Hoya winning this fight against Hopkins, no matter what. If there was an opportunity for De La Hoya to beat Bernard, he would have to be extremely fast - faster than he was against Felix Sturm.
BT: I know you are predicting a win against Mayorga, but do you have a more detailed prediction on how this fight with turn out?
FT: I have no specific round, but I know it will be stopped early in the first few rounds by knockout.
Boxingtalk thanks Tito Trinidad for taking time out of his busy schedule to speak with us. We also thank Thompson Boxing Promotions' Alex Camponovo for translating the interview for us. We wish them continued success both in and out of the ring.
CLICK HERE FOR MORE OF THIS EXCLUSIVE INTERVIEW
Send questions and comments to: Questions/Comments: Fool4Rush@aol.com