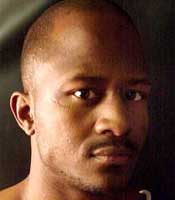 Undefeated (regular) WBA junior middleweight champion, "Tremendous" Travis Simms contacted Boxingtalk.com to put the boxing world on notice that he's ready willing and able to face Felix Triniad asap. April 9 is fine with Simms who feels that Trinidad would be the perfect fight for him to take his career to the next level. "Boxing is my life, and I follow this game very closely. I knew that Trinidad was out of opponents because Felix Sturm opted not to take the fight and Winky Wright is complaining over $4M, which is more money than he's made in his whole career. With that being said, I want to fight Felix Trinidad and Don King won't have to work to hard to make it happen. I don't need what Winky was turning down. All fighters want to get paid $4M, but that's not my goal here, my goal here is to fight the best and take advantage of the opportunity of fighting somebody like Tito Trinidad."
"This fight would be about legacy and showing the world that I'm the best pound for pound fighter out there."
GL: Have you informed DKP of your desire to fight Trinidad?
Travis Simms: "Out of all the available guys I think I'm the most available guy. It would be a honor to fight Trinidad, I have a lot of respect for Trinidad and I think it would be a great fight that the fans wouldn't forget. I'm not going to make any ridiculous demands, the difference is the PPV numbers between Trinidad-Wright and Trinidad-Simms is minimal so we could make this happen, and it wouldn't be all that difficult for Don.
"To answer your question, we have place several calls to DKP but we're still waiting to hear back from them. They know I want to fight the best, I'm just here to tell the world that I'm ready to fight Trinidad now and the best fight DKP could make is right under his nose.
GL: So even though Winky Wright has two wins over Shane Mosley, you still don't think Trinidad-Wright does much more PPV than Trinidad-Simms?
TS: "As far as I'm concerned, wins over Mosley don't validate that he's the best guy in our division. Any of the top five in this division would beat Mosley. He's a small welterweight fighting at a heavier weight. I would've loved to fight Winky Wright to prove that I'm the best junior middleweight in the world, but he doesn't want to fight me. 
"Now he's acting like those fighters he criticized for years, but it's all good. He seems to be ducking Trinidad too, but I'm ready to step in for him there and then after I beat Trinidad it'll be on to Winky.
GL: Of course, you would have no problem moving up to middleweight to fight Trinidad, correct?
TS: "No problems at all. I'm ready to make it happen. My lawyer has already spoken to the Trinidad's lawyer and the Trinidads will fight anybody as long as they're getting $10M minimum. Now it's time for DKP to step up to the plate and make the fight before he has to push Trinidad's date back again. 
CLICK HERE TO SEE WHAT ELSE ONE OF THE BEST JUNIOR MIDDLEWEIGHTS IN THE WORLD HAD TO SAY
Send questions and comments to: gleon@Boxingtalk.net