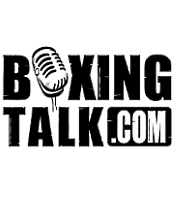 During this Thanksgiving weekend, after you have gone down for the count on Aunt Betty's sofa as a result of gobbling up all the tryptophan-filled turkey, you might stop to consider all the reasons why you are thankful for this past year.  Maybe you are thankful for that new birth in the family or for that big promotion you got.  Maybe you are just thankful that your jeans aren't busting at the seams after scarfing down a meal it for "Big" George.  Whatever the reasons, let us not forget about our beloved sport of boxing.  Let us take time to remember the top ten things we, as boxing fanatics, have to be thankful for in what has happened in the Sweet Science since we last got out the good china and ate ourselves silly.
10.      Joe Goossen's Wardrobe.
    If anyone else tried to don the threads trainer Joe Goossen wears to the ring on fight night they would be laughed out of the arena, but for Mr. Goossen…it works.  There are not too many people, let alone trainers, out there who can pull off the California style Goossen possesses.  With his amazing Technicolor shirts buttoned halfway down like an aged version of John Travolta's character in Saturday Night Live, Goossen's slicked back hair, and West Coast swagger, he looks ready to go from a upper-echelon trainer to a swinging lounge lizard the moment the final bell tolls.  He is Mr. Las Vegas to the hilt, and it is not until you have seen him work his fighter's corner in Vegas that you are thankful that he added to the ambiance of the night.
9.    Foreign Countries Don't Abide by Our Rules, Therefore Allowing Edwin Valero to Fight.
It has been written before that lightweight sensation Edwin Valero is the real deal.  Those who have seen him fight or spar have witnessed his raw power, and can attest to this.  While his fight record may show he is perfect, his medical record shows something a bit different.  Valero has tallied up a professional record of 16-0, with all 16 fights ending with his opponent stretched out on the canvas before the first round is complete.  However, due to a motorcycle accident that Valero was involved in several years ago, and a neurological test not favoring Valero that followed, the future boxing phenomenon and his career has been put on hiatus here in the States until an athletic commission feels safe enough to give Valero the green light.  Even though a recent neurological test done at Cedar Sinai Hospital in Los Angeles reportedly shows Valero is in no additional danger compared to other boxers, he is still being put on American ice.  Therefore, in the past year, Valero has ventured to other countries such as Argentina, Panama, Japan, and his homeland of Venezuela, who have allowed Valero to continue his career.  For those who don't worry about the future consequences of a boxer who suffered a serious head injury and then deceived athletic commissions about it, fighting a world-class foe, you can be thankful that there are countries that will let Valero continue his KO streak.
8.      Nate Campbell taking the fight with Kid Diamond.
    This fight almost did not happen.  As one of Top Rank's most talked about fighters, Almazbek Raiymkulov AKA Kid Diamond, AKA Dr. Evil was in talks to take on former IBF champ Julio Diaz.  A member of the Top Rank clan even mentioned Floyd Mayweather as a possible opponent for Raiymkulov since Kid Diamond had reportedly done more than handle his own while sparring with the Pretty Boy.  However, the boxing gods had other things in mind for Dr. Evil, and that was for him to face a ready and willing Nate Campbell.  The Galaxxy Warrior was batting .400 in his last five at-bats (that's not good in boxing), and was considered to be a declining, but yet named fighter that Kid Diamond could add to his impressive win column.  However, the Galaxxy Warrior had other plans for his blossoming foe, and from the opening round it was apparent to all that Campbell was going to pull off a magnificent upset.  He out-boxed, out-fought, and out-smarted Raiymkulov until the fight was stopped two-minutes into the 10th and final round.  Campbell had pitched a shutout while at the same time shutting his opponent's eyes from the non-stop battering he placed on Dr. Evil's face.  Campbell is a colorful and talented fighter that could add some additional spice to the already hot lightweight division, and I for one, and thankful that he took the challenge, and redeemed himself as a lightweight contender.
7.      Wayne Braithwaite, Jean Marc Mormeck, O'Neil Bell, Steve Cunningham and Guillermo Jones.
    Ever since Evander "the Real Deal" Holyfield went ten pounds north to the heavyweight division, the cruiserweights have been the red-headed step-child of boxing.  However, five men have changed that this past year, and they have brought us some amazing battles.  Not only that, but two of these men, world champion Mormeck and IBF title holder Bell will be facing off in a first-time-in-almost-two-decades undisputed cruiserweight championship fight this January.  The previously undefeated Wayne Braithwaite was in two hard fought battles since last Thanksgiving; first dropping a decision to Jean Marc Mormeck in April, only to be stopped five months later in the fourth round by Guillermo Jones.  In that fight, Braithwaite narrowly escaped being knocked out by Jones in the first round, when Jones's continuously, and with great force landed virtuously every right hand he threw at Braithwaite's face.  Even though it was a bad year for the Big Truck, he took one for the team (twice), to give the cruiserweight division something to talk about.  Five cruisers have given life to what was a dried-up desert, and fight fans should be thankful for their efforts.
6.      Zab Judah taking the rematch with Cory Spinks for $100,000.
    Looking over a list of the top athletes today, and you see names like Woods, Bryant, Jeter, and Manning.  Names like that don't even get out of bed for $100,000.  However, Zab Judah knew the potential of what taking a fight for far less than he is deserved could do for his career, and it paid off big time.  Pride could have gotten in the way, but an older and wiser Judah saw that by taking on Cory Spinks in a return bout for a measly six-figures, not only could redeem his loss to Spinks, and give him the title of being called "undisputed," but it could set up much more lucrative fights down the road.  That is why we are now talking about Judah-Mayweather while Spinks is on the MIA list.  Judah will be facing Carlos Baldomir for his first fight of 2006, but after that look for huge things to come for Judah, and be thankful that he took what he did against Spinks, because he very well may find himself in a superbout with Mayweather.
5.      Oscar De La Hoya Signing Former Opponents to Golden Boy Promotions.
What the Golden Boy is doing is brilliant.  Knowing he is one of the best fighters of our time, he is surrounding himself with even better fighters, or at least those who have defeated him, and he is signing them on to be part of his promotional team.  The idea of fighters promoting fighters is not only good for the sport, but it is something that I hope becomes a trend.  When you hear of a certain frizzy-haired promoter suing his own fighter while he is preparing for his heavyweight title shot, one has got to wonder what is going on upstairs.  At least wait until the fight is over first, or at least until training is done.  Call me naïve, but I don't see the Golden Boy ever suing Marco Antonio Barrera for any reason, especially when he is preparing for war, let's say against Erik Morales.  In addition, with all the decades of combined experience De La Hoya and his team of fighters/promoters possess, I see a future in which fight promoters have a good connotation, and not one that gives our game a bad name.  De La Hoya, Sugar Shane Mosely, and Bernard Hopkins all know what their fighters are going through, because they have gone through it themselves, and they will certainly use that for to their fighters' advantage.  With De La Hoya using himself and his name to better the sport, both fighters and fans will benefit, and we should all be thankful for what the Golden Boy is doing.
4.      Joe Calzaghe FINALLY agreeing to fight Jeff Lacy.
    It's about time.  We all knew Joe Calzaghe would not come over here to fight Jeff "Left Hook" Lacy, but at least he has agreed to fight him.  Showing that he is a true champion willing to fight the best, Lacy has even agreed to go into Calzaghe's backyard to put his undefeated record and respective titles on the line.  While Calzaghe is also putting his undefeated record and super middleweight title on the line, he is doing so with a home field advantage, but even that much will not help him against Lacy's raging onslaught of punches.  Lacy will come away the victor in every sense of the word, for he has already shown that he is the bigger man by going overseas, and when Lacy's hand is raised after the fight, he, as well as fight fans will be thankful he made the voyage.
3.      Antonio Tarver Humbling both Roy Jones Jr. and RJ.
    Clark Kent!  That is the only person who is allowed to have an alter ego.  It didn't work for Garth Brooks, and doesn't work for Roy Jones Jr.  When you feel you are worthy of an alter ego, you might as well call a spade a spade, and substitute the word "alter" with "inflated."  When you have an inflated ego you appear both arrogant and foolish, and then we, the boxing fans are forced to listen to you talk about yourself in the third person.  As the saying goes, "Pride comes before the fall," and thanks to the Antonio "the Magic Man" Tarver, and his second victory over Roy Jones Jr., RJ will hopefully go into hibernation, so that the real Roy Jones Jr. can re-emerge.  It is not too late for him, for we have gone from hearing Jones say that no one in the world can beat him to no one in the world but Tarver can beat him.  This shows us that he can humble himself, get real, and get focused on his career.  What this means for boxing fans is that we will no longer have to put up with Jones' mismatches.  If Roy plays it right, he will fight the absolute best for the remainder of his career in order to prove that Tarver and Glen Johnson were just a couple hiccups in his illustrious and impressive career.
2.      Jermain Taylor winning the fight and not Bernard Hopkins.
    It is no secret that if Bernard Hopkins won the fight last July instead of Jermain Taylor, there would be no upcoming rematch, and who knows which inferior fighter would be the Executioner's next victim.  The odds are though, that it would not have been against an opponent who possesses the speed, power, and agility that Bad Intentions holds.  Thanks to Taylor's close, but good showing last July, he gets to get another big payday as well as another chance to prove that his first fight against Hopkins was no fluke.  As a fight fan, one should also be thankful that Taylor got the nod, because if not, we would be stuck in limbo.  For there is not a good pick 'em match between A-type fighters scheduled until the end of January when Erik Morales takes on Manny Pacquiao one more time.  Hopkins-Taylor II will be a great fight, better than the first since both Taylor and Hopkins have something to prove.  Hopkins is appearing in his first revenge bout, while Taylor is out to solidify his stature atop the middleweight division.  Thanks to Bad Intentions, we will be able to see this all play next weekend.
1.      Jose Luis Castillo's and Diego Corrales' parents
    On May 7th, 2005, Jose Luis Castillo and Diego Corrales both followed in the footsteps of their parents' actions that had occurred nearly three decades earlier – the simple disregard of protection for about a half-hour of primal passion.  These two fighters waged war on each other like savaged beasts, absorbing as much punishment as they were dishing out until only the best man that night could remain upright.  Defense flew out the window the moment their fight started, and the game plan was simple: Hit your opponent as hard as you could before he hit you harder.  Before Castillo and Corrales met each other for the first time in the ring, they each had proven in their own rite why they should be given elite status in their division, thus setting up an instant classic battle between boxer and puncher.  Those 5,168 fans who attended the fight were not only smart enough to buy a ticket, but fortunate that Corrales and Castillo came into the ring with all that had to give.  Neither of them left anything behind in the squared circle that night, and thanks to a special moment shared by their respective parent's in the mid-1970's, all of us were somehow able to be a part of an epic battle that will be talked about and passed down for generations to come.
Send Comments/Questions to DNick@BoxingTalk.net
Thanks goes out to Elan Haim (Joe Goossen's employee) for help with this article.