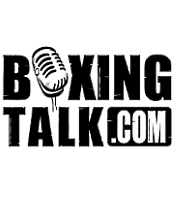 By Scott Shaffer
When Wladimir Klitschko's representatives informed the New Jersey Board of Athletic Control that they intended to weigh the boxing gloves that Sam Peter will wear into the ring on Saturday night, they were immediately ridiculed in a press release quoting New Jersey Commissioner Larry Hazzard and Grant glove manufacturer Grant Elvis Phillips (who has an advertisement on this website). It is easy to get caught up in the adrenaline of a big fight and trash talking can make one feel macho, but if there is one lesson to be learned from the Leavander Johnson tragedy, it is that there can never be too many safety nets in place to protect boxers. Somewhere back in the 1890s, the first guy who asked to watch his opponent's hands getting wrapped was probably called a yellow-bellied scoundrel by the local newsboy. But eventually, it became an accepted part of the sport. Today, newsboys have been replaced by websites where it fashionable for people who don't take punches to the head for a living to call a boxer names like coward, punk and p*ssy every time that boxer doesn't live up to someone's notions of badass.
If Klitschko's advisors Shelly Finkel and Bernd Bonte want to take extra precautions to protect their fighter, no matter how silly it may seem, let them do it. Every boxer should have that kind of support behind him. To be clear, there is absolutely no evidence of any wrongdoing or even negligence against either Sam Peter's team or Grant Elvis, but any one who says foul play can't happen in this desperate sport has forgotten a painful lesson learned a generation ago. Boxingtalk remembers the tragic tale of Billy Collins, so as we mourn Leavander Johnson and get ready for Klitschko-Peter, let's turn the calendar back 22 years.
Billy Ray Collins, Jr. fought a ten round boxing match against Luis Resto on June 16, 1983, at Madison Square Garden. At the time of the bout, Collins had anunblemished professional record, 13-0. But unbeknownst to Collins, Resto's gloves had been deliberately altered by the removal of the horsehair padding covering Resto's knuckles. Collins took a beating from Resto and his illegal gloves. At the conclusion of the match, the victim's father discovered the cheating when he accidentally felt Resto's glove, and became aware that the padding had been removed. Although he endured the full ten rounds of punishment, Collins suffered grave head and eye injuries that put an end to a promising career.
Resto was initially declared the winner of the bout, but was subsequently stripped of the victory and his boxing license, after an investigation and hearing by the New York State Athletic Commission. Resto and his trainer/manager, Carlos "Panama" Lewis, were indicted and found guilty of several criminal charges, including conspiracy, tampering with a sports contest, assault and criminal possession of a weapon. Evidence in the criminal trial indicated that there were a number of people in Resto's dressing room prior to the fight, but Resto's trainer was able to accomplish the tampering by taking the gloves into a bathroom adjoining the dressing room.
Collins returned to his home in Tennessee and as a result of his inability to pursue his chosen career, he sank into depression and began drinking heavily and using drugs. On March 7, 1984, after a night of heavy drinking, Collins drove his car off an embankment, ending his life. To this day, boxers still seek out Panama Lewis' help.
So go ahead, call Wladimir Klitschko every name in the book. A scholar in a gangsta sport, Klitschko doesn't fit American notions of what a heavyweight should be in this post-Tyson era. His public claims that he might have been poisoned before losing to Lamon Brewster were admittedly ill-advised. And Finkel, recently labeled Dr. Evil by Don King, is certainly no stranger to being accused of misdeeds himself. But before this incident is used to ridicule either Klitschko or Finkel, remember this: in boxing, those who blindly trust their adversaries to abide by the rules wind up getting eaten alive. Ask yourself what was your reaction the last time an American boxer returned from Germany claiming that the locals somehow put something in his eye that cost him his chance to win the bout. Did you wonder if it could be true, or was there the same righteous indignation that followed Klitschko's request to inspect Peter's gloves?
The story of Billy Collins is a cautionary one. The people making fun of Klitschko and his advisors would do well to track down Billy Collins' father and ask him if he wished he thought of weighing Resto's gloves before the fight. If Finkel and Bonte want to make sure beyond a doubt, even an unreasonable doubt, that Peter's gloves are proper, more power to them.
Send questions and comments to: boxingratings@yahoo.com