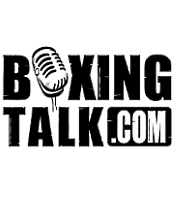 Referee Frank Cappuccino, Sr. is presenting a boxing extravaganza and is inviting all to attend.  Fans in Central New Jersey, Philadelphia, Delaware and northeastern Pennsylvania are less than an hour away from the Pennsylvania National Guard Armory in Northeast Philadelphia.  A good thing when one considers the boxing fun Frank is putting together for a worthy cause.   Doors open at 1pm this Sunday.
Frank, has been in charge of Ward vs. Gatti as well as Tyson vs. Spinks, is promoting this afternoon of boxing to raise money for his son, Frank, Jr. who has been afflicted with Parkinson's Disease.   Taking care of Frank, Jr. "is not only my obligation, it's my responsibility" says Frank, Sr.  Frank Jr. is a Vietnam vet "he was in the Navy during in the Vietnam conflict."  The Veteran's administration evaluated him and "the most I can get is $20 a month" fumed Frank, Sr.
This disease gets progressively worse.  Surgery was done to stop the tremors but they didn't fully cease. "I had some very good friends to help me get through this, financially.  I had this caretaker last year who came in 10 hours a day five days a week, but it's so expensive.   It's just a sad situation."  Frank Jr. is 52 years old and started feeling the disease 10 years ago while he was a pit boss at the Turning Stone Casino.  But "he couldn't function so they had to let him go" frowned Frank, who is in his 70s.  Occasionally, Frank, Sr. is able to pick up a few days of work at his old job, inspecting school kitchens as a sanitation inspector with the Board of Education.
"The champs and ex-champs are sending me things with their signature that I'm going to put on the silent auction" Frank recalled as the conversation shifted to the event.  "Larry Holmes is going to show, Joe Frazier is going to show, Michael Spinks…Joey Giardello and Bernard said to me 'hook or crook I'll be there', Dwight Braxton and Matthew Saad Muhammad will be there."  Frank is so well respected he may have all of Philadelphia's legends in attendance.  Amateur bouts will be encased with celebrity boxing matches featuring Buster Drayton (former IBF Jr. Middleweight champ), Tex Cobb will box with former PA. Commissioner, George Bochetto, while current commissioner, Humberto Perez will battle with cutman/trainer and proprietor of Joey Eye's Goodfellows Gym, Joey Eye.
Concurrently with the celebrity and amateur bouts will be the silent auction, meanwhile the venue is working on setting up concessions, door prizes and photo opportunities with the champs in attendance.   Frank mentioned some large players in the sport who may also participate, pending the lack of scheduling conflicts.
Admission is $20 at the door, which will open at 1pm this Sunday, Sept. 26th.  The Pennsylvania National Guard Armory is located at Roosevelt Boulevard and Southampton Road.  It features plenty of parking and seating.
This promises to be one of the most memorable days in Philadelphia boxing, so bring your camera, your boxing photos, plan to meet the champs and help Frank Cappuccino (both of them).  If you are unable to participate, but would like to submit a donation, address your envelope to:
Frank Cappuccino, Sr.
2106 Waterford Road
Yardley, Pennsylvania 19067.
Calls are being taken at 215 757-3947. They are really busy with the final touches, if you have a hard time getting through and need to ask a question email me at
announcerlarry@yahoo.com
and I'll see if I can help you.
Send questions and comments to: announcerlarry@yahoo.com