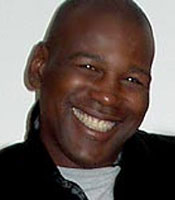 Shawn Darling, owner and operator, of Gladiator Gym in Forked Rive NJ gave me an invite to come out to his new gym to have a talk with former light-heavyweight champion of the world Matthew Saad Muhammad. Gladiator Gym is off to a great start, Darling comments, that a couple of the kids who are participating have already had a couple of amateur fights and the gym is growing daily.  Since starting my recent column entitled the " The Throwback Series" I have observed and recognized, an extreme amount of similarities of the fighters I've interviewed. Many of their frustrations with boxing today, stem from mishaps or misfortunes that occurred during their own respective careers. One thing that has truly struck a nerve with me is boxing as a sport has to set up programs, benefits, opportunities for the fighters of yesterday. Guys who have fought their hearts out in the ring to entertain the world need opportunities in boxing after they've hung their gloves up. It's necessary and must be done. This is just my opinion though. I conducted my interview with Matt while he sparred and trained the future stars of boxing. Here's the conversation that went down.
BT: Matt, first off thanks for taking time out today to talk with boxingtalk.com. How have you been champ?
MM: I'm  doing well. I'm training at Gladiator and working with the children is great.
BT: Matt, I've read your bio on the internet and I understand you lost your mother at the age of five and you and your brother were raised by an aunt who instructed your older brother to abandon you because she could only afford to keep one of you. You were taken in by a Catholic organization and pretty much had a tough up-bringing. Do you believe the tribulations you had to endure at such a young age helped to shape the warrior you became in the ring?
MM: Oh man 100%, boxing helped me to control my behavior, it gave me discipline in my life. Most importantly is boxing helped me to control my temper….I had a temper and it allowed me to release my frustrations in the ring. When I trained I learned how to keep the partying and women aside from my training. My background as a child turned me into a survivor and that survivor trait is what I used in the ring.
BT : Matt, lets jump back thirty-two years to the beginning of your career in 1974, that year you compiled seven wins and one lose to Wayne Mcgee at the Spectrum in Philadelphia. You won your next two fights against  Vandell Woods and Roosevelt Brown, which would set a up a  rematch with Mcgee that resulted in a draw. Looking back at the loss and draw to Mcgee did that motivate you to change your fighting style in any way?
MM: Oh yeah… I knew immediately that I had to change my style because I didn't want to become a club fighter. I wanted to do more for myself…I wanted to be like my idol, Ali.
BT: Was Ali also your influence in converting to Islam?
MM: Yes, he was…
BT: Your wins over Marvin Camel and Mate Parlov in 1976  brought you to the attention  of the boxing world  as  a legitimate contender. The buzz about " Miracle Matthew"  grew quickly, you mounted more wins against guys like Ed Turner and Joe Maye that would eventually lead to your shot at the NABF light heavyweight title against Marvin Johnson in 1977. You beat Johnson by TKO in the 12th round of that fight, how special  was it for you to win your first light heavyweight title?
MM: Oh it was incredible. It made me a boxing world champion. Being recognized by the NABF would give me a chance at one of the bigger belts, quickly. I knew getting this belt would open the door to bigger and better things.
BT: You had a rematch with Johnson two years later for the WBC light heavyweight title  which many have said was the fight of the year in 1979 . You got Johnson out of there earlier this time, within eight rounds.  For those who never saw this fight can you give us your thoughts on what went down in this barn-burner?
MM: I knew that my first fight with Johnson was a tough fight so for this fight I intensified my training because I knew I had to be in top shape because Johnson was tough. He hit me with some good combinations and I came right back and hit him with some even better combinations.(laughs)
BT: In 1980 you had the fight of the year against Yaqui "Indian" Lopez, you were hit with 20 unanswered blows in the eighth round to somehow recover and drop Lopez  five times to win by KO in the 14th round. This fight showed the world your amazing ability to mount comebacks when in danger. You could literally be hurt one second and knocking someone out the next, do you believe this ability to regain your composure when hurt is something a fighter can practice or is it just an ability some are born with?
MM: You really have to achieve that ability. In my day, all fighters had different talents in the ring. But that ability to put myself back together is something a fighter has to work on.
BT: You defended the WBC light-heavyweight title eight times successfully until you fought Dwight  Muhammad Qawi  in 1982. You lost by TKO  in the 10th round  and also lost your rematch to Qawi by sixth round TKO. What made Qawi such a difficult opponent for you?
MM:  Oh man, Qawi was so strong, he was a short, stocky, and strong.  You know I fought Qawi when he was fresh out of jail, so he was tough. I hit him with all kinds of shots and he just kept coming!
BT: I'd like to focus your attention on todays fight game, do you have any personal favorites?
MM: None, there all the same today
BT: What would you say the boxers of today are missing that the boxers of yesterday had?
MM: (Matt begins to beat on his heart with a closed fist) Translation: Heart!
BT: What are your thoughts on the rematch of Roy Jones and Bernard Hopkins?
MM: This fight is all about money, nothing else.
BT:  Would a prime Matthew Saad Muhammad be a  champion in today's fight game?
MM: I'd be knocking them all out!!!.
BT: Matt, you currently train at Gladiator Gym, how special is it for you to be giving back to boxing by training the youth?
MM: Man, I love working with the kids and giving back to boxing. Being a world champion if I can instill some things that I've learned in the ring to the future of boxing, I'm all for it.
BT: Matt, on behalf of boxingtalk.com I 'd like to thank you for taking time out to let the fans know your thoughts on your career and boxing in general.  Special shot out to Shawn Darling on setting up the interview.
Send questions and comments to: Regone714@yahoo.com