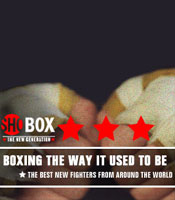 For Anthony Thompson, his message is clear. "I want to step up and fight guys in the top 10," the promising super welterweight said. "I hope to fight for a world title soon. I am confident in my ability and I will be ready.'' Thompson (20-1, 15 KOs), of Philadelphia, will attempt to deliver his message to Darnell Boone (10-4-1, four KOs), of Youngstown, Ohio, Friday, March 31, in the "ShoBox: The New Generation" main event on SHOWTIME (11 p.m. ET/PT delayed on the west coast).  In the co-feature from Maywood Activity Center in Maywood, Calif., southpaw Victor Ortiz (12-1, eight KOs), of Oxnard, Calif., by way of Liberal, Kansas, will face Freddy Barrera (10-0, one KO), of Colton, Calif. The doubleheader will be promoted by Bob Arum's Top Rank, Inc.  
The following night on April 1, SHOWTIME CHAMPIONSHIP BOXING will continue its 20th anniversary celebration with a world heavyweight championship bout between World Boxing Organization (WBO) Champion Lamon Brewster and once-beaten challenger Sergei Liakhovich.  
A classy, religious, respectful and modest young man outside of the ring, Thompson turns into an aggressive-minded, crowd-pleasing, exciting Philly fighter between the ropes.  
"When Thompson turned pro, he was considered as promising a prospect as any young fighter in the United States," said ShoBox analyst Steve Farhood. "Now, he is clearly ready to move up and realize his potential. In Boone, you have a warrior who has knocked down Andre Ward and beaten some notable opponents in James Countryman and Rasheem Brown. He will be a tough test for Thompson."  
"I am not a guy who likes to go around beating up people and punching them in the face," Thompson said. "I do not talk trash. I am a very nice, humble person, and I like to do things for people. That is what really brings me joy."  
Thompson deserves any happiness that comes his way. A single father, Thompson twice has suffered through unthinkable tragedies. Two of his daughters died before their first birthday.  
In 1996, Thompson lost six-month-old Yakira to the rare Zellweger syndrome. Four years later, two-month-old Yasheva lost her battle with the same hereditary disease.  
"I had to see a part of me die," Thompson said. "Your kids are a reflection of you.''  
Yet, Thompson has found the strength to carry on through religion.
 "I am a Hebrew Israelite," Thompson said. "I can read Hebrew a little. That is why my nickname is 'The Messenger.' I have a grip on life and I realize that there is nothing out there. This world is nothing but illusion, and if you live by the world, that is what you will resemble. That is not a good thing. You want to have something positive. The whole duty of man is to fear and serve God. That is the bottom line.
"I do not put any burdens on myself. It makes life that much easier. I just hope that I can live up to the expectations everyone has for me. I am going to give my best."
The Hebrew Israelite faith has many of the same beliefs and observes the same holidays of the Jewish faith. For a time, Thompson would not fight on Fridays.
"After I lost my only fight, I talked to my father about my boxing career and my religion,'' Thompson said. "My father, who is very devout, said 'you are a man now and have a family to support.' So, now I fight on Fridays.''
During an impressive amateur career, the lifelong Philadelphia resident compiled a 151-9 record and won numerous titles, including national championships, Golden Glove titles, and PAL crowns.
"I won five straight national titles in 2000," said Thompson, who started boxing when he was 10 years old. "I do not think anyone in amateur boxing has ever done that.''
Despite his success in the nationals, the heralded amateur failed to make the 2000 United States Olympic team. He was considered a virtual lock to make the 2004 squad, but opted instead to turn pro. First, though, Thompson went to school at Temple University in Philadelphia for a semester.
"I had a 3.0 grade point average," Thompson said. "It was hard to leave school, but I had to follow my heart. I do not regret it.''
Thompson turned pro at age 20 on March 17, 2002, and won his initial 15 starts. However, in a stunning result, he suffered a third-round TKO to Grady Brewer on Feb. 28, 2004, in Las Vegas. After boxing effectively and winning the first two rounds, Thompson got caught with a vicious left uppercut that sent him down to the canvas. The referee stopped the bout without a count at 2:10.
"I tried to put the Brewer fight behind me quickly," said Thompson, has won five straight since, including a third-round knockout over Adrian Lopez on Dec. 23, 2005. "I lost focus in that fight, but Brewer is a tough guy and definitely underrated. I just got caught with a good shot.''
Boone, 26, has been fighting as a pro for more than 18 months. He has fought from 156 to 169 pounds, and has been very active in the ring with 11 fights in the past 13 months. He fought seven times in 2005.  His bout against Thompson will represent his fifth appearance of 2006.
In his last eight bouts, Boone has fought on the road against hometown or "house" fighters, all of whom were favored to win. During that span, Boone notched three impressive wins against previously undefeated prospects and had two questionable losses.
In his last outing, Boone dropped an eight-round unanimous nod (79-73 and 77-75 twice) to Enrique Ornelas (22-2 going in) on March 3, 2006. After Ornelas built an early lead, Boone rallied in the second half.  However, it was not enough to secure the decision. Following the announcement of the winner, the fans booed.
In one of Boone's most noteworthy performances, he scored a devastating knockdown of 2004 Olympic gold medalist Andre Ward on Nov. 19, 2005. After Ward went down in the fourth, he managed to recover for the sixth and final round. Ward edged Boone on all three judges' scorecards (59-55, 58-56 and 57-56), but suffered the first knockdown of his career. Although Ward took the decision, Boone established himself as a tough challenger.
"Everybody knows I won that fight," said Boone.
In the super lightweight co-feature, Ortiz, 19, has won five consecutive contests since suffering his lone loss on a first-round disqualification to Corey Alarcon on June 3, 2005, from Oxnard, Calif. Ortiz dropped his foe in the first, but he got up and action resumed. Moments after the referee had separated the boxers from a clinch, Ortiz scored another knockdown that put Alarcon flat on his back. This time, Alarcon did not get up.  However, the punch was ruled illegal by the referee and Ortiz was disqualified.
"I thought the decision was total bull," Ortiz said. "The referee said, 'Box out.' He did not say break. I think it was a cop out what Alarcon did. People saw that I was not hurt and I did not lose this fight. The ref never called a break. He was tongue-tied. He just tapped me on my arm. Alarcon was already weak and did not want to fight."  
A fast, smart, talented youngster who was the National Junior Olympic champion and National PAL champion in 2003, Ortiz has won three consecutive bouts inside of the distance. In his most recent effort, Ortiz stopped Nestor Rosas in the fifth round on Feb. 10, 2006, in San Antonio, Texas.  
Barrera is a busy fighter who makes for fast-paced, exciting bouts. His streak of points victories ended in his last start when he scored a fifth-round KO over southpaw Daniel Gonzalez on Feb. 17, 2006, from Ontario, Calif.
"It was the best feeling I have had," said Barrera, referring to his first knockout. The referee halted matters at 2:25 as Barrera was unloading rights and lefts on Gonzalez.
"Gonzalez' body shots slowed me down, but he never hurt me," Barrera said. "I was able to land the right hand whenever I wanted. I think the right hands were what worked for me best."
The telecast represents the 74th in the "ShoBox" series, which debuted on SHOWTIME in July 2001. "ShoBox" features up-and-coming prospects determined to make a mark and eventually fight for a chance at a world title. A number of fighters who have appeared on the series have gone on to become world champions, including Jeff Lacy, Ricky Hatton, Juan Diaz, Leonard Dorin, Joan Guzman and Scott  Harrison.
Nick Charles will call the action from ringside, with Steve Farhood serving as expert analyst.  The executive producer of the telecast is Gordon Hall, with Richard Gaughan producing.
For information on "ShoBox: The New Generation" and SHOWTIME CHAMPIONSHIP BOXING telecasts, including complete fighter bios, records, related stories and more, please go the SHOWTIME website at
http://www.sho.com/boxing
.