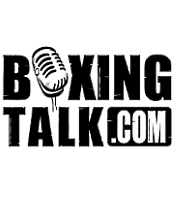 Lamon Brewster did his best impersonation of a young Mike Tyson by knocking out Andrew Golota in 53 seconds and while it is sure to provide a boost to the lacking heavyweight division, this weekend - actually THIS MONTH - is sure to provide boxing purists one of the best months boxing has seen in awhile.  For starters, Kostya Tszyu will defend his IBF jr. welterweight title somewhere around 2-3 A.M. in front of thousands of screaming Ricky Hatton supporters in the MEN arena in Manchester, England. For the sake of the country, I hope all workplaces are closed on Sunday.
The fight is still days away and knowing the sport like I do, let us not be surprised if somehow, someway, the fight doesn't go down. All signals look to go, but can you honestly say that in all the years of following boxing a last second injury - literally - couldn't happen and force a stalemate?
But let us not focus on the negative aspects of this fight. For all intended purposes the fight is going to happen and there's a possibility that boxing could have a new, legitimate star to watch.
That fighter is Ricky Hatton, a star to all of Manchester but nothing more than a big question mark to the American public. While it's true America doesn't own the sport, it's also not crazy to believe that if you don't come over to the states and prove yourself, the respect and paydays a fighter works his entire career for is hard to grasp.
At 38-0 and with wins over good fighters that were merely decent by the time he fought them, Ricky Hatton has yet to face a top ranked opponent.  At just 26 and already a box office hit across the globe, one would like to think that Frank Warren has done a good job selling his product.
Some things look good on TV but whether or not they are more than just a gimmick isn't something we find out until we see the product in against a tough stain. Kostya Tszyu is more than just a stain that can be removed by a cleaner product found at your local grocery store. He's more the type of stain that can be removed from visibility, but his odor still lingers on years after he's gone.
Just ask Zab Judah, who captured the undisputed welterweight championship this past year by knocking out Cory Spinks in front of 20,000 St. Lunatics.  For all the good that Judah has done, he is still best remembered for that Saturday in November almost 4 years ago where Kostya Tszyu starched him in 2 rounds.
It's in the majority to expect Tszyu to leave Manchester with his titles - IBF and Ring Magazine to name a few - around his waist. But to expect a Zab Judah or Sharmba Mitchell performance is, in the words of Mike Tyson, 'ludicrous.'
Shall Hatton lose, and I am one who believes he will, let us hope that Hatton is given his respect as a fighter for stepping up and fighting an A plus fighter, instead of a B-. Words like 'shot fighter' or 'exposed bum' are sure to fire off at the lips of Hatton's biggest critics  - most of America at that - with a defeat at the hands of Tszyu.  But with Hatton and Tszyu boxing won't find any two better guys to represent the sport.
Hopefully those who consider themselves fans of the sweet science do not do their best to try and ruin a truly magical night in England. It promises to be great, just as the preceding weeks in June.
Next in line for the June 11th slot is rising Puerto Rican star Miguel Cotto, who is pitted against the man to defeat him in the 2000 Olympic box-offs, Mohamad Abulaev.
Boxing with the pro tag is quite a bit different than fighting with the use of headgear, as Kelson Pinto found out against Cotto last year.  And despite already having a loss and being 31 years of age, Abdulaev is a pretty decent step up from the likes of DeMarcus Corley. That being said, Corley gave Cotto fits and had the young gun out on his feet early in their fight before a crooked hometown decision was awarded from Puerto Rico.
It's a big fight for both young fighters, but more so for Cotto who with Felix Trinidad probably done boxing, may be thrown into the helm of being the next great fighter from Puerto Rico.
A week after that on June 18th the highly anticipated (by the fans, not the networks, it would seem) rematch between Antonio Tarver and 2004's Fighter of the Year Glen Johnson is set to take place. Finaaallly. But before we get into that, I promised myself that I wouldn't mention Mike Tyson-Kevin McBride, but as a boxing writer it's just one of the things the job calls for. So, yes, on the same night for a hefty price of something around 50 bucks you can make the decision to watch Mike Tyson's latest return as he will battle the 6 foot 6 inch Kevin McBride. The height is a bit deceiving. Anyone who has ever seen McBride fight can tell you that he punches about as hard as 5 feet 4 inches. You get the picture.
Back to the actual fighting now. The Tarver-Johnson fight wasn't a great fight, but it was an entertaining one. So the second time should be better, now that Antonio Tarver is out to prove that he wins rematches by knockout (Eric Harding KO 5, Roy Jones Jr. KO2).  For the Road Warrior, this is a fight that he must win. Doing so will erase any doubt that may still be lingering around after his close and controversial decision win over Tarver in their first fight. Whatever fate comes down upon these guys, let us hope that we see a lot more of them throughout the years. Even if they are both approaching the so-called end of their careers.
Both Johnson and Tarver have gone through the sport without loads of media attention or lots of expectation at that. Tarver didn't get started until after watching Florida native Roy Jones Jr. rule on top of the sport for so long that he got sick of it and wanted to go out and write his own legacy. Johnson's story has been told all too many times. The many fights that he should have won but didn't because of home town scoring. All the adversity both guys have gone through has only made them better fighters with even bigger hearts.  June 18th should be just another well deserved treat for boxing fans in the month of June.
Finally we move towards the June 25th pay-per view debut of WBC jr. welterweight champion Arturo Gatti and the #1 contender for his strap (which was won  after Tszyu was stripped due to inactivity) and universally recognized as one of the top pound-for-pound fighters, Floyd Mayweather Jr.
This fight is a mismatch on paper with Floyd Mayweather being the quicker, faster and more skilled ring technician by far. But Arturo Gatti is not a guy that you want to sleep on. You can't heart by a rating and if you could Gatti would be on top of the list. Mayweather has heart too, but he hasn't been given the opportunity to show it very much because he is usually so much better than his opposition. The best example can be shown with his slugfest with Emanuel Augustus.
Gatti is the more experienced warrior and there's no telling how much heavier or stronger he could come into the ring at on fight night. Not to mention that Mayweather hasn't exactly set the world on fire since moving up to his second weight class.
There's also Buddy McGirt, one of the sports hottest trainers over the last couple of years. McGirt has said that the way to beat Floyd Mayweather is to hit him on the top of his head, thus nullifying his shoulder-roll defense that he has perfected since birth. Saying you're going to beat Mayweather and knowing how, and then actually stepping into the ring and accomplishing the feat is something no man has done for almost 10 years. If anyone is up to the challenge you can bet McGirt and Gatti are the right guys.
No matter what factor you want to use or which angle you want to play, the fact still remains that Floyd Mayweather always looks his best in his biggest fights. The only sure way to beat Floyd Mayweather - unless Gatti proves us all wrong - is to fight a Pretty Boy that beats himself. Mayweather can do that against Gatti by letting his ego get the best of him. By choosing to trade with Gatti and forcing for a knock out, Mayweather minimizes his chances to look good and most importantly, to come out on top with another W on his record.
The Gatt-Mayweather fight has a compelling story behind it. Arturo Gatti is out to prove that he is deserving of the title he won from a guy that couldn't hold Kostya Tszyu's jock strap where as Floyd Mayweather is out to continue his campaign that he is the best boxer in the world. All the answers won't come out come June 25th, but it's a hell of a start for the summer.
Send questions and comments to: tyson180@aol.com